NYU Stern Broadens Scope on Risk Assessment and Management with its Newly Expanded Volatility and Risk Institute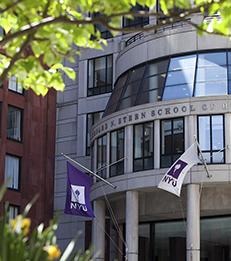 Nobel Laureate Robert Engle and Former Director of the Office of Financial Research Richard Berner to co-direct Institute
New York University Stern School of Business announced today that it is expanding the scope and renaming its celebrated
Volatility Institute the Volatility and Risk Institute (VRI)
. 
The Volatility Institute and its V-lab have, for the past decade, assessed risk through the lens of financial volatility, providing real-time measurement and forecasts of volatility and correlations for a wide spectrum of financial assets, and SRISK, a powerful measure of the resilience of the global financial system.  Adopting an interdisciplinary approach, the VRI will build on that foundation to better assess newly emerging nonfinancial and financial risks facing today's business leaders and policymakers, including climate-related, cyber/operational and geopolitical risks, as well as the interplay among them. 
The VRI will be co-directed by two NYU Stern faculty: Nobel Laureate
Robert Engle
, Michael Armellino Professor of Management and Financial Services and creator of the V-lab; and
Richard Berner
, Professor of Management Practice and former Director of the Office of Financial Research, established by the Dodd–Frank Wall Street Reform and Consumer Protection Act to help promote financial stability by delivering high-quality financial data, standards and analysis to policymakers and the public.
"I'm delighted to have Rob and Dick, two world-renowned experts on risk management, lead our newly expanded Volatility and Risk Institute," said
Raghu Sundaram
, Dean, NYU Stern. "The Institute will be a dynamic interdisciplinary hub at NYU to bridge the conversation between academia and industry, and to inspire novel research projects to address and manage the changing nature of risk facing today's global firms."
The VRI will serve as the designated hub to facilitate, support and promote risk-related research, and external and internal engagement among scholars, practitioners and policymakers. To realize its interdisciplinary potential, the VRI will engage the expertise of faculty across New York University, including at the Courant Institute of Mathematical Sciences, Law School, Tandon School of Engineering, Wagner School of Public Policy and Wilf Family Department of Politics in the Faculty of Arts & Science.
"​Just over the past year, we've seen global systemic risk
increase by $400B
and become bigger than at the peak of the last financial crisis,"​ noted Engle. "There has been no better time for us to evolve our Institute to address this dynamic risk landscape and expand our breadth of risk-related research and activities."
​"Risk analysis and management are ever-changing and the need for cutting-edge research across diverse risk areas is increasingly important for both policymakers and organization stakeholders," stated Berner. "The Volatility and Risk Institute will play an important role in contributing to and expanding the analytical and empirical frontier for these topics to inform risk management and strategic decisions for business and policy makers alike." 
Integral to this expansion and the VRI's mission to stay ahead of the curve on risk management issues is the establishment of two affiliated advisory boards: a Faculty Advisory Board, comprising 30 professors from across NYU at the above-named schools, and an External Advisory Board of risk management principals, executives, startup entrepreneurs and advisors in New York City and beyond. To date, 11 senior business leaders have committed to joining the board (see the
VRI website
).
The VRI complements and deepens Stern's existing footprint in the risk management arena.  This week NYU Stern marks the 10th year of its executive-level MS in Risk Management degree program with an anniversary symposium and the announcement of the program's new curriculum in enterprise risk. 
About New York University Stern School of Business
New York University Stern School of Business, located in the heart of Greenwich Village, is one of the nation's premier management education schools and research centers. NYU Stern offers a broad portfolio of programs at the graduate and undergraduate levels, all of them enriched by the dynamism, energy and deep resources of one of the world's business capitals. Visit
www.stern.nyu.edu
and follow NYU Stern on Twitter: @NYUStern.
---