Professor Robert Frank Delivers the 2016 Ashok C. Sani Distinguished Scholar-in-Residence Lecture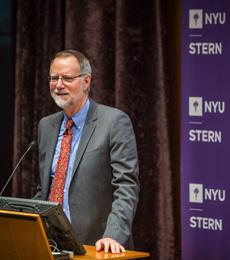 Robert Frank
, research scholar at NYU Stern and the Henrietta Johnson Louis Professor of Management at Cornell University, delivered the 2016
Ashok C. Sani Distinguished Scholar-in-Residence Lecture
to a packed auditorium of undergraduate students, alumni and guests from the family of alumnus Ashok C. Sani (BS '74).  This year's talk, entitled "Success & Luck," was hosted by NYU Stern's
Undergraduate College
and
Business & Society Program
in conjunction with the "Law, Business & Society" course, a part of Stern's social impact core curriculum.  
Professor Frank highlighted his forthcoming book, "
Success & Luck: Good Fortune and the Myth of the Meritocracy
."   Sharing a dramatic, personal story in which he beat the odds for survival after sudden cardiac death, Professor Frank argued that luck has had an outsized influence in his own life.  He also explained the dangers of "hindsight bias" – when a person invents a narrative after-the-fact that makes the outcome seem almost inevitable. He cited the hit TV show "Breaking Bad," the infamous Mona Lisa painting and the extreme fame of Kim Kardashian as examples of incredible luck (vs. skill and experience alone). Addressing students in the audience, Professor Frank warned that all career paths include random, unpredictable steps and advised them to become experts in their fields and be ready to take advantage of chance opportunities.
About the Ashok C. Sani Scholar-in-Residence Lecture
Ashok C. Sani (BS '74), for whom this lecture is named, was a distinguished graduate, successful entrepreneur, president of C.G.S. Industries Inc., loyal supporter of NYU, and the founding member of the NYU Stern Alumni Council. The Ashok Sani Scholar program shares Mr. Sani's interest in ethics, truth, peace, compassion and the moral and social responsibilities of members of society with the NYU Stern community.  
---