CHANGE. LEAD IT.
In a First among Business Schools, NYU Stern Embraces Business Paradigm Shift with Launch of New Executive Education Course, "Leadership for the 21st Century: Delivering on Purpose and Profit"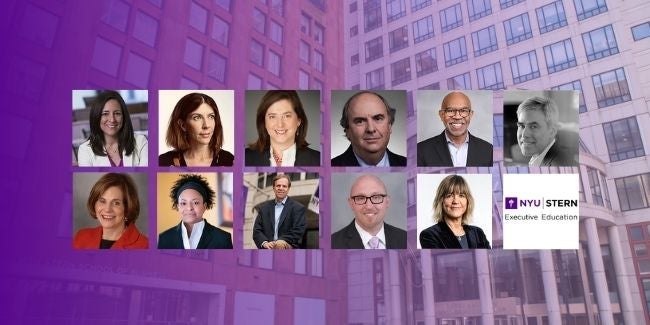 All-star Roster of Stern Faculty Experts Will Empower Professionals with Skills to Infuse Social Responsibility, Environmental Sustainability, Diversity and Inclusion, and More within Their Organizations and Themselves 
It happened with globalization. Then again with digital. Shifting paradigms swiftly became table stakes for successful business leaders. And a new cycle is gaining speed right now. Topics that were once siloed, including social responsibility, environmental sustainability, ethics and morality, diversity and inclusion, and employee well-being, have become integral components of leading a competitive and profitable company. 
In a first among business schools, NYU Stern is heralding this shifting business paradigm with the launch of a new holistic Executive Education course, "
Leadership for the 21st Century: Delivering on Purpose and Profit
," to equip professionals to embed these emerging concepts into their organizations and themselves. 
The course will be taught by a leading roster of 11 faculty handpicked for their expertise in their respective fields. Delivered live online beginning June 16, 2021, the program will instill the following key takeaways in participants: 
Responsibilities to Diverse Stakeholders: Understand how organizations affect and are affected by diverse stakeholders in broader society, and your role in operating an ethical business that upholds social and environmental responsibilities.
Responsibilities to Employees: Learn how to build an ethical, moral, and inclusive culture within your organization.
Core Competencies: Develop the personal skills needed to lead diverse teams and integrate diverse employee perspectives.
Leadership Action Plan: Create a roadmap for incorporating emerging leadership competencies as core business practices within your organization.
"In a world where the only constant is change, one has a choice: either react to change as it occurs, or anticipate it, harness it and drive it. NYU Stern continues to choose the latter path, and our new 'Leadership for the 21st Century' Executive Education course is the latest example of that commitment," said
Raghu Sundaram
, Dean, NYU Stern. "Leaders at every level of an organization have enormous potential to advance lasting and meaningful change on a daily basis. With an outstanding team of faculty experts who are trailblazers across disciplines, we are uniquely positioned to partner with them and their organizations in transforming the world." 
While the program is relevant across all job functions and industries, those who lead teams or organizations, or have been empowered to drive organizational change will be able to most immediately apply learnings.    
According to
Robert Salomon
, Vice Dean, Executive Programs, "The flip side of every challenge is opportunity, and although today's world presents unprecedented challenges, organizational leaders have the opportunity to leverage business to be part of the solution. This course is designed for open-minded, forward-thinking, innovative changemakers who recognize the power in themselves and their companies to transform our shared future. As with all Stern Executive Education courses, 'Leadership for the 21st Century' will not only connect participants with expert faculty, but also with peers from around the world who will challenge them to expand their vision, reevaluate their preconceptions and advance their professional goals."  
A 360-degree compendium in three modules will call on leaders to:  
"Look out": consider their social, environmental, ethical and moral obligations to the broader society
"Look in": create human centered business practices within their organizations
"Look within": develop the personal skills and perspectives needed to lead effectively
According to Professor
Lisa Leslie
, the program's academic director, "The course is structured in daily intensive sessions so participants not only immerse themselves in the content, but also begin to build the habit of incorporating these practices every day, which is the best way to build skills and ultimately drive enduring organizational change. We've designed the program so that participants will have the confidence and the skills to immediately put the key takeaways into action themselves and effectively implement them within their companies, maximizing the impact of the course." 
The course's expert faculty roster includes: 
Participants will receive a Certificate of Achievement upon completion. Learn more about Stern's "Leadership for the 21st Century: Delivering on Purpose and Profit" Executive Education course
here
.   
---