Accelerate Possible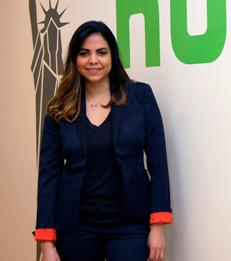 Stern's part-time MBA program gave me a chance to explore a number of areas and to gain a macro-level perspective on business.
Hulu Account Manager Gabriela Martinez earned her degree in two years in NYU Stern's Langone Part-time MBA Program.
"Working full time and going to school with the aim of earning an MBA in two years is a challenge," admits Gabriela Martinez, "but at NYU Stern, it's doable."  As an account manager at Hulu with ambitious professional goals, Gabriela was motivated and eager to pursue Stern's
Langone Part-time MBA program
at an accelerated rate.  "Being able to complete the program in two years was a big draw for me," she explains.  "And Stern makes it possible to tailor the program around your life with classes on weeknights and Saturdays that don't conflict with work."  She also credits the supportive team in Stern's advising office with helping her meet that two-year completion goal:  "The School's academic counselors and faculty give you everything you need to succeed without feeling intimidated or overwhelmed."  
Before starting the MBA program, Gabriela switched companies from ESPN to Hulu.  "At that time, Hulu was in start-up mode, and I knew that it was going to be something special."  Reluctant to step away from her new position, but also eager to pursue an advanced degree for professional development reasons, Gabriela decided to research part-time MBA programs in the New York Metro area.  "Stern's excellent reputation was a key factor in my decision," she says.  The School's proximity to Gabriela's office was another bonus.  "Hulu recently relocated to Union Square, so I knew I could walk to class."  After meeting with current students during an information session, Gabriela's mind was made up: "For me, Stern was the only choice."  
Gabriela credits Stern with giving her the tools and the vocabulary that she needed to work effectively with senior management at Hulu.  "I wear a lot of hats in my job, so it's critical for me to be able to understand colleagues across the organization, from the CMO to the CFO," she explains. "During the MBA program, I received a promotion at Hulu – one that I'm confident would not have happened if it wasn't for my time at Stern."  
When asked about her favorite classes, Gabriela has a hard time choosing: "I love school and as a part-time student, I was able to apply what I was learning in class directly to my job."  She highlights a course in "Negotiations" as one such example.  "Refining my skills and understanding the art of persuasiveness was particularly relevant for my role in negotiating contracts at Hulu."  Courses in "Brand Strategy" with Professor
Fran Gormley
and "Managing Hedge Funds" with Professor
Leon Metzger
were two other favorites for Gabriela.  "In both classes, the professors invited real-world practitioners into the classroom, which really brought to life the concepts and strategies that we were learning."   
As a professional in the media and entertainment space, Gabriela initially gravitated toward Stern's specialization in
Entertainment, Media and Technology
(EMT).  Nevertheless, after being exposed to a wide range of classes and disciplines in the
core curriculum
, she decided to pursue specializations in
Finance
and
Marketing
.  "Stern's part-time MBA program gave me a chance to explore a number of areas and to gain a macro-level perspective on business."  Gabriela also emphasizes the caliber of teaching at Stern: "During the program, I had the opportunity to delve deeper into two disciplines with professors who made complex material accessible to non-experts like me."
In addition to hitting the books, Gabriela found time to take advantage of Stern's co-curricular offerings in EMT and other sectors.  "At Stern, it's so easy to get involved in student club activities, attend conferences, hear senior executives on campus and connect with students from a range of backgrounds."  
In response to students like Gabriela, who have expressed that speed to completion in the part-time MBA program is increasingly important, Stern recently added an official "two-year accelerated" option to the Langone Part-time MBA program application.  Read more on the Langone Part-time MBA Admissions
website
.
---