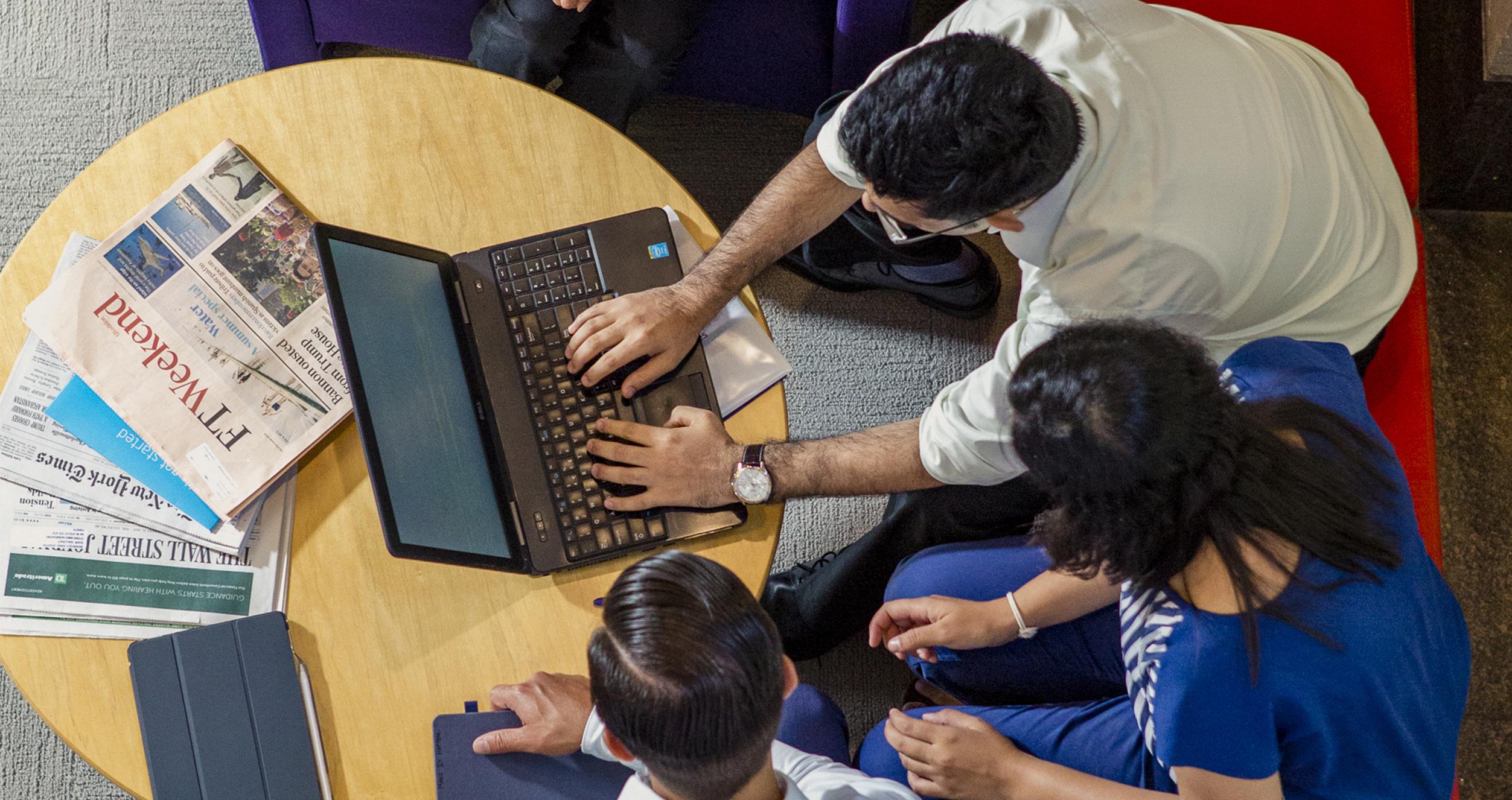 Application Process
The admissions process is personalized and holistic to offer a full view of your candidacy. There are two steps to the application.
---
Step 1: Pre-Assessment
Prerequisites
Profile details
Upload resume
No fee
Step 2: Formal Application
Essays
Transcript(s)
Two letters of recommendation
Interview with member of Admissions Committee
Sponsorship form (Optional)
GMAT/GRE/EA (Optional)
Application Fee
Admission Requirements & Prerequsites 
A bachelor's degree or equivalent
A minimum of six years of full-time work experience by the start of the program

Formal Application
You will receive an email with a link to the Formal Application once the Pre-Assessment has been submitted.  
Applicants are required to respond to essay prompts 1 and 2. The essay questions give you the opportunity to more fully present yourself to the Admissions Committee and to provide insight into your experiences, goals, and thought processes. Your essays should be written entirely by you. There is an optional essay if you wish to provide additional information.

All essays have a 500 word limit, double spaced. Word limits apply to the total essay question. For example, your response to Essay 2 should answer all parts.

1. Describe your short- and long-term career goals and how the NYU Stern Executive MBA program will help you accomplish them.

2. NYU Stern is committed to helping students develop a deeper set of professional skills, and a broader perspective of the role of business in the world. 
a) What is a significant contemporary issue on which you, as a business leader, would like to have an impact?
b) Why is it important to you?
c) How could you leverage your skills and resources to address the issue?

3. Additional Information (Optional) - Provide any additional information for the Admissions Committee. This may include additional details on your academic/quantitative preparation for MBA coursework through educational or professional experience, further explanation of academic history, current or past gaps in employment, or any other information relevant to your application. 
 
Transcripts are required for all institutions from which the applicant has earned a degree (undergraduate, graduate, Ph.D., M.D., J.D., etc.). Use this section of the application to self-report academic transcripts for every undergraduate and graduate institution you have attended, full-time or part-time. Transcripts are not required for non-degree coursework. However, transcripts from non-degree courses should be submitted if you would like the Admissions Committee to consider the coursework when reviewing your candidacy.

Each transcript must contain a list of courses taken, grades, or marks earned, and name of degree earned. All transcripts must be accompanied by proof of degree conferral. The degree conferral must indicate the:
type of degree conferred
month and year the degree was conferred
institution and location from which you received the degree
If this information is reflected on your transcript, then you do not need to provide additional degree conferral documentation. In many cases, an uploaded scan of your diploma provides proof of degree conferral.

You have three options for providing your transcript(s):
Scan and upload a copy of each transcript in the online formal application
Release your electronic-official transcript(s) directly from the university to our team at executive@stern.nyu.edu 
Mail an official copy of each transcript directly to the Executive MBA Admissions office  
Official Transcript Requirements 
All enrolled students will be required to submit an official transcript from each academic institution at which they earned a degree. Official transcripts may be submitted at any time during the application process. All official academic transcripts must be original documents bearing the institutional seal and signature of the institution's registrar. They must be submitted in the original, sealed envelope from the institution or the embassy or consulate providing verification of authenticity. If you cannot obtain transcripts directly from the institution but you possess an original transcript, you may submit photocopies that have been verified by the embassy or consulate of the institution's country. Certifications by a Notary Public are not acceptable.

Your official and self-reported transcripts may be verified. The Admissions Committee reserves the right to withdraw an offer of admission at any time, prior to or after enrolling, if there is any discrepancy between the unofficial transcript and the official transcript.

It is preferred that your official transcript(s) be released electronically directly from the university to our team at executive@stern.nyu.edu. If your official transcript(s) cannot be released electronically, you can send by mail to the address below and we will retrieve it once an Admissions Team member is in the office. For mailing, we recommend using a shipment method that can be tracked. 

NYU Stern School of Business
Executive MBA Program
44 West 4th Street, Suite 4-100
New York, NY 10012-1126
 
Additional Requirements for Transcripts not in English 
If an original transcript is not in English, the applicant is required to submit both the official transcript and its English translation. Both the official transcript and the translation should be submitted in one sealed envelope. If the institution attended does not provide an English translation with the official transcript, a certified English translation through a translating service must be obtained and submitted in a sealed envelope, endorsed across the seal by the translating service. Stern does not have preferred translating services. Certifications by a Notary Public are not acceptable.

If a diploma/degree conferral is not in English, the applicant is required to submit a photocopy of the original and its English translation, following the guidelines above for transcripts not in English.

Important Notes about Transcripts
Stern does not accept notarized or personal copies of transcripts.

All transcripts submitted as part of the Executive MBA application process are considered property of Executive MBA Admissions. They will not be returned, transferred or forwarded to other institutions or other programs or schools at NYU. Please do not submit the original copy of an academic transcript that cannot be replaced. These transcripts will not be returned to you.
 
Two recommendations are required. One should be completed by your current or most recent immediate supervisor and one should come from another current or previous supervisor.
Recommendations should only be submitted online. A maximum of two recommendations will be accepted.
Please note: Professional recommendations are strongly preferred over academic recommendations. If a recommendation from your current supervisor cannot be included, you must provide an explanation in optional Essay 3.
 
Once the Admissions Committee has reviewed your Pre-Assessment, a representative will contact you within three to five business days of submission to schedule an interview. The interview is evaluative and required for all applicants. It is designed to provide you with more information about the Executive MBA program and to determine whether our program is a good fit for you.
 
The Organization Sponsorship Form is an optional component of the application, which means it is not required to submit with your formal application. The form summarizes the time commitment required for the program, so it may be used as a tool to have a conversation with your employer around time and financial sponsorship.

Download the Organization Sponsorship Form below:
Executive MBA in DC Sponsorship Form
If you would like to submit the Organization Sponsorship Form with your application, you may upload it in the application or email it to the Admissions Office.
 
The NYU Stern Executive MBA program does not require GMAT, GRE or Executive Assessment scores to complete the Formal Application. However, if elsewhere you have not demonstrated sufficient academic or quantitative ability, you may wish to consider submitting GMAT, GRE or Executive Assessment scores.

If you choose to submit GMAT, GRE or Executive Assessment scores, they must be dated within five years of the final application deadline of the desired program entry date.

You are responsible for ensuring that Pearson VUE or Educational Testing Services is able to release and send your official score report to the NYU Stern Executive MBA program by the application deadline. To send your official scores to the NYU Stern Executive MBA program, you will need to provide each testing service with Stern's Executive MBA reporting code. Stern's Executive MBA GMAT and Executive Assessment reporting code is 5TF-HW-89. Stern's Executive MBA GRE reporting code is 4894.
$175 processing fee payable online by credit card.

Members and veterans of the U.S. military are eligible for an application fee waiver. Email your request for a fee waiver to executive@stern.nyu.edu and include documentation of service.  You will receive an email confirmation of your application fee waiver within 5 business days of submission. Please do not submit your formal application until you receive this confirmation from our office.

If you are experiencing severe economic hardship and would like to request an application fee waiver, please email executive@stern.nyu.edu. Requests should include a detailed rationale for the application fee waiver and will be considered by the Admissions Committee on a case-by-case basis.
 
NYU Stern Application Guidelines
You may apply to only one NYU Stern MBA program per admissions cycle (Full-time, Part-time, Executive or TRIUM Global Executive). If not admitted, you may apply to any NYU Stern MBA program for any subsequent admissions cycle.
Privacy and Data Sharing
Our online application is encrypted and all personal information is protected in accordance with the Family Educational Rights and Privacy Act (FERPA).