Student Research + Awards
The following real estate papers have been written by Stern students in the context of thesis or paper requirements at Stern.
Research
"Borrower Characteristics and Credit Supply Expansion in the U.S. Residential Mortgage Market: Evidence from 2010 - 2015"
- Raghav Saraogi, Undergraduate Honors Thesis, May 2018
"Efficiency in Public Real Estate Securities: Extensions of an Equity-Based Pricing Model on CMBX 2.0" - Porter Carbajal, Undergraduate Honors Thesis, May 2016

"Macroscope of Retailers An Empirical Analysis of the Relation between Satellite Imagery of Retailers' Parking Lot Car Counts and their Respective Same-Store Sales and Equity Prices" - Ju Tan, Glucksman Institute of Research in Securities Markets, April 2016

"Interest Rate Risks of REITs" - G. Banati, L. van Hofwegen, S. Wander, and S. Tremblay, May 2015

"Distant Speculators and Asset Bubbles in the Housing Market" - Alex Chinco and Chris Mayer, PhD Student Working Paper
"Covered Bond Markets: An Analysis of Their Impact on Mortgage Underwriting"
- Ryan Kreitzer, Undergraduate Honors Thesis, May 2012
"Strategic Mortgage Default in Financial Institutions: a Proposal for an Alternative Management"
- Jonathan Franco, Melodie Anne Juson, Diederick Koolmees, Cynthia Liwanag and Jeffrey Cherry, Executive MS in Risk Management Masters Thesis, May 28 2012
If you are a current student at Stern and are interested in working in real estate, please do not hesitate to contact us.
---
Awards + Scholarships
CREFR Service Excellence Award 2017
Joshua Bissinger (MBA)
Lindsay Kugel (UG)
Lee Sager (UG)
Eric Weiss (MBA)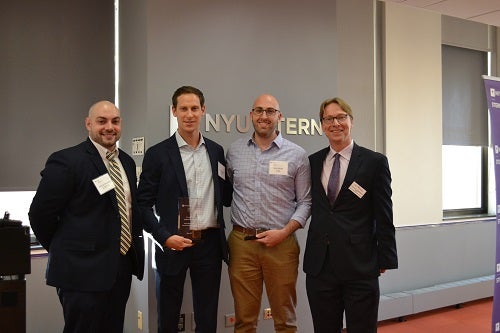 From the left: Joshua Negreira, Joshua Bissinger (recipient), Eric Weiss (recipient), Professor Stijn Van Nieuwerburgh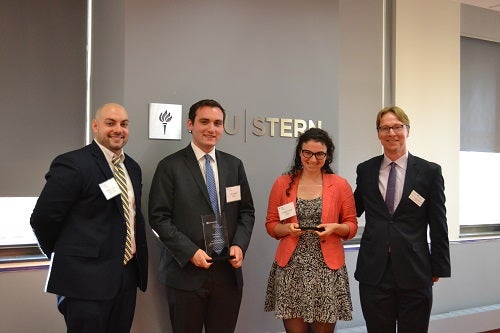 From the left: Joshua Negreira, Lee Sager (recipient), Lindsay Kugel (recipient), Professor Stijn Van Nieuwerburgh
CREFR Academic Excellence Award 2017
Andrew Lax (MBA)
Nicole Wadsworth Duddy (MBA)
Nelson Wong (UG)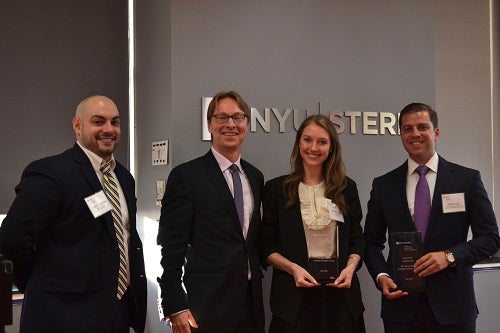 From the left: Joshua Negreira, Professor Stijn Van Nieuwerburgh, Nicole Duddy (recipient), Andrew Lax (recipient)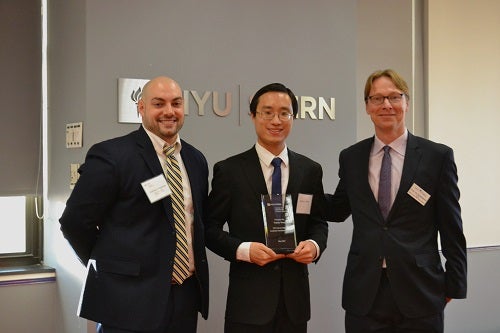 From the left: Joshua Negreira, Nelson Wong (recipeint) Professor Stijn Van Nieuwerburgh
CREFR Service Excellence Award 2016
Armand Boyajian (UG)
Caitlyn DeWitt (MBA)
David Gleitman (MBA)
CREFR Academic Excellence Award 2016
Porter Carbajal (UG)
Christopher Palladino (MBA)
CREFR Service Excellence Award 2015
Elese Berk (MBA)
Mark Lansman (MBA)
Michael Felicetta (UG)
CREFR Academic Excellence Award 2015
Judith Herbstman (MBA)
Ryan Yichen Liu (UG)
CREFR Service Excellence Award 2014
Maggie Deichman (MBA)
Steven Stein (MBA)
Josh Coonin (UG)
Yoni Pessar (UG)
CREFR Academic Excellence Award 2014
Peter Christian (MBA)
Louis Sleimann (UGH)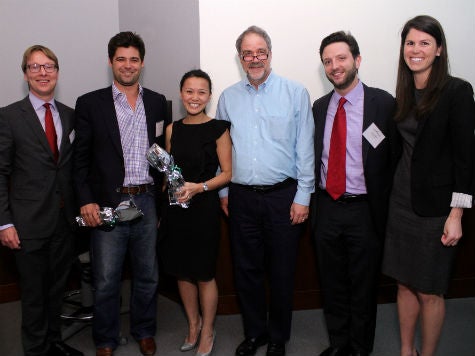 From the left: Professor Stijn Van Nieuwerburgh, Thomas McKinley (recipient), Alice Yeung (recipient), Vice Dean for MBA Programs Thomas Pugel, Steven Stein, Maggie Deichmann
CREFR Service Excellence Award 2013
Thomas McKinley
Alice Yeung
Sandra Go
CREFR Academic Excellence Award 2013
Shourya Ghosh
Yosef Lefkovitz
WX Scholarship:
Lauren Sanders
Alice Yeung
2nd Place UNC Real estate Development Case Competition
Lauren Sanders
Kathleen Urbani
Steven Stein
Jason Davis