Opinion
Comedian Hannah Gadsby Is Going To Make You A Better Leader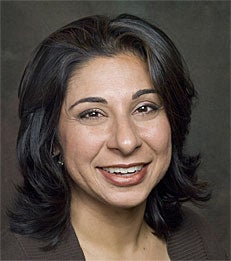 By taking us on a journey that is both hysterically funny and mournfully raw, Gadsby challenges us to see her as a human being and to hear her story, even when it is not the story we want or expect to hear.
There are two types of people in the United States right now: those who have heard of comedian Hannah Gadsby and those who haven't. When people in the first group – particularly those who have seen Gadsby's work - cross paths with people in the second group, a predictable zeal takes hold. They talk about the importance of Gadsby's Netflix special,
Nanette
, to anyone who is from - or cares about people from – a marginalized group. They quote breathless pieces from Forbes.com,
Rolling Stone
, Salon.com,
The Atlantic Monthly
,
Vanity Fair
, Vulture.com and many others. Eventually, the zeal culminates with, "Trust me. Just see it."
The zeal is real. After ten years of doing stand-up, Gadsby has gone from being a comedian little known outside of Australia to overnight global sensation making the rounds on the late night talk shows. There are many good reasons (see breathless pieces above) to watch her Netflix special. However, I am going to offer a different pitch: Hannah Gadsby is going to make you a better leader.
As a professor who teaches leadership, management, and negotiation courses in a business school, I did not initially watch the special with any work-related thoughts in mind. It was a Saturday night and my husband and I wanted to watch something on Netflix. To my surprise, in between the tears (I lost track of which ones came from laughing versus crying), I found myself mentally building a leadership teaching plan.
Read the full
Forbes article
.
___
Dolly Chugh is an Associate Professor of Management and Organizations.