NYU Stern Faculty Publish New Book: SVB and Beyond: The Banking Stress of 2023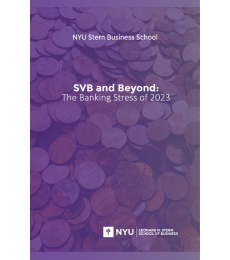 Stern faculty provide an extensive exploration of the factors that led to the crisis and offer timely proposals for financial regulation reform
The NYU Stern School of Business released a new book today, SVB and Beyond: The Banking Stress of 2023, authored by 10 leading accounting, economics, and finance scholars from NYU Stern, and including contributions from external collaborators. In the aftermath of the failures of Silicon Valley Bank (SVB), Signature Bank, First Republic Bank, and of the depositor runs on other midsized banks, the authors develop an organized framework for analyzing this episode and diagnosing the frailties that led to it. They also make recommendations to strengthen the banking system and to safeguard financial stability going forward.
Key takeaways from the book include:
The history of banking crises is rife with risk management, policy, and cognitive failures. Extraordinary failures of bank risk management are the ultimate source of the banking stresses of 2023.
Post-pandemic economic policies encouraged bank risk-taking, while gross supervisory failures over several years also contributed significantly to the 2023 episode.
Policymakers can enact an array of reforms that will ease current banking stresses and help prevent future failures.
The recommended remedies include: undertaking stagflation stress tests, modifying certain accounting practices, redesigning deposit insurance, strengthening bank supervision, and more.
"This book is yet another extraordinary example of the collaborative effort by our outstanding faculty to drive the dialogue around critical issues in the financial system and put forth recommendations that could help to avert a future crisis," said Raghu Sundaram, Dean, NYU Stern.
"Despite the regulations enacted after the fallout from the 2008 financial crisis, it is clear that there is more work to be done to not only recognize the signs of instability in banks, but also to enact more adaptive and robust measures of banking reform," said Professor Viral V. Acharya, C.V. Starr Professor of Economics and co-editor of SVB and Beyond. "Our book aims to provide a practical diagnosis of these failures and present remedies for policymakers to execute."
The book's four editors are NYU Stern Professors Viral V. Acharya, Matthew P. Richardson, Kermit L. Schoenholtz, and Bruce Tuckman. The authors are NYU Stern Professors Viral V. Acharya, Richard Berner, Thomas Philippon, Matthew P. Richardson, Stephen G. Ryan, Alexi Savov, Philipp Schnabl, Kermit L. Schoenholtz, Bruce Tuckman, Lawrence J. White, and co-authors Stephen G. Cecchetti (Brandeis University), Sehwa Kim (Columbia University), and Seil Kim (Baruch College).
SVB and Beyond: The Banking Stress of 2023 adds to Stern's roster of published works on financial crises and financial regulation, including: Regulating Wall Street: CHOICE Act vs. Dodd-Frank; Restoring Financial Stability: How to Repair a Failed System; Regulating Wall Street: The Dodd-Frank Act and the New Architecture of Global Finance; Guaranteed to Fail; and Modernizing Insurance Regulation.
A complimentary download of the book is available here.
About New York University Leonard N. Stern School of Business
New York University Stern School of Business, located in the heart of Greenwich Village and deeply connected with the City for which it is named, is one of the nation's premier management education schools and research centers. NYU Stern offers a broad portfolio of transformational programs at the graduate, undergraduate and executive levels, all of them enriched by the dynamism and deep resources of one of the world's business capitals. NYU Stern is a welcoming community that inspires its members to embrace and lead change in a rapidly transforming world. Visit www.stern.nyu.edu.
---