NYU Stern's Langone Part-Time MBA Program Receives $25 Million Testamentary Gift from its Naming Benefactor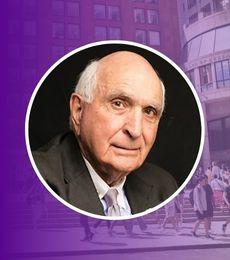 Alumnus Kenneth G. Langone and his Wife, Elaine, to Fund Scholarships
Today, New York University Stern School of Business announced a new $25 million testamentary gift from alumnus and Stern Executive Board member Kenneth G. Langone (MBA '60) and his wife, Elaine, for scholarships to support the School's Langone Part-Time MBA Program, especially military veterans and active-duty military personnel in the program.
A Co-founder of Home Depot, and the Founder and CEO of Invemed Associates, Mr. Langone donated $10 million to Stern in 1999, at which time the part-time MBA was named in his honor. The Langone Part-Time MBA Program, ranked #2 by Fortune and #4 by US News & World Report in the country, delivers a rigorous academic experience within a heritage of maximum flexibility to meet the needs of its working professional students. Langone students can choose one of four academic options, based on their individual needs, to pursue their MBA: Weeknights, Saturday, Accelerated Two-Year, or the new Online/Modular Option.
"Ken and his wife Elaine are believers in the American Dream and are deeply dedicated philanthropists, as reflected in their naming of NYU Langone Health and their significant support of a variety of philanthropic causes," said Raghu Sundaram, Dean, NYU Stern. "This is just one more example of their extraordinary generosity. The Langone Part-Time MBA Program has long been a pillar and flagship offering of Stern, and we are enormously grateful to the Langone family for their longstanding commitment to supporting our working professional students and helping Stern sustain this program as one of the nation's very best."
"Growing up in a working-class family, I was not only willing to work, but willing to work really hard. I quickly learned the value of a dollar and it changed the course of my life. Now Elaine and I are in a position to pay it forward, to help other bootstrapping young professionals who want to make their mark on the world," said Mr. Langone.
"Ken is a self-made success story, coming from humble beginnings to become one of the most remarkable financiers of our time," said William R. Berkley (BS '66), Chairman of NYU's Board of Trustees and Chair Emeritus of NYU Stern's Executive Board. "As a scholarship recipient myself, I had the once in a lifetime chance to study with financial support. Ken and Elaine's gift will help the next generation of leaders make their hopes and dreams a reality."
About Kenneth G. Langone
Mr. Langone sits on Stern's Executive Board and NYU's Board of Trustees, and is Chair of the NYU Langone Health Board of Trustees. He also serves on the boards of Center for Strategic and International Studies, St. Patrick's Cathedral, Horatio Alger Society Foundation, and the Harlem Children's Zone and its charter school, Promise Academy. He most recently authored I Love Capitalism! An American Story.
About New York University Stern School of Business
New York University Stern School of Business, located in the heart of Greenwich Village and deeply connected with the City for which it is named, is one of the nation's premier management education schools and research centers. NYU Stern offers a broad portfolio of transformational programs at the graduate, undergraduate, and executive levels, all of them enriched by the dynamism and deep resources of one of the world's business capitals. NYU Stern is a welcoming community that inspires its members to embrace and lead change in a rapidly transforming world. Visit stern.nyu.edu.
---