Host a Corporate Presentation
Share insights about your business, culture, and job opportunities via a Corporate Presentation.
---
What is a Corporate Presentation?

Companies may host corporate presentations prior to the start of interviews. These events provide our students with insights into your corporate culture and business strategies, and offer forums for networking with alumni and other members of your team. Presentations are held throughout the week during the afternoon and evening, except on Fridays. Though several presentations may be delivered simultaneously, the Office of Career Development will do its best to not schedule firms in the same industry at the same time. All presentations are promoted free of charge through the Stern Recruiting System and in the weekly career alerts to students, but additional publicity is advised.
 
---

Corporate Presentation Reservation Requests
To assist your efforts to recruit the best talent for your firm, we invite you to reserve a Stern MBA on-campus presentation starting May 4, 2023 through the Stern Recruitment System.
When making your requests online, here are a few things to note:
Corporate presentations are 90 minutes in length.
Available times are: Monday through Thursday at 12:00pm, 4:30pm, and 7:00pm.
In most cases, company representatives can access the presentation room 30 minutes before start time.
---

Dates
To allow students time to acclimate to their academic commitments, recruitment at Stern will officially begin on:
September 11, 2023 for second-year and eligible graduating part-time students​ 
October 2, 2023 for first-year students
---

Audio Visual Equipment
Standard audiovisual equipment is provided for all corporate presentations. To ensure that we are able to accommodate all your needs, please include your media requests on the Corporate Presentation reservation form through your Stern Recruitment System. Please note any special requirements on that form.
 
---

Company Literature/Products
Materials that you would like distributed at your corporate presentation should be sent no more than two weeks beforehand to:
New York University
Leonard N. Stern School of Business
Careers Office
44 West Fourth Street, Suite 5-100
New York, NY 10012
Attn: (
Relationship Manager
)

We recommend that you send all products pre-packed and marked with your company name, date, and type of event. Please include a self-addressed shipping label and notify your Relationship Manager of the number of boxes you are sending.
 
---

Catering
Although catering is not scheduled through the Office of Career Development, we request that you use the school's preferred vendors:
If you prefer to have a local restaurant drop-off food for your presentation, nearby restaurants that deliver to NYU Stern include:

If you opt for a delivery option, please email us at recruit@stern.nyu.edu to let us know and please coordinate the food drop-off with the restaurant.
 
---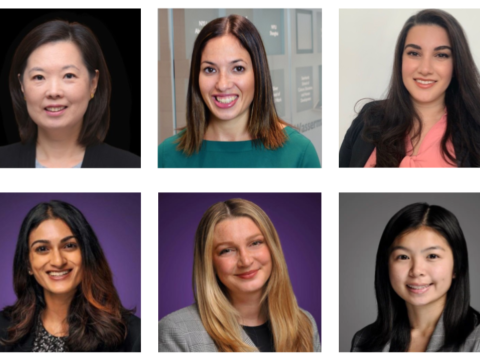 If you have any questions regarding scheduling a Corporate Presentation, please contact your Relationship Manager.