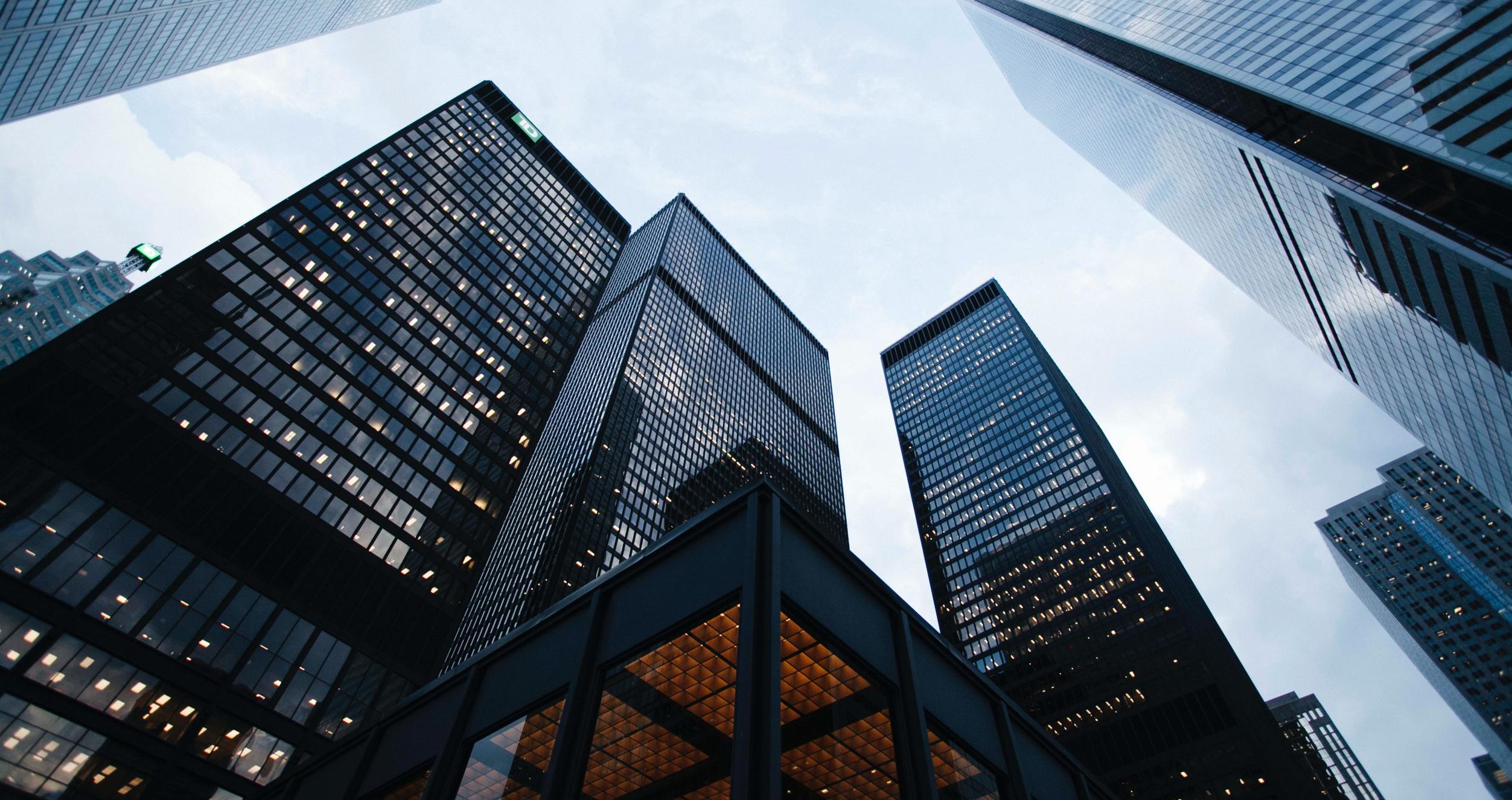 Corporate Community Building Events
Create a strong, cohesive and visible alumni community at your firm that will aid recruitment, employee engagement and philanthropic efforts.
---
2022-2023 Corporate Events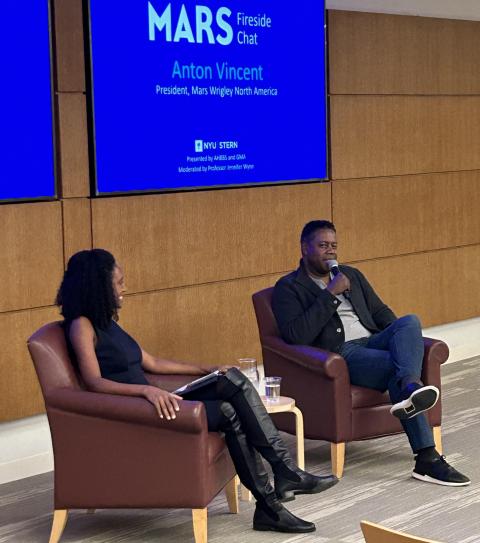 Mars CEO Anton Vincent Event
Corporate Relations welcomed Anton Vincent, President of Mars Wrigley North America for a conversation moderated by Professor Jennifer Wynn and co-hosted by AHBBS & GMA.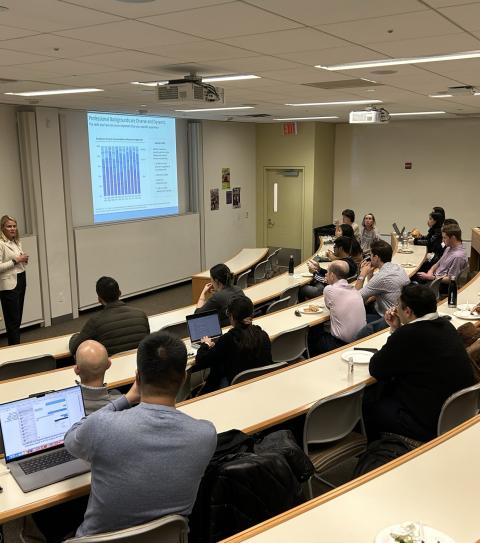 Lunch and Learn with Hunter Search Capital
Discussion on Search Funds, Investing and entrepreneurship with Lacey Wismer, Founder and Managing Partner of Hunter Search Capital, a niche private equity fund that invests in lower middle market businesses via search funds and other Entrepreneurship Through Acquisition vehicles.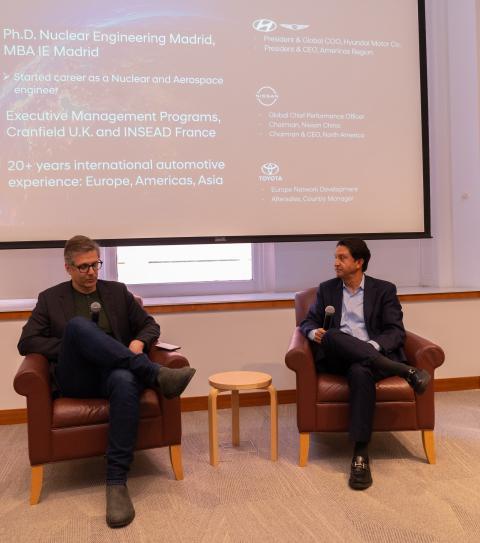 Fireside Chat with José Muñoz
Talk moderated by Vice Dean J.P. Eggers with José Muñoz, the President and Global COO of Hyundai Motor Company, and President and CEO of Hyundai and Genesis Motor North America. Mr. Muñoz shared Hyundai's vision for the future of mobility as well as his insights and experiences on leadership.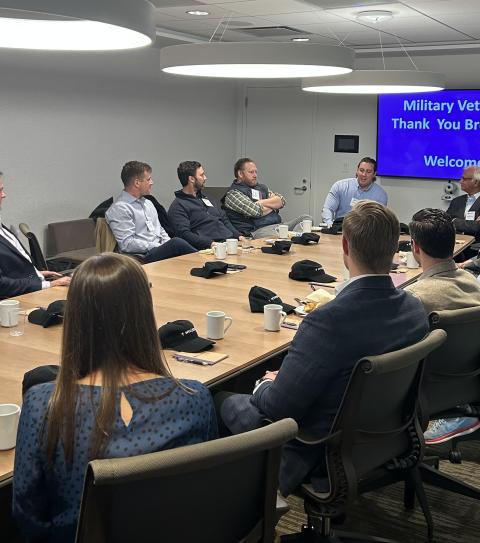 ​​​​​​​Veterans Breakfast with Dean Raghu Sundaram
Corporate Relations collaborated with Alumni Reations to plan a breakfast with Fertitta Trek Hosts and members of the Stern Veterans Alumni Group. Two current students joined and expressed their appreciation for the Fertitta program with Dean Sundaram in attendance.
Mastercard Roundtable
On November 2, 2022 15 Stern alumni Including Mastercard EVP John Levitsky convened with NYU Stern Vice Dean JP Eggers to discuss the school's current offerings as well as details from Stern's upcoming employment report, BTE program and Tech MBA.
Executive-in-Residence
In Fall 2022, the Office of Corporate Relations Launched the Executive-in-Residence Program. The program connects NYU Stern alumni business leaders who are invited to participate in a year-long Executive-in-Residence program to showcase their professional background with current students. Each executive commits to two half-day on-campus sessions over an academic year.
2021-2022 Corporate Events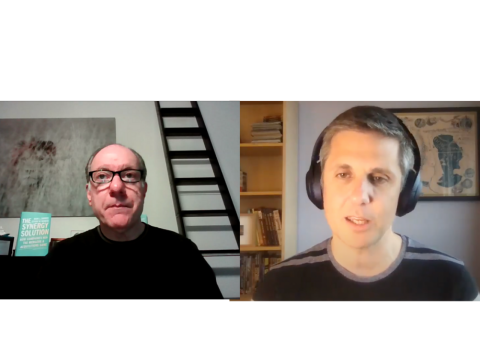 The Synergy Solution Book Launch with Deloitte's Mark Sirower
Mark Sirower, Principal, Deloitte LLP, and Adjunct Professor at Stern sat down with J.P. Eggers, Vice Dean, MBA & Graduate Programs to discuss his new book The Synergy Solution: How Companies Win the Mergers and Acquisitions Game. The Synergy Solution: How Companies Win the Mergers & Acquisitions Game is a comprehensive up-to-date resource for doing M&A right—providing end-to-end solutions for every step from inception to valuation, all the way through post-close execution.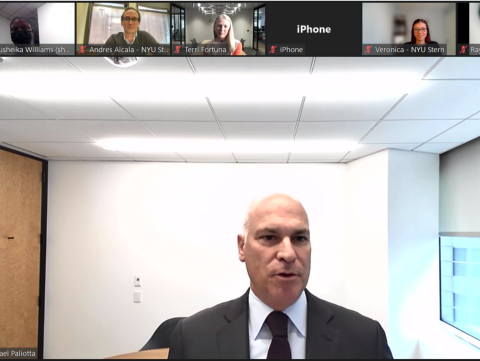 Stern Alumni Series: Michael J. Paliotta, CEO and Head of Equities at Evercore ISI
Michael Paliotta, MBA '92, CEO and Head of Equities at Evercore ISI, joined students to discuss his time at Stern, his career arc, the company culture at Evercore ISI, and his take on the market. Terri Fortuna, COO at Evercore ISI, also joined to talk about what Evercore ISI looks for when recruiting new talent and what it takes to succeed within Evercore ISI.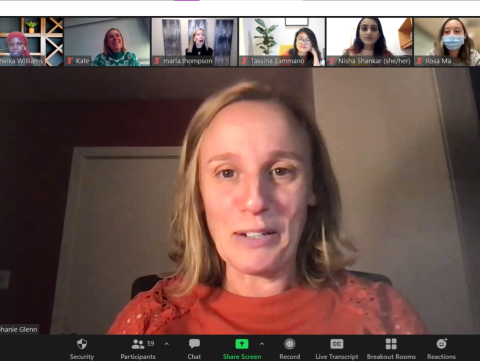 Stern Hosts a Corporate Presentation with Salesforce Executives
This Spring, Corporate Relations hosted a corporate presentation with Salesforce executive, Stern alumna and Tech Advisory Board member, Stephanie Glenn (Stern MBA '09), VP of Commercial Marketing Cloud, along with colleagues Taksina Eammano, Head of Product, Sales Cloud, and Marla Harger Thompson, SVP, Cloud GTM Strategy. The event was aimed at Focused Tech MBA students as well as MBA1s and MBA2s to understand more about the industry and Salesforce specifically.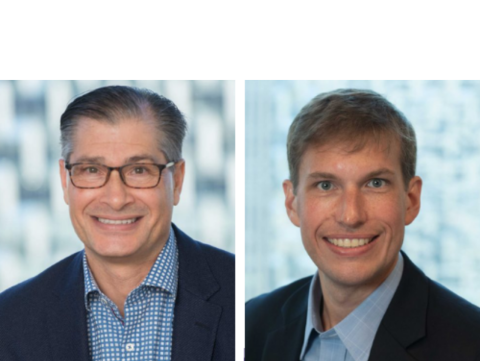 Stern Hosts a Private Equity Forum for MBA Students
This fall, the NYU Stern Corporate Relations team hosted a Private Equity virtual forum featuring alumni Gary Survis (MBA '92) operating partner, Insight Partners, and Whitney Rothe (MBA '13), senior director, marketing, Insight Onsite at Insight Partners. The goal was to offer MBA students an intimate forum to learn firsthand about careers in private equity, with a focus on marketing and sustainability. Gary shared his unique career arc and how he approaches recruiting and his role.