IOMS Groups:  Information Systems • Operations Management • Statistics
– About the department
The Department of Information, Operations & Management Sciences (IOMS) is home to faculty whose research style is analytical or technology-based.

The IOMS faculty have a well known reputation for excellence in research and teaching. Our research focuses in areas such as big data, crowdsourcing and innovation, online advertising, mining social media content and social networks, the sharing economy, revenue management and pricing, long memory time series and categorical data analysis.
Recent News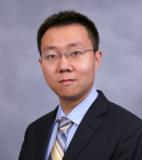 Professor
Xi Chen
was recognized as one of
Forbes 30 under 30 in Science
. Congrats!
IOMS Faculty were honored at the
2016 INFORMS Annual Meeting
:
Professor
Natalia Levina
won the AIS Senior Scholar Best Paper award at the
2016 International Conference of Information Systems
for her
research
.
See more news
here
.
Department Leadership
Alex Tuzhilin, Chair
Ed Melnick, Deputy Chair
New Advanced Professional Certificate in Digital Business
Digital technology is redefining business models and transforming industries from finance to fashion at an unprecedented pace. Technical professionals find they need to understand the business implications of technology, and non-technical professionals need to understand the fundamentals of digital technology.
Course offerings include:
digital strategy; data mining; business analytics; digital marketing; digital media; and statistics and data analysis
.
Read more about our
Advanced Professional Certificate (APC) in Digital Business
.
We've launched the Tech@Stern Blog!
The Stern community shares insights on the latest tech/business topics.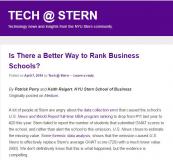 Latest Post:
Disruption: Technology Change and Opportunities for Organizations and Individuals
Slides presented at NYU Stern by Jeff Teper, Corporate VP of Microsoft, Oct 2015