Leading by Listening Workshop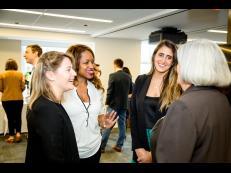 Gain practice navigating difficult conversations and exchange leadership best practices with fellow Stern alumni in this experiential workshop. Learn how to leverage active listening and provide actionable feedback to strengthen the performance of your team.

Perhaps you are trying to gain loyalty, build trust, or manage a difficult employee. In this workshop, you will explore your professional challenges and develop the confidence to tackle them.

The tool of active listening is a powerful and underutilized practice in the workplace. As a manager, you learn what you are (not) doing well and what you might do to help the person to whom you're listening, and you get the opportunity to connect with your employee. Most importantly, by listening to someone, you allow them to hear themselves and take a step toward change.