Program Overview
About the Alliance Manchester Business School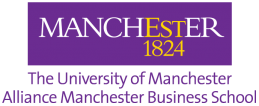 The Alliance Manchester Business School is the business school of the University of Manchester in Manchester, England. It provides education to undergraduates, postgraduates and executives across the globe.The University of Manchester was created in October 2004 by bringing together The Victoria University of Manchester and UMIST, two of Britain's most distinguished universities, to create a powerful new force in British higher education. Twenty Nobel Prize winners have either studied or conducted some of their work here, including Ernest Rutherford who is known for his work on splitting the atom. The University of Manchester has about 25,600 students and is home to approximately 7,400 international students from 180 countries. There are 10,407 staff employed by the University of Manchester, including more than 4,500 academic and research staff to provide you with a stimulating learning environment and the highest standard of teaching. The University has teaching and research in more subjects than any other single-site British university. Situated in the heart of Manchester, the campus has a mixture of traditional Victorian buildings and more modern architecture that sit comfortably alongside each other creating an exciting and eclectic environment.
Term Dates
The University of Manchester offers IBEX opportunities in fall and spring semesters.
Fall semester: mid-September to early-January. Students can arrange to complete courses in late December.
Spring semester: late-January to early-June
Dates are approximate and may be subject to change.
Housing and Living Costs
Housing: on-campus housing is available but students attending for one semester will not be able to choose a specific hall or the type of accommodation, but can only indicate a preference between a Self-Catered (no meal plan) or a Catered Hall (meal plan compulsory). Costs range from £102 – 132/week.
Food: approximately £35 – 60/week.
Books and course materials: approximately £180/semester.
Local transportation: approximately £11/week.
Personal expenses: approximately £175/week.
Note: £ = British Pounds
Find out more about IBEX tuition, housing, and other logistics.
Language of Instruction
English
Student Services
The student services available to exchange students include:
Career services
Sports facilities
Student clubs and associations
International Society