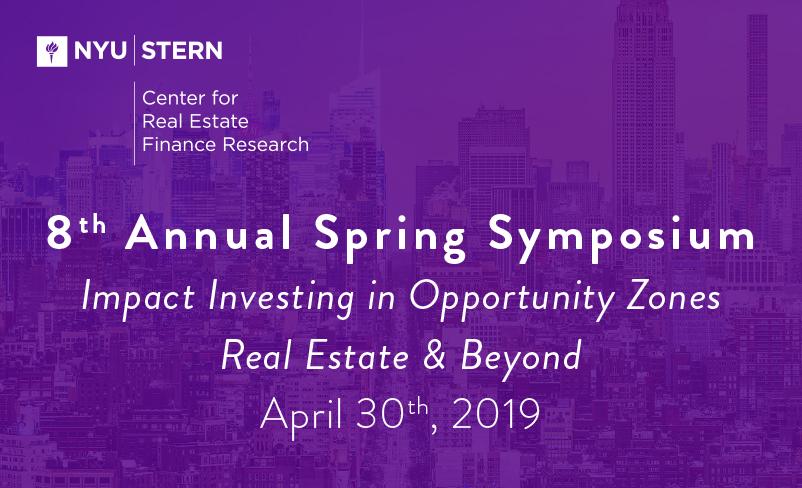 8th Annual Spring Symposium 2019
Read the Conference Primer
Register Here
Registration and Networking Breakfast - Gardner Commons 1-100
8:15 AM - 8:50 AM
Welcome Remarks
8:50 AM - 9:00 AM
Professor Calderon will discuss the genesis of the Opportunity Zone Program and the Program's goals.
Panel 1 | Opportunity Zone Basics and Market Trends - Find Presentation 01 Here & Presentation 02 Here
Barr-Kawamura Commons 5-50
9:00 AM - 10:15 AM
The panelists will provide an overview of the Opportunity Zone law. Recent trends in fund offerings and a real estate market update will be presented. The panelists will also analyze the just released second round of proposed regulations and assess the likely impact on investors, fund managers and communities.
Steven Adler, Meridian Capital Group
John Sciarretti, Novogradac & Co. LLP
Reid Thomas, NES Financial
Aaron Yowell, Nixon Peabody LLP
Moderator: Gary Friedland, NYU Stern
Networking Coffee Break - Barr-Kawamura Commons 5-50
10:15 AM - 10:45 AM
Panel 2 | Leading Opportunity Funds
Barr-Kawamura Commons 5-50
10:45 AM - 12:00 PM
Three leading Qualified Opportunity Fund sponsors with a long track record of developing successful real estate projects in areas that now qualify as Opportunity Zones will discuss their firm's projects – both those developed before the law went into effect, as well as their current projects located in Opportunity Zones. The speakers will also discuss the challenges facing Fund sponsors.
Dan Alger, Goldman Sachs UIG
Sam Chapin, L+M Development Partners Inc.
Robert Dupree, CIM Group
Moderator: Gary Friedland, NYU Stern
Networking Lunch/Q&A - Gardner Commons 1-100
12:00 PM - 1:45 PM
John Sciarretti and Aaron Yowell will lead Q & A discussion about recently released regulations. Other panelists will discuss "hot" topics.
Panel 3 | Impact Investing and Reporting - Find Presentation Here
Barr-Kawamura Commons 5-50
1:45 PM - 3:00 PM
The panelists will discuss the goals of the Program and the opportunities that are expected to be delivered to the local communities and their residents. The speakers will consider how to incentivize investment in those projects that will provide the greatest benefits to underserved areas, and how to measure whether the projects, in fact, meet their promises.
George Ashton, Local Initiatives Support Corporation (LISC)
Stefan Pryor, Rhode Island Secretary of Commerce
Jonathan Tower, Arctaris
Tensie Whelan, NYU Stern
Moderator: Jeanne Calderon, NYU Stern
Networking Coffee Break - Barr-Kawamura Commons 5-50
3:00 PM - 3:30 PM
Panel 4 | Roles of Family Offices in the Opportunity Zone Space
Barr-Kawamura Commons 5-50
3:30 PM - 4:30 PM
The panelists will explore the many roles that Family Offices might play in the Opportunity Zone space. They will discuss why Opportunity Zone investing or developing may or may not be attractive to Family Offices.
Craig Bernstein, OPZ Bernstein
Rian Dartnell, PAXIS Key Holdings
Randy Norton, Green Mesa Capital
Moderator: DJ Van Keuren, Hayman Family Office
For information regarding sponsorship opportunities, please
click here
or contact Joshua Negreira at 
jnegreir@stern.nyu.edu
.