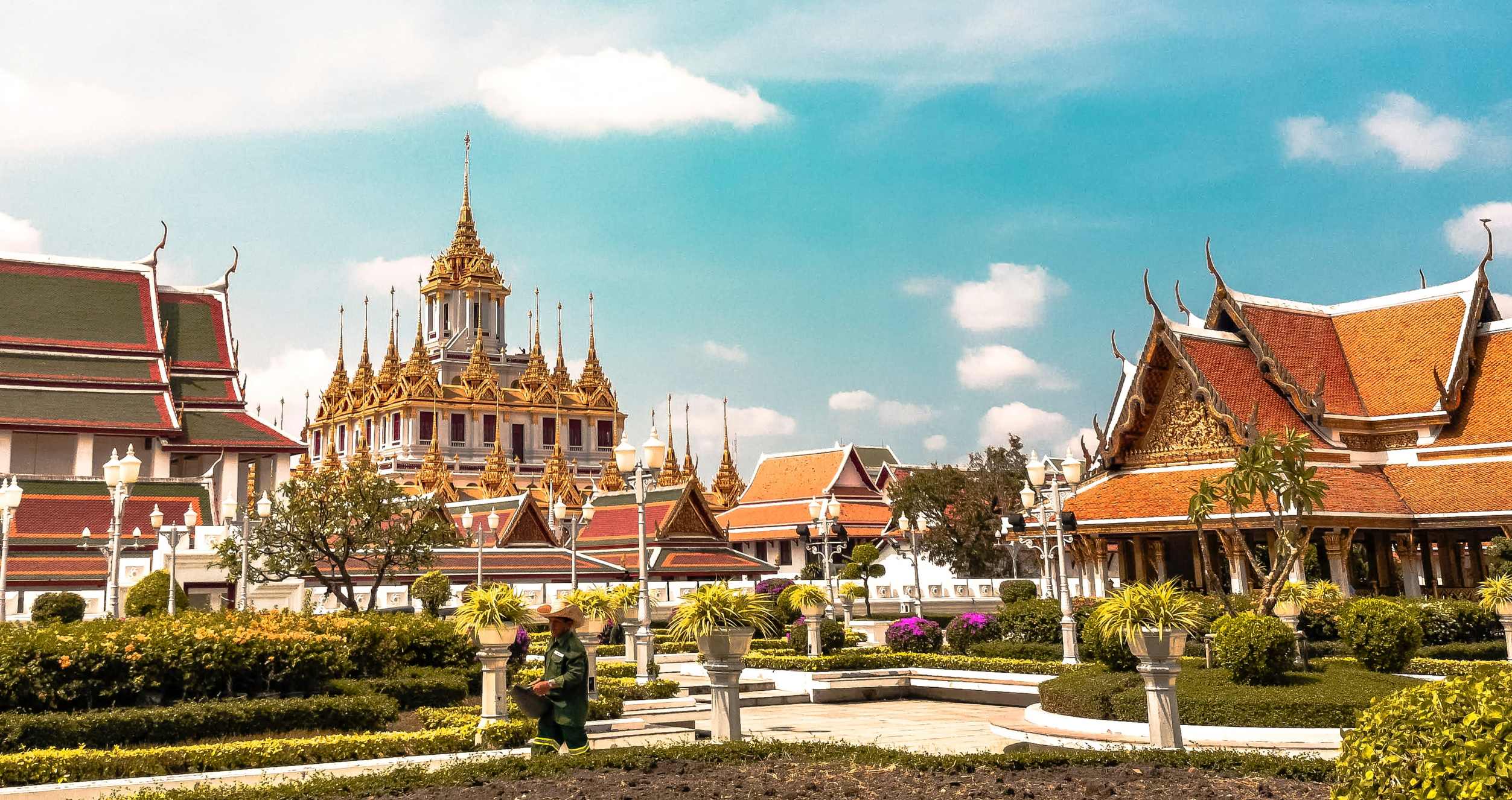 Bangkok, Thailand
Chulalongkorn University
Spend your semester at the oldest and one of the most prestigious universities in Thailand.
---
Program Overview
About Chulalongkorn University

Chulalongkorn University is the oldest and one of the most prestigious universities in Thailand. Founded in 1917 by King Vajiravudh (Rama VI), the university was named as a tribute to the king's royal father, King Chulalongkorn (Rama V). Over time, Chulalongkorn University, or Chula for short, has grown to become a full-fledged university. Today, Chula has 18 faculties, a graduate school, 11 research institutes, three teaching institutes, and four affiliated institutions with more than 2,800 faculty members. The Chulalongkorn University campus covers 500 acres in the heart of Bangkok, the capital of Thailand. The campus is within reach of the major business and financial district, as well as various other facilities.
Term Dates
Chulalongkorn University offers IBEX opportunities in the fall and spring semesters.
Fall semester: mid-August to mid-December
Spring semester: mid-January to mid-May
Dates are approximate and may be subject to change.
Housing and Living Costs 
Housing: ฿10,000 – ฿22,000/month. Chulalongkorn University has an on-campus residence named CU i House that is available for international students. Monthly accommodation fees vary according to room type.
Food: ฿100 – 500/day.
Transportation: ฿50 – 115/day.
Textbooks: ฿5,000/semester.
฿ = Baht
Find out more about IBEX tuition, housing, and other logistics.
 
Language of Instruction
English
Student Services
Chulalongkorn has a Friendship Club that arranges a buddy program for exchange students. The University also offers welcome and farewell dinners, cultural trips, and a Thai culture class.  
Additional Information
Students wear Chula uniforms consisting of white shirts and blue or black skirts or pants inside the classroom. T-Shirts, shorts, jeans, sandals, and slippers are prohibited.
Academic Information
If you are accepted to IBEX, you will attend two individual advising meetings to plan and revise your schedule: one with NYU Stern Academic Advising and one with the NYU Stern International Programs team. As you build your academic schedule for your semester abroad, carefully review and consider the following course information.
IBEX Course Information
You may take a full semester of business classes while abroad on IBEX.
Leave room for at least two general electives in your schedule. This allows you to:

Take interesting, location-specific courses not offered at Stern, and
Have more flexibility during the course registration process.

Reference the IBEX Course Guide: What you can or cannot take.

You can take a maximum of two classes per concentration.
Accounting courses cannot be taken for credit toward the Accounting or CPA majors/concentrations.
All IBEX grades will transfer back to NYU Stern as Pass/Fail.
Previously Approved Courses
Listed below are courses that were taken previously by Stern IBEX students and have already been approved for a specific NYU equivalent.
There is no guarantee that the courses listed here will be offered during the specific semester you study abroad. It is important to be flexible. Have a Plan A and Plan B and the space to take some electives.
If a course is already listed below as approved, it does not need to be reviewed again, unless you want to see if it will count towards a new requirement.
Finding New Courses
You are not limited to only taking the courses listed on this page.
If you see a course on Chulalongkorn's website that you would like to take but it is not listed below, you must submit the syllabus to NYU Stern's International Programs team for approval.
Once Chula publishes its confirmed courses for the semester you will be attending, you can revise your list as needed based on what is being offered.
List of Approved Courses
List of Approved Courses
* Please note that any pre-approved business course can also come back as a General Stern Elective
 

| Course Title Abroad | NYU Credits | Course Equivalent at NYU | Semester Taken |
| --- | --- | --- | --- |
| 2604472 International Economics  | 3 | ECON-UB 11 Economics of Global Business | Fall 2023 |
| 2602171 Business Concepts & Ethics | 3 | SOIM-UB 12 PRL Professional Responsibility & Leadership | Fall 2022 |
| 2602241 IT/IS Information Technology and Systems  | 3 | INFO-UB 1 Info Tech in Business and Society | Fall |
| Quantitative Business Analysis | 3 | INFO-UB 1 Info Tech in Business and Society | Fall 2018 |
| 2602313 Management and Organization | 3 | MGMT-UB 1 Management and Organizations | Fall 2018 |
| Principles of Marketing | 3 | MKTG-UB 1 Introduction to Marketing | Fall 2018 |
| 2602344 Production/Operations Management | 3 | OPMG-UB1 Operations Management | Fall |
| 2303165 Man & Environment | 3 | General Non-Stern Elective OR Natural Science | Fall 2022, Fall 2023 |
| 2200154 Basic Thai For Foreigners | 3 | General Non-Stern Elective | Fall 2022 |
| 2223001 Japanese I | 3 | General Non-Stern Elective | Spring 2022 |
| 0201123 Culture & Thai Traditions in Thai Lifestyle | 3 | General Non-Stern Elective | Spring 2022 |
| 0201232 Multidisciplinary Study for Rural Development | 3 | Elective (CAS) | Fall |
| 2207103 Philosophy & Logic | 3 | Elective (CAS) | Fall |
| Mandarin I | 3 | Elective (CAS) | Fall |
| 3405251 International Business Law | 2 | General Stern Elective | Fall 2023 |
| Taxation | 3 | General Stern Elective | Spring |
| 2602417 Entrepreneurship | 3 | General Stern Elective | Fall |
| 2602499 Seminar in International Business Management | 3 | General Stern Elective - NOT an equivalent for MGMT-UB 4 International Business Management | Fall |
| Business Management Asian Countries | 3 | General Stern Elective | Spring |
| 2604477 International Financial Management | 3 | FINC-UB 30 International Financial Management | Fall 2023 |
| 2604420 Current Issues in Finance | 3 | Advanced Finance Elective | Fall 2022 |
| 2604496 Investment Banking | 3 | Advanced Finance Elective | Fall 2022 |
| 2604492 Computer Applications in Financial Management | 3 | Advanced Finance Elective | Fall 2022 |
| Fund Risk Management | 3 | Advanced Finance Elective | Spring |
| International Financial Management | 3 | FINC-UB 30 International Financial Management | Spring |
| 2602311 Intercultural Communication | 3 | Advanced Global Business Elective     | Fall 2022 |
| 2605419 Global Marketing | 3 | Advanced Global Business Elective | Spring 2022 |
| International Business Transactions Law | 3 | Advanced Global Business Elective | Fall |
| Entrepreneurship for Social Entrepreneurship Not A Choice | 3 | Entrepreneurship Concentration | Fall 2018 |
| 2605314 CB Consumer Behavior  | 3 | Advanced Marketing Elective | Fall |
| Current Issues in Marketing | 3 | Advanced Marketing Elective | Fall |
| Consumer Behavior | 3 | MKTG-UB 2 Consumer Behavior |   |
| 2605421 International Marketing | 3 | MKTG-UB 64 Global Marketing Strategy OR Advanced Global Business Elective | Fall |
| Principles of International Business Management | 3 | MGMT-UB 4 International Business Management | Spring |
| 2602327 Regional Business Environment | 3 | Advanced Management Elective | Fall |
| 2602416 Business Strategy | 3 | Advanced Management Elective | Fall |
| Computer Application in Financial Management | 3 | Advanced Computing & Data Science Elective | Spring 2020 |
| Thai Economy | 3 | Advanced Economics Elective | Fall 2018 |
Global Experiences Office