Student Testimonials: Hong Kong University of Science and Technology (HKUST)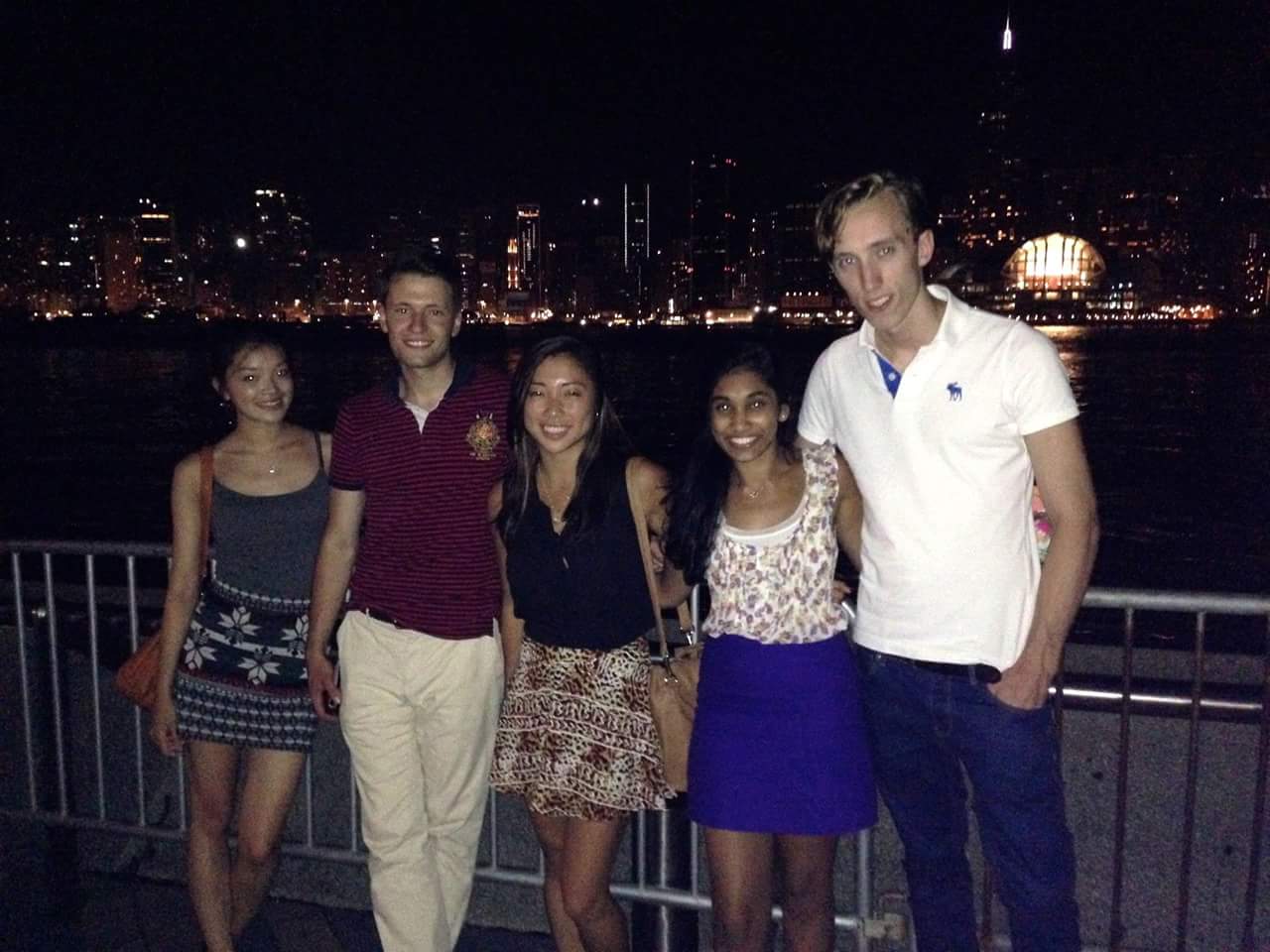 Name: Joyce Su

Highlight of my semester abroad:
Difficult to choose one thing, but I think it was making friends with people from all over the world and exploring a different culture with them. Now I feel like wherever I go, I have a friend who lives there who can show me around!

Who I spent most of my with abroad:
I mostly spent time with other international students from all over the world (there were 400 of us total and 200 in the business school). We automatically formed a community. Full-time students were a little harder to meet since they're pretty reserved and already had friends, but they were all really nice and helpful when you needed help. We also had exchange buddies too who helped us figure things out when we got there so that was an automatic local friend.

What I would say to students considering participating in IBEX:
HKUST was the perfect balance of city and nature. It was like paradise every day since it was secluded and overlooked the bay, but it was only a short bus ride to the MTR (subway) so the city was always right there. I really enjoyed having a closed campus as opposed to being in the middle of the city.  Hong Kong has everything - it blends modernization, tradition, Eastern and Western cultures, urban life, and nature.  Live it up, be open, always be doing something because you don't waste a single minute of your time abroad.
More Student Insight
Airline ticket: $900 USD - $2500 USD
Independent travel: About $200 USD, round trip air, hotel, tour, and food for most places in Asia except for South Korea, Japan, Cambodia, and Vietnam. Depends on the month and package you choose. About $8 round trip train ticket to Shenzhen, China.
Housing: $600 - $1700 USD/semester
Books: Roughly $30 USD/textbook
Entertainment: $5 USD movies, $1 USD, or $2 USD for museums
Food: $50-70 USD/week
Local Transportation: $200 - $500 USD/semester
Phone: $30 - $100/semester.  Used Skype or MagicJack
"My Citibank debit card worked perfectly for me because there were no international transaction fees."
"I got money by taking out cash from the ATM. Most of everything was dealt with in cash. With Chase Bank, I had to pay the equivalent of 5 USD for each transaction."
"I used my credit card and cash. Remember to get an octopus card right away. You can pay for the subway, bus, meals, and even shopping with this convenient card!"
"I bought all my money for HK in AMEX traveler checks. I have an HSBC account here so I had my NY branch write me a referral. I had a savings account in HSBC in Hong Kong. On campus, there is a Hang Seng and a Bank of China. Students tend to start accounts at Hang Seng because they're available in every subway station. Hang Seng is majority-owned by HSBC so you can get money at either Hang Sang or HSBC ATMs if you have accounts at either. Combined, they make up over 2/3 of Hong Kong's banks. Credit cards are not very accepted in HK and you may have to pay an additional 2% for using them."
"Living accommodation was satisfying. I lived in a residence hall with the university: big room, correct amenities (I had a refrigerator, AC, fan). Hall is well maintained and local students do a lot of activities. I definitely was not in the nicest dorm of the school but I am not complaining. Also, they pair exchange students together which is great."
"I lived in a residence hall (Hall 6). It just had a bed, desk, dresser, and a small sink for my roommate and me to share but the bathrooms were communal for the floor. I had to purchase my own pillows, bedding, etc. upon arrival.  There was no meal plan, but there were many dining options on campus including various canteens with Chinese food and some Western options, McDonald's, a Chinese restaurant, a campus bar with food like burgers and sandwiches, and now apparently a Starbucks opened up just when I left! The food wasn't the greatest and I ate off campus a lot but it was definitely fine and SO CHEAP so I didn't mind it at all really. I found the dorm through HKUST."
"Rooms were extremely small; however, it was up to Hong Kong standards. Meals were great, fresh Asian and Western cuisines were offered on campus at a cheap price."
"Housing provided by HKUST Housing Office; found out before I arrived."
"Housing was on-campus, fully furnished, dorm-style"
"I lived in Hall 6- New Hall. It was brand new when I moved in so everything was new. They are dormitory-style doubles or triples. The beds are much smaller in HK. Since I had a double, there are two beds, two desks, two shelves for each person, a sink, and one half of a closet per person. Each floor is made up of 2 wings, one side for girls and one side for boys. Each wing shares a common room with a microwave, fridge, a TV, and a bathroom/shower room. Hall 6 is the best because everything is new. It was very nice and clean. PG Hall 2 is extremely tiny. They were graduate singles that were converted into doubles for undergraduates. They're all bunk beds with barely any room to move around. HKUST does not use a meal plan. I bought a rice cooker and cooked most of my food. I ate a few meals in the cafeteria–it was ok. I tended to eat out with the other exchange students on weekends."
"I loved my dorm. It was a newly built dorm so I basically enjoyed all the new facilities. It was a decent size and I had a roommate who was another exchange student. I was happy that I didn't need to purchase a meal plan because the food in Hong Kong was so cheap, I ended up eating out almost every day. I was satisfied with the living conditions and I absolutely loved eating out."
"I think that the quality of instruction was similar to NYU but that the workload was SLIGHTLY easier which I really liked. Another strength is the emphasis on group work. It forced me to spend time with local students rather than only other exchange students, which I thought was really cool. The grading system was pretty similar to Stern I think with a curve also."
"The professors were good. They taught American-style business (using American companies as examples). The classes are much smaller than at Stern. The students are quieter. You get graded from A-F, with 10% A, 30% B, and 60% C and below. The workload is lighter and the classes are easier but professors are much less likely to give out A's. Also, don't be surprised if you have exams scheduled at night or weekends."
"I felt that the classes were structured the same way as classes are here at NYU. The grading system might have been slightly more lenient. I felt that the students were just as competitive but the workload might have been less demanding. There were just as much group work and exams."
"SOSC 1130: Science, Technology, and Business with Dr. Naubahar Sharif who is the best Professor at HKUST by far. Good communicator, interesting insights and material."
"My favorite class at HKUST was Pop Culture of East Asia. To be honest, I wasn't the biggest fan of the teacher but the course content itself was really interesting. I would definitely recommend it as an elective. It gave an interesting insight into various aspects of pop culture in Hong Kong, China, Japan, and Korea, and how they are all similar and different from one another. We watched many movies and TV shows and read some interesting articles. We also had to make a creative project for our final which was really fun. My friend and I ended up going around Hong Kong with a GoPro filming various parts of the city trying to create a video demonstrating the differences between the western perspective of Hong Kong and what it actually is like underneath the surface."
"Equity Valuation. Especially if you take this class before Corp Fin you will come back a bit ahead. Or vice versa. The people in my class were also absolutely amazing so the group work was manageable."
"My favorite class was my Pop Culture in East Asia class. For homework, we got to watch Japanese anime, Korean dramas, and Chinese movies. We studied the relationship between pop culture and the socio-political dynamics in east Asian countries. It was a pretty analytic class and was actually a lot more intensive than I expected it to be. The professor (May-yi Shaw) was a wonderful teacher who graduated from UPenn and Harvard and she really cared about the students and forced us to actually use our brains and look past the surface of many issues. This class was a really good supplement to my time in Hong Kong, especially with the protests going on.  I would not recommend personal finance, mostly because it was boring and the professor wasn't that great at teaching. It was kind of difficult because most of the students in the class were locals so the professor expected everyone to know about the Hong Kong tax and retirement systems, which, being an American, I didn't. I took this class because I thought it would be useful, but it really wasn't, especially because I'm not a Hong Kong resident."
"My favorite class was Behavioral Finance. The professor was really nice and the most notable thing about the class was that it was almost all exchange students. On the last day, we even took a group picture. The class was different from all the other finance classes I took and it was actually more interesting and less quantitative. All my other classes were ok and there isn't one class I wouldn't recommend. The classwork was fair and the professors were understanding."
"Contemporary Chinese Politics was an awesome class. The professor was really experienced and gave us an unbiased view of Chinese politics-both the good and the ugly. The class I regretted taking was Corporate Strategy. You really don't learn too much in there-lots of people recommended the Negotiation class instead. Supposedly the professor was awesome. One comment on academics: although our classes are pass/fail, don't slack off. Later on, you may decide to go to grad school and they will ask to see your study abroad transcript."
"I would recommend the course International Management. I met a lot of people through that class. It was a truly international experience with a professor who really allowed the class to interact."
"I like Global Marketing with Professor Dontoh. It was a fun and interesting course. I also like Professor Hung's East Asia and the West: Culture in Contact course because it teaches Asia history from a neutral standpoint as opposed to the usual "this is how the US saved the world" viewpoint. Business courses are in general easier in Hong Kong."
"The extracurricular activities were extremely hard to participate in as they were conducted in the local language. It became very tedious to have a student translate everything to me, and so I mainly associated with the other English-speaking students. I did join the dance society, as well as the business students union."
"There's a huge exchange student community at HKUST so I mostly hung out with them and we did our own thing. There was an International Student Association that hosted events for international students and if we signed up, we'd get discounts to the events. Didn't participate in any clubs or teams though. But there was a huge club fair that lasted for a few weeks where we could sign up. HKUST is definitely spirited and people are really into their clubs and all the clubs are open to exchange students too."
"Each dorm organizes different events, which show a lot of the local culture. They have BBQ by the seaside once in a while depending on the weather. Grab some friends and travel!"
"I spent the most time with other international students. It was extremely easy as there were over 300 exchange students. Everyone was very open to meeting new people and extremely diverse."
"The students were friendly and helpful. Like anyplace, the students varied. Many local students liked to work on their English skills and would befriend exchange students. However, some students were intimidated or nervous to use their English with a native speaker, making communication more difficult. Working with local students on group projects is not a good idea unless you speak Cantonese! The local students' work dynamic in group projects was quite different and working with them was sometimes difficult due to the language barrier."
"I spent equal amounts of time with local and exchange students. It's much easier to hang out with local students if you know Cantonese because they're very shy. There are a lot of international students. It's really great because you end up hanging out with people from all over the world. Most of your classmates will be exchange students mostly because exchange students tend to be juniors and seniors who all need to take the same few advanced electives."
"I spent most of my time with other students from other US universities and from foreign universities. It was easy though to meet local students because I would meet a handful from my classes and they were pretty helpful."
"Since I knew Cantonese, I sometimes hang out off-campus with local students. Mostly, I'm with other exchange students. The majority of exchange students are shopping and eating in Shenzhen, China on weekends or going on 4 days vacation tours."
"Hon Wo Korean Restaurant (Mong Kok and Causeway Bay): all you can eat Korean BBQ for 90 minutes / Teakha (Sheung Wan): Tea cafe, yummy, cozy / Victoria Harbour (Tsim Sha Tsui): amazing view of the skyline, right near Harbour City Mall for shopping / Tim Ho Wan (many locations): dim sum restaurant with amazing BBQ pork buns / Ozone Bar (International Commerce Centre): highest bar in the world with amazing views of the city / Man Cheung Po Infinity Pool (Lantau Island): infinity pool on a mountain, good hiking, amazing view / So many blogs and lists online so check them out!!"
"Must hike the MacLehose trail in Sai Kung!!!!! It is incredible. Also, hike Lion's Rock. Some of my favorite restaurants: Yardbird (Soho), Tim Ho Wan (various locations), Linguini Fini (Soho), Zuma (Central). Definitely check out Sai Kung–it is a small fisherman village a short bus ride from campus where there are a ton of local Chinese restaurants with cheap delicious fresh seafood."
"Definitely go hiking! Lion's Rock, Dragon's Back, Ham Tim Wan"
"Lockhart Road, Wan Chai / Cheung Chau Island / Po Toi Island / Ocean Park / Avenue of the Stars, Tsim Tsa Tsui, Kowloon"
"LKF! TST! Knutsford! SOHO!"
"You must go to Lan Kwai Fong, the street with all the bars. All the exchange students are always there. You also must visit the Peak; it's gorgeous up there. Other than that, I think going up the Great Wall of China was memorable too."
"Booking far in advance definitely cuts down prices, but booking the week or even days before is doable. Some websites will offer huge deals so keep an eye out for those. Travel tip: in Asia, carry toilet paper and hand sanitizer with you everywhere because you never know where some country won't have the same bathroom hygiene standards as you do (some places charge for toilet paper). Also when exploring a country, we found that using a food list to guide you is actually very helpful. Just list all the food you want to try, and in the process of finding the food, you'll experience the culture and run into tourist sights. It's nice to go to a country with a plan."
"Traveling is extremely easy, though the airport is a bit far. There are many buses to the airport which are cheap however if you are traveling in a group it won't be as much and also more convenient. I took all flights. Visas to go to china take 5 days so plan for that when booking trips to china (exception for Shenzhen, you can get a visa at the border). Visas for Americans are way more expensive than for Europeans, so keep that in mind. I traveled a good amount and I would recommend taking advantage of what your host university has to offer."
"I traveled a lot within Hong Kong island and nearby countries such as China and Vietnam. It was very easy since Hong Kong is the regional hub. Make sure you have the visas you need before you book anything."
"I traveled whenever I could. It was easy and cheap. Plan out where you want to go and travel as soon as you get there. You should also apply for a student MetroCard for transportation."
"Don't sleep for the entire night before you take your flight. You don't want to be awake for 20 hours! It's much better to sleep for half of the flight and then read a good book and watch a few good movies for the other half. When you get to Hong Kong, don't sleep. Try to adjust as quickly as you can before class starts or you will be miserable when it does! The time difference is brutal."
"The culture may be hard to get used to, especially coming from Western culture. Many habits of locals may come across as rude, even if they do not have the intention. Also, though most have a grasp of the English language, the English skills are far less than I would have expected considering Hong Kong was once under British rule. The food may also be hard to get used to. Otherwise, lifestyle is just as fast-paced and rushed as in NYC, maybe even more so."
"At many of the restaurants you go to, the menu won't be in English. It's best to always try to go with a local student in the crowd."
"It's really crowded in the city–don't let it get to you."
"It's been said that Hong Kong is the most materialistic city in the world, and I would agree with it. Everyone's favorite past-time is to "go shopping." You will hear that a thousand times while you're there. "If you're an ethnic minority–especially if you're Black or if you have blond hair/blond eyes, prepare to be stared at in the poorer areas of the city."
"Don't be offended if some of your close local buddies don't invite you to their homes. Hong Kong "flats" (as they call them) are extremely small and very private. It is very rare, and thus a great honor, to be invited to an HK home."
"Everyone has a cell phone, and you will need to have one too since you won't have a phone in your dorm."
"Don't be too verbal about your dislike for the Chinese government, if that is your inclination. Remember that you are in a communist nation."
"Overall, I had a great experience in Hong Kong. I met some wonderful people that I'm sure I will keep in touch with and had many opportunities to travel through most of Asia. There were some negative experiences, but the only thing I really regret is not meeting more local students and getting to know them better. One of the biggest challenges was getting accustomed to the cultural differences in terms of simple courtesy and attitudes. It was also difficult to adjust to the teaching style and examinations. Hong Kong didn't turn out exactly the way I expected in some good ways and some not-so-good ways. Nevertheless, there is no equivalent experience to being a student studying abroad and I wouldn't ever change my decision to come to Hong Kong."
"The students there are very cliquey. But don't worry about it…and I'd honestly recommend not trying to learn Cantonese. Not only are there no good language classes to take, but it's also actually the most difficult language to learn in the world, with over 8 tones. Your time would be better spent traveling and experiencing the culture."
"Medicine: like things for headache and diarrhea (you'll thank me for this one!)"
"Travel guides to the places you'd like to visit. All of the English books, and especially the English travel guides, in Hong Kong are VERY (I REPEAT, VERY) expensive (Between $25-$65 US dollars.)"
"Flip-flops for the showers. They are pretty gross."
"A bathing suit and workout clothes. There is a great gym and a beautiful outdoor track."