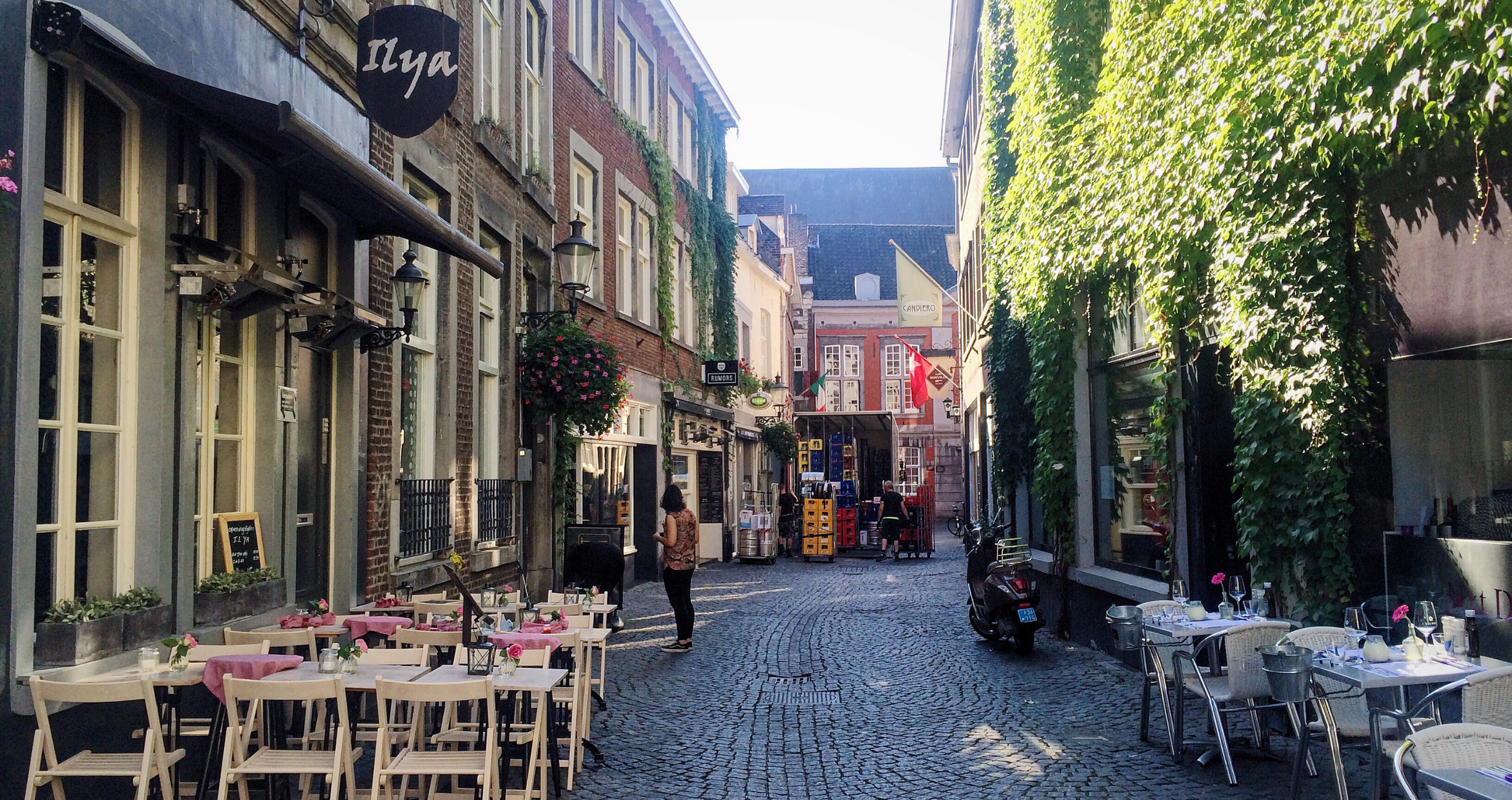 Maastricht, Netherlands
Maastricht University
Study away at the most international university in the Netherlands.
---
Program Overview
About Maastricht University

Maastricht University (UM), the most international university in the Netherlands, stands out for its innovative approach to learning and international outlook. With almost 16,000 students and 4,000 staff, UM offers a wide choice of academic programs, all of which are designed to bring out the best in its students. Maastricht University has used Problem-Based Learning (PBL) ever since it was founded and has been an expert in this field for over 35 years. PBL is more than just acquiring knowledge; it's about exchanging knowledge in a challenging and effective way.
Term Dates
Maastricht offers IBEX opportunities in the fall and spring semesters.
Fall semester: early-September to late-December
Spring semester: early-February to mid-June
Dates are approximate and may be subject to change.
Housing and Living Costs
Housing: approximately €450 – €900 per month. Most exchange students end up staying at the UM Guesthouse although it is not guaranteed. Applications are processed on a first-come-first-served basis and the cost is approximately €450 – €900/month.
Food (no meal plans available): students can prepare meals in the fully equipped, shared kitchens. Groceries are approximately €180 per month.
Books and lass materials: approximately €250 per semester.
Local Transportation: Boarding fare for bus, metro and tram is €4.  Most students travel by bicycle and second-hand bikes vary from €100 – 200.
Personal Expenses: approximately €100 per month.
€ = Euro
Find out more about IBEX tuition, housing, and other logistics.
Language of Instruction
English
Student Services
The student services available to exchange students include:
The Erasmus Student Network, which plans social activities for international students.
The International Student Network (ISN) helps new incoming exchange students settle in Maastricht. During Arrival Week they provide a pick-up service from the central station to the UM Guesthouse. Furthermore, they organize trips and social activities. For more information please visit the website of ISN Maastricht.
Academic Information
If you are accepted to IBEX, you will attend two individual advising meetings to plan and revise your schedule: one with NYU Stern Academic Advising and one with the NYU Stern International Programs team. As you build your academic schedule for your semester abroad, carefully review and consider the following course information.
IBEX Course Information
You may take a full semester of business classes while abroad on IBEX.
Leave room for at least two general electives in your schedule. This allows you to:

Take interesting, location-specific courses not offered at Stern, and
Have more flexibility during the course registration process.

Reference the IBEX Course Guide: What you can or cannot take.

You can take a maximum of two classes per concentration.
Accounting courses cannot be taken for credit toward the Accounting or CPA majors/concentrations.
All IBEX grades will transfer back to NYU Stern as Pass/Fail.
Previously Approved Courses
Listed below are courses that were taken previously by Stern IBEX students and have already been approved for a specific NYU equivalent.
There is no guarantee that the courses listed here will be offered during the specific semester you study abroad. It is important to be flexible. Have a Plan A and Plan B and the space to take some electives.
If a course is already listed below as approved, it does not need to be reviewed again, unless you want to see if it will count towards a new requirement.
Finding New Courses
You are not limited to only taking the courses listed on this page.
If you see a course on Maastricht's website that you would like to take, but it is not listed below, you must submit the syllabus to Stern's International Programs team for approval.
Once Maastricht publishes its confirmed courses for the semester you will be attending, you can revise your list as needed based on what is actually being offered.
Please note for Maastricht courses:

Students studying at Maastricht for the fall semester will take a total of 4 courses: two courses in Period 1 and two courses in Period 2.
Students studying at Maastricht for the spring semester will take a total of 4 courses spread across Period 4, Period 5 and Period 6 (with a maximum of two courses in one Period).
List of Approved Courses
List of Approved Courses

| Course Title Abroad | NYU Credits | Course Equivalent at NYU | Semester Taken |
| --- | --- | --- | --- |
| EBC2009 Marketing Management | 4 | MKTG-UB 1 | Fall 2021 |
| EBC2060 Information Management | 4 | INFO-UB 1 Info Tech in Business & Society  | Fall 2021 |
| EBS2040 Introduction to Web Programming with PHP | 4 | Computing & Data Services Elective | Fall 2016 |
| Supporting Professional Development and Human Performance | 4 | SOIM-UB 12 Professional Responsibility & Leadership (PRL)  | Fall 2018 |
| BUS2002 Leadership and Management in a Global World | 4 | SOIM-UB 12 Professional Responsibility & Leadership (PRL) | Fall 2018 |
| BBM5101 Animal-derived Materials | 4 | Natural Science | Fall 2018 |
| PSY3373 Cognitive Neuroscience of Language | 4 | Natural Science | Fall 2018 |
| EBC2175 Project and Process Management | 4 | Advanced Management Elective | Fall 2016 |
| EBS2030 Presentation Skills | 4 | General Non-Stern Elective | Spring 2021 |
Global Experiences Office