Barr Family International Studies Program (ISP)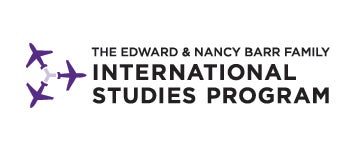 As an undergraduate at NYU Stern, you will gain a deeper understanding of global business strategies through our unique and innovative Edward & Nancy Barr Family International Studies Program.
The International Studies Program (ISP) is a strategy-based course, taken during spring of your Junior year, which will teach you how to understand the competitive positioning of a company in its industry, country and international context. The course includes a one-week visit to a country in either Asia, Europe, or Latin America to experience the culture first-hand and meet with the executives of a major corporation based in that country. A final project is prepared analyzing the competitive positioning of the target company in its global marketplace. This program is currently the only one of its kind offered as part of an undergraduate business degree. Most recently, ISP destinations have included Berlin, Barcelona, Budapest, Buenos Aires, Hong Kong, Santiago, and Singapore.
If you are eligible to participate in ISP, you will receive an email from the International Exchanges & Special Programs team during the summer between your Sophomore and Junior year. If you are a transfer student, have questions about your eligibility, or are planning to study away during the spring semester of your Junior year, please make sure to contact your
Academic Adviser
.