How Academic Advising Helps You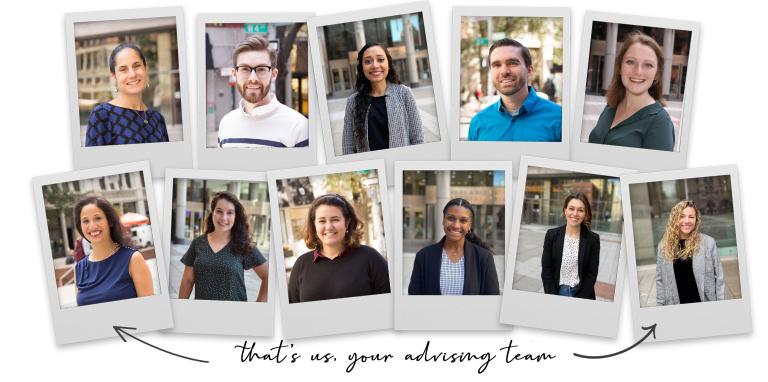 Advisers provide one-on-one assistance to help you make informed academic decisions throughout your college career.  
Your Academic Advising team offers guidance on a variety of topics: 
Access the Advising Team
There are many ways to engage with your advisers:
When to Meet with Advisers
You are encouraged to meet with an adviser as often as you like. You aren't required to meet with an adviser to be cleared for course registration, however, most students meet with an adviser at least once a semester (typically prior to course registration).
Prepare for Your Advising Meeting
Timing is everything
30-minute meetings are the norm, but during the first week of a semester and in the weeks surrounding fall (in April) and spring (in November) class registration, advisers offer 15-minute appointments to provide you with as much availability as possible.
No Availability, No Problem
Appointments are scheduled only up to a week in advance, so if you don't see any open appointment slots, check again later in the week for availability in the following week.
Do your research and come with questions
Before your meeting, check out applicable websites and other resources that can inform the topic and questions you wish to discuss with your adviser.
Learn About Post-Graduation Options
Whether you are on the fence about taking the LSAT, you have been abiding by the pre-health curricular recommendations since your first semester, or thinking of pursuing an MBA, these helpful resources will help you learn more about your post-baccalaureate options and how to best prepare now and throughout your college career.
Stern offers a number of resources if you are interested in learning about law school, exploring careers in the field, and if you are in the process of actively applying.
Advising: Schedule an appointment with Kevin Valliere to discuss pre-law offerings at Stern and in the broader NYU community.
If you are planning on applying to law school and you require a Dean's Certification, please submit a Dean's Certification Request Form to the Stern Undergraduate Advising Pre-Law team member at least 2 weeks before the deadline. (Please note that most law schools now accept digital forms, and so the envelope may not be required.)
 
Pre-Law Information Packets:
In these packets, you will find pertinent information and specific articles regarding the law school application process, careers in law, and other helpful resources if you are planning for law school.  
 
Other Resources:
Stern students interested in fulfilling requirements for postgraduate health careers—from medicine and dentistry to the allied-health professions—are encouraged to meet with a Stern adviser as early in their academic career as possible. You can also take advantage of the resources offered through the College of Arts and Science's Preprofessional Advising Center (726 Broadway, 7th Floor).
The
NYU x NYU / Stern program
offers highly qualified and motivated undergraduate students from the College of Arts and Science, Tandon School of Engineering, Global Liberal Studies, and Stern School of Business the opportunity to pursue their Full-Time 2 year MBA at NYU Stern within 2-5 years after graduation.  
NYU has many resources available if you are considering applying to graduate school. Most strong MBA programs prefer to see students with work experience, but you can begin some preparations now if you are interested in other types of graduate programs or even certain MBAs. Those interested in a business subject Ph.D. should contact the appropriate Faculty Adviser to review course work. You can also visit the Wasserman Center for Career Development for more information on applying to graduate school, as well as the useful sites below.
Access Expert Guidance with Faculty Advisers
Faculty and pre-professional advising resources provide you with advice and resources to help you navigate more nuanced ways that help shape your academic experience. You can ask concentration-specific questions to a departmental faculty adviser and meet with a pre-law or pre-health adviser to assist you in planning for post-graduate options in those fields.