Business and Policy Leader Events
NYU Stern's MS in Risk Management Program Marks 10-Year Anniversary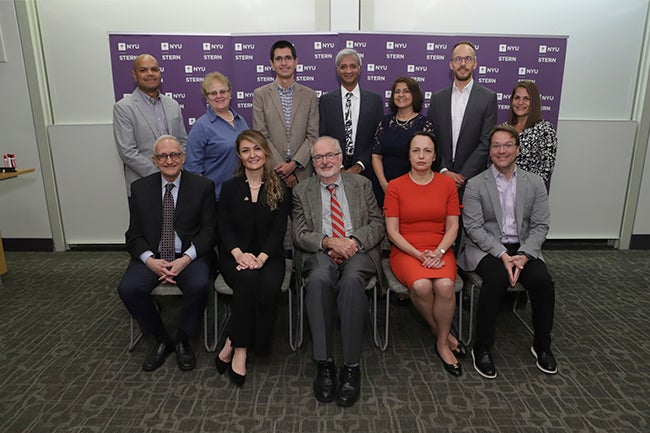 Stern Leadership and Faculty with MSRM Alumni Committee at the 10 Year Risk Symposium
NYU Stern's
MS in Risk Management (MSRM) program
, the first of its kind at a top business school and presciently developed before the 2008 financial crisis, is marking its 10th anniversary. At this milestone, the program is also announcing its new curriculum in enterprise risk management to align with the changing facets of risk senior managers need to manage in today's fast-paced, global and tech-driven world.
"When we first designed the program, it was tailored toward financial risk," says Professor
Robert Salomon
, Vice Dean of Executive Programs. "In today's world, we are seeing the increasingly complex challenges that companies face when it comes to risk management, along with executives' desire to be better equipped to handle a multitude of organizational risks. With that in mind, we enhanced the program to include elements that cover operational risk, supply chain risk, geopolitical risk, climate risk, cybersecurity risk, financial risk, and more in order to provide a holistic, enterprise-wide view of risk management."
The new MS in Risk Management curriculum will cut across the classic "foundational" enterprise risk domains including macroeconomic and financial risk, operational risk, organizational risk, technological risk, and regulatory and legal risk. It will address topics at the frontier of risk management such as data, privacy, and ethics; climate change and sustainability risk; human capital risk; and reputational risk.
"Companies always need to be prepared for the unexpected, across a variety of risk categories," added Professor
Michael Pinedo
, Academic Director of the MS in Risk Management Program. "Over the past 10 years, our program has continually readied professionals to assess and mitigate risk in their organizations through an innovative curriculum by teaching and refining the skills they need to succeed in today's risk management landscape."
"We designed this program a year or two before the global financial crisis," noted
Ingo Walter
, Professor Emeritus of Finance. "Good timing. Risk is and will be with us in its many dimensions, and is nicely aligned to the expertise and research interests of Stern's faculty. What started back then has grown and evolved in coverage and rigor, and continues to uniquely prepare talented students for risk analytics and risk management at the frontiers of the field."
While celebrating the decade milestone, the program also convened for its 10 Year
Risk Symposium
in October entitled "The Changing Risk Landscape and Emerging Risks: Preparing for the Next Crisis." The Symposium took an in-depth look into emerging risks as well as how to prepare for the next crisis, and sessions covered a variety of topics related to risk management such as financial sustainability in central banks, AI, fintech, and climate risk. Dean
Raghu Sundaram
and Professor Michael Pinedo introduced the event. The keynote was delivered by Kevin Stiroh, Executive Vice President of the Federal Reserve Bank of New York and head of the Supervision Group. The Symposium also featured speakers and panel discussions from industry experts such as Nassim Nicholas Taleb, and faculty including
Viral Acharya
,
Richard Berner
,
Robert Engle
,
Kathleen DeRose
,
Lord Mervyn King
, and
Kim Schoenholtz
in addition to distinguished practitioners and alumni.
Fast Facts about NYU Stern's Master's in Risk Management (MSRM) program
Stern's MSRM is designed specifically for senior executives across industries to enhance their capabilities and credentials in the area of assessing and responding to enterprise risk that is vital to the sustainable performance of their organizations. The one-year, part-time program is divided into six on-site class sessions that take place at NYU Stern and in two rotating global locations, leveraging NYU's global network, and concludes with an applied capstone project.
Average cohort size for each program is between 25-30 students
44% of MSRM students join the program already having achieved advanced degrees
MSRM students have an average of 16 years of prior work experience
Past cohorts include over 25 different nationalities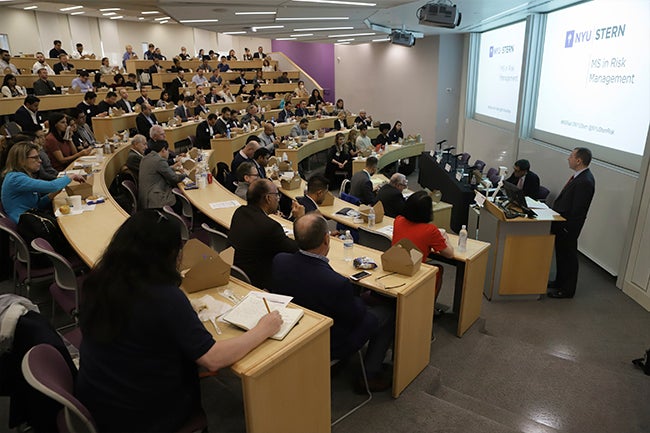 Kevin Stiroh, Executive Vice President of the Federal Reserve Bank of New York, delivers the keynote address during the NYU Stern MS in Risk Management 10 Year Risk Symposium entitled "The Changing Risk Landscape and Emerging Risks: Preparing for the Next Crisis"
Hear from current and former MSRM students:

Robert Cullen III (MSRM '20) on what drew him to apply to the NYU Stern MSRM program:
"I was drawn to the program because of the opportunity to specialize my studies in risk management - the deep dive into risk was critically important to further advance my knowledge in this field. I also knew that participating in this program would give me a chance to learn from some of the brightest professors as well as study alongside a group of diverse colleagues from around the world. Additionally, the curriculum and schedule were both very appealing to me - it was helpful to be a part of a flexible module program."
Tatiana Iliczewa (MSRM '12) on how she stays connected to the NYU Stern MSRM alumni community:
"MSRM program's curriculum provided me with an in-depth understanding of all risk domains. It equipped me to quickly identify relevant key risk indicators and ask the right questions. My learning experience was enhanced by being part of a class consisting of committed and experienced professionals with diverse backgrounds and experiences.
"Furthermore, since graduating from the MSRM program in 2012, I have been involved on the MSRM Alumni Board. We focus on developing an active alumni network aimed at facilitating discussions of relevant and current risk topics among risk professionals. The Board is also involved in organizing MSRM Risk Roundtables as well as the MSRM Risk Symposium. These Stern community events are focused on current and relevant risk management topics with emphasis on the latest research and perspectives of risk practitioners."
Mark Chardack (MSRM '09) on how the NYU Stern MSRM curriculum has been applicable to his current work:
"As a C-suite executive in the legal services industry, I found the MSRM program an invaluable addition to my understanding of the broader risk landscape that most law firms and their enterprise clients operate in. Today, delivering complex legal services, most often focused on bet-the-ranch, high-profile litigation requires at a minimum fluency in data, privacy, ethics, regulatory, litigation, reputational risk, and crisis management.
"In addition, legal services almost always involve sensitive and privileged individual and company data that must be safeguarded. Since that data is often in motion, a balance must be struck between risk, security, and the need to collect, disseminate, access, and work with the data while adhering to current best practices.
"The NYU MSRM gave me not just the tools to identify, assess, and mitigate a multitude of those risks, and not just for data; it provided me the confidence and skills to properly articulate these risks to the broader enterprise and its customers, thereby allowing all stakeholders the opportunity to develop, implement, plan and proactively address these risks. Moreover, the MSRM provided me with a framework for decision making around other adjacent risks beyond data and privacy, including competition, new product offerings, acquisitions and divestitures."