Copenhagen Business School (CBS)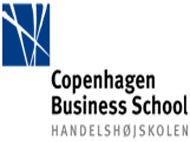 Copenhagen Business School Website
Virtual Tour of CBS
---
Program Overview
Fall Term: late August to late December
Spring Term: late January to late June
Summer Program: late June to early August
Note:
Dates are approximate and may be subject to change
---
Copenhagen Semester Program
"
Copenhagen Business School (CBS)
is Denmark's most internationally oriented institution of higher education, as well as the one university in Denmark offering the most comprehensive range of university level degrees in business economics and modern languages. CBS is also one of the 3 largest business schools in Northern Europe. It is a richly stimulating international and multicultural environment in which to work and study. CBS aims to contribute to the creation of value in society and in enterprises and to develop research-based knowledge in partnership with the business community." - Copenhagen Business School
Housing: 3,737 – 7,856 DKK/month
Food and daily expenses: 1,500 - 3,000 DKK/month
Books and supplies: 100-2,000 DKK/semester
Transportation (bus, train, metro): 700-2,700 DKK/month if you travel every day
Note
: DKK = Danish Krone
Danish and English. A Danish Crash Course is offered the week prior to the Introduction Week.
The CBS housing department has access to eight student residences or dorms. The application process is on a first come, first served basis, so do not be disappointed if you do not get your first priority. Please note that CBS cannot guarantee housing for all exchange students. The cost is approximately 3,737 – 7,856 DKK/month.
The Copenhagen Business School has a "Buddy system" arrangement where each exchange/guest student will be assigned a Danish "buddy" to help in getting through the first few weeks in the new surroundings. This means being picked up in the airport, help with registration at the National Registry, advice on shopping, post offices and other practical matters. "Buddies" are CBS students who have volunteered to help one or more international students. Throughout the semester various activities are planned for the international students and their buddies.
---
Copenhagen Summer Program
CBS offers an
International Summer University Program
(ISUP) from late June to early August. This 6 1/2-week summer program will offer students the option of completing the equivalent of a half semester (8 NYU credits) in a multicultural environment. A full load will consist of two courses taught by outstanding academics. Active involvement of international senior executives from Danish and multinational companies will be an integral part of many of the courses.
NYU summer tuition applies to this program on a per-credit basis for 8 NYU Stern credits - approximately $10,500. This is in addition to the housing, transportation, book and personal expenses you will have for this program - similar to the expenses outlined above for the semester program.