10th Annual Volatility Institute Conference: A Financial Approach to Climate Risk
Friday, April 27, 2018
NYU Stern School of Business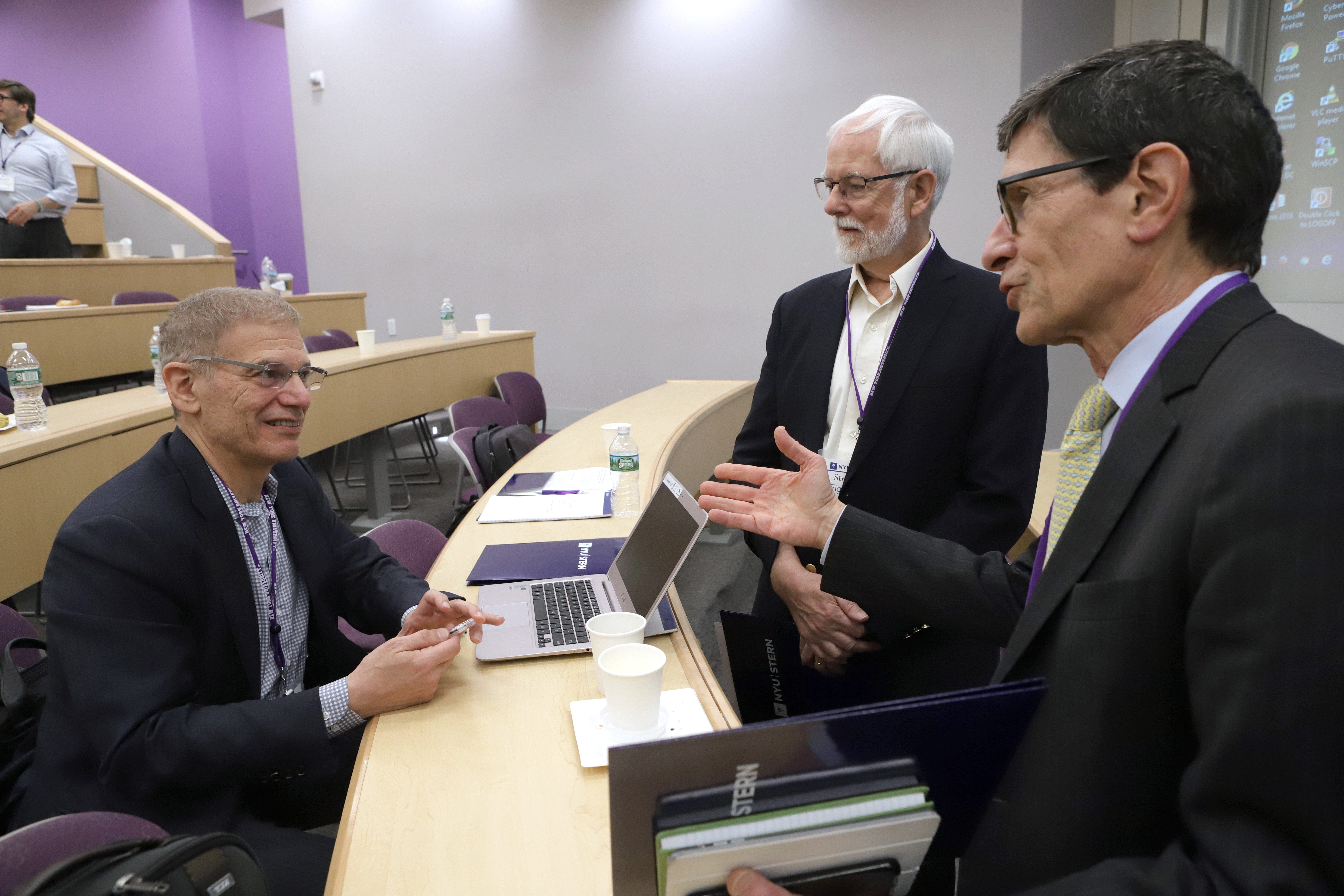 SCHEDULE
8:00am
Registration
8:45-9:00am
Welcome Remarks
Robert F. Engle, NYU Stern School of Business
Dean Raghu Sundaram, NYU Stern School of Business
Al Gore (Video Remarks), Former Vice President, United States, Co-Founder and Chairman, Generation Investment Management
9:00-10:30am
Session 1
Chair: Johannes Stroebel, NYU Stern School of Business
James Stock, Harvard University
"An Econometrician's Take on the CO2-Climate Debate" (slides)
(co-authored with Giselle Montamat)
Kenneth Gillingham, Yale University
"Modeling Uncertainty in Climate Change: A Multi-Model Comparison" (paper)
(co-authored with William Nordhaus, David Anthoff, Geoffrey Blanford, Valentina Bosetti, Peter Christensen, Haewon Mcjeon, And John Reilly)
Stefano Giglio, Yale University
"Climate Change and Long-Run Discount Rates: Evidence from Real Estate" (paper)
(co-authored with Matteo Maggiori, Krishna Rao, Johannes Stroebel, and Andreas Weber)
10:30-11:00am
Refreshment Break
11:00-12:00pm
Keynote Speaker
Robert Litterman, Kepos Capital
"The Social Cost of Delay in Pricing Emissions" (paper)
Opening Remarks: David Yermack, NYU Stern School of Business
12:00-1:30pm
Lunch & Luncheon Address
Patrick Du Plessis, Norges Bank Investment Management
"Ethical exclusions and risk based divestments – the negative screening framework of the Norwegian Government Pension Fund Global"
Opening Remarks: Robert Engle, NYU Stern School of Business
1:30-2:30pm
Session 2
Chair: Tensie Whelan, NYU Stern School of Business
Harrison Hong, Columbia University
"Climate Change and Efficiency of Sales Forecasts"
(co-authors with Frank Weikai Li, David Sraer and Jiangmin Xu)
Wenxi Jiang, The Chinese University of Hong Kong
"Attention to Global Warming"
(co-authored with Darwin Choi and Zhenyu Gao)
2:30-3:30pm
Keynote Speaker
Michael Greenstone, University of Chicago
"Valuing the Global Mortality Consequences of Climate Change, Accounting for the Costs and Benefits of Adaptation"
Opening Remarks: Johannes Stroebel, NYU Stern School of Business
3:30-4:00pm
Refreshment Break
4:00-5:00pm
Session 3
Bryan Kelly, Yale University
"Hedging Climate Change News"
(co-authored with Robert Engle, Stefano Giglio, Johannes Stroebel, and Heebum Lee)
Robert F. Engle, NYU Stern School of Business
"What's New in V-Lab?" (slides)
5:00-6:00pm
Panel Discussion: "Institutional Investors' Approach to Managing Climate Risk."
Moderator: Robert Whitelaw, NYU Stern School of Business
Robert Litterman, Kepos Capital
Miroslav Petkov, S&P Global Market Intelligence
Carine Smith Ihenacho, Norges Bank Investment Management
Alex LaPlante, Global Risk Institute
Jon Hale, Morningstar
6:00pm
Wine and Cheese Reception
THEME
The tenth annual Volatility Institute conference will bring together leading researchers to discuss how the tools of risk management developed in finance can be adapted to the long term risks associated with climate change. The conference will feature keynote speeches from Robert Litterman and Michael Greenstone. The day will include researchers discussing their latest work on the theme, including presentations from Robert Engle, Stefano Giglio, Kenneth Gillingham, Harrison Hong, Wenxi Jiang, Bryan Kelly, and James Stock. The conference will conclude with a panel moderated by Robert Whitelaw, featuring Robert Litterman (Kepos Capital), Jon Hale (Morningstar), Alex LaPlante (Global Risk Institute), Carine Smith Ihenacho (Norges Bank Investment Management), and Miroslav Petkov (S&P Global).
REGISTRATION
The conference will take place at the NYU Stern School of Business. Registration is free and open to the public. However, please note that you must register in advance. To register, send an email Matthew Hemphill,
mhemphil@stern.nyu.edu
, with your full name and affiliation (company, university, or institution name).
We look forward to seeing you at the conference this year!
SPONSORED BY
The Global Risk Institute
,
S&P Global
,
The Norwegian Finance Initiative
,
The Volatility Institute
,
BlackRock
,
The Alfred P. Sloan Foundation
,
the Macro Financial Modeling Project
, and
SoFiE