Past Conferences
The Volatility Institute hosted its fourth annual Conference on April 27th, 2012 titled, "Comovement of Volatilities, Returns and Tails."
Theme:
In the Financial Crisis of 2008-9 and the Sovereign Debt Crisis which is with us today, we see volatilities in all asset classes and all countries rising together. Furthermore, correlations are rising, and tail risks by most measures are high. These characteristics of volatility, returns and tails affect portfolio risk and systemic risk to the real global economy. This conference will aim at understanding and modeling the underlying economic structure of these comovements and its implications for risk, return and regulation. Furthermore, these comovements may imply new features of asset and derivative prices.
View the photo gallery from the conference. For a complete schedule of events, view the conference program.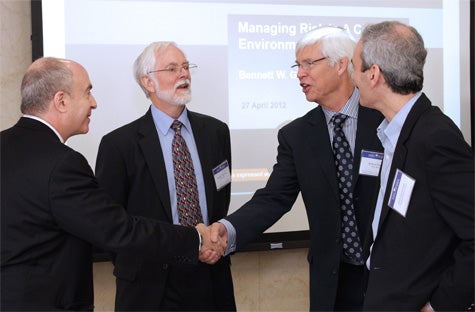 Bennett W. Golub (left), Luncheon Speaker at 2012 Volatility Institute Conference, shakes hands with host Robert Engle. (Left to Right: Bennett W. Golub, Stephen Figlewski, Robert Engle, Paul Glasserman)