Academic Advising
Members of the Academic Advising Team meet with students in 30-minute appointments Monday-Friday between 10am-4:00pm. These appointments can be scheduled via
NYU Connect
. Making an appointment is easy!
Steps for a 30-minute appointment:

1.
Check NYU Connect for Adviser Availability. The system allows students to schedule appointments up to a limited amount of days in advance so look through the schedule for a time that works for you. Please read the "NYU Connect Scheduling Guide" for detailed instructions. Please note: If you are requesting a Skype or phone appointment, please email your Skype ID or contact phone number to the adviser you are scheduled to meet with.
2.
Prepare for your appointment. What questions or concerns do you have?
3.
Arrive early! If possible, try to arrive 5 minutes early for your appointment so that our advisers can stay on schedule. If you need to cancel, please do so via NYU Connect.
4.
The 30 minute & Quick Visits schedules change in the weeks leading up to and including registration, so pay attention to your email for more information on scheduling appointments during these times.
Quick Visits
Have some quick questions that don't warrant a 30-minute appointment?
Stern UC Advising holds
virtual Quick Visit Advising
at the following times:
Monday, Thursday and Friday 9:30-10:30AM EST
Tuesday and Wednesday 3:00-4:00PM EST*
*Exceptions are made to the Quick Visit schedule for holidays, the first week of classes each semester, Welcome Week/Orientation and in the weeks leading up to and including Registration.
Other Places for Answers
Stern students can e-mail
uc.advising@stern.nyu.edu
or call (212) 998-4020 for answers to short questions.
Academic Advising
Adviser Photo
Name and Title
About
Tiffany Boselli
Senior Assistant Dean of Academic Advising and Judicial Affairs
Tisch Hall, Room 609
Tiffany spent most of her life moving around the US and Europe as a military dependent. She earned her bachelor's degree from Georgetown University and after graduation served in the Foreign Service in Latin America. She returned to Georgetown for her master's degree, worked in the private sector, and then began a career in higher education at her alma mater. Tiffany's three small children are not so small anymore. She enjoys yoga (but everything cracks now), traveling (actually sitting on the beach), and a good political debate. She still loves Elvis Presley and Bob Marley (you should too).
Scott Bourdeau
Director, Advising Operations & Student Services
Tisch Hall, Room 615
Hailing from Waldorf, MD, Scott graduated from James Madison University in Virginia with a Bachelors degree in Media Arts & Design: Corporate Communications. After several years in the world of Washington, DC advertising and marketing, Scott returned to the higher education arena - working at Fordham University while receiving his Masters in Higher Education Administration at Columbia University. In his free time, Scott loves traveling as many places as he can (some favorites: Nicaragua, Berlin and Vancouver), sampling the many types of New York cuisine and nightlife, and staying in shape.
MaryKatherine Chester
Administrative Aide, Tisch Hall Suite 616
Born and raised in Upstate New York, MaryKate went to the University of Rochester to pursue a B.A. in History and a B.A. in Brain and Cognitive Sciences. Following Rochester, she attended Brown University where she was awarded a Master's in History. MaryKate loves to travel (particularly to Sweden where she has family), sing along to Broadway songs, binge watch Netflix series, drink excessive amounts of coffee, and explore NYC!
Fatima Chishti
Academic Adviser
Tisch Hall, Room 617
Fatima is from The Windy City and supports pizza eaten with knife and fork! She obtained her B.A. in English and secondary education from the University of Illinois at Urbana-Champaign. After graduation, Fatima spent six years working as a high school English teacher in a diverse Chicago suburb. Once she moved to The Big Apple, Fatima mentored novice teachers in New York City's charter school network. Prior to taking on the role of Academic Adviser, Fatima earned her M.A. in Higher Education and Student Affairs from NYU. During this time, she also worked as a Graduate Fellow in Stern's Office of Student Engagement. Fatima is thrilled to continue to support Stern students in her new position!
Elizabeth (Yoon) Choe
Associate Director
Tisch Hall, Room 610
A native New Yorker and NYU-lifer, Liz received her BA in Journalism from NYU. A year after graduating, she decided that she missed Washington Square so much that she began her career at NYU as an administrative aide in the Dean's Office. She then moved on to become the administrative coordinator for the Management & Organizations Department. During her tenure in the Management Department, she worked her way through two master's program and now has an MA in Teaching English to Speakers of Other Languages as well as a Master's in Social Work. Liz loves to travel. She studied abroad at NYU in London, spent time teaching English in Japan and worked as an intern for NBC Olympics in Athens, Greece.
Saige Martinez
Academic Adviser
Tisch Hall, Room 612
Growing up a military child, Saige went to 9 different schools from K-12th grade ranging in locations from California to Georgia to Italy. This inspired love for traveling continued when she studied abroad in Ireland & Cyprus while earning her Bachelor's from NYU at the College of Arts and Sciences in Anthropology, Classical Civilizations, and Animal Studies. After graduation, she spent time in Algeria working for the Department of State at the US Embassy in Algiers. She enjoys baking, singing, and playing her ukelele.
Mariya Pugacheva
Academic Adviser
Tisch Hall, Room 619

Mariya was born in Moscow, Russia but was raised in New York and decided to stay in the heart of the city to pursue her Bachelor's in History and later a Master's in Higher Education and Student Affairs, both at NYU. She found a passion for mentoring students of all ages while working as an NYU Commuter Assistant to first year commuter students and volunteering her time at elementary schools. Growing up in a family of 6, she had developed a love for capturing memories through photography. Mariya loves spending time with her family, traveling, learning new languages and is a bookaholic.
Jessie Rosenzweig
Director of Academic Initiatives, Advising
Tisch Hall, Room 614
Jessie received her BA in Sociology from Wesleyan University and her MA in Higher Education Administration from NYU. After working as a Graduate Assistant in the Stern Advising Office, she was hired on as a full-time Adviser and has not looked back since! Jessie has been on the Stern Advising Team for almost 15 years and in that time she has developed a true appreciation of the students in the Stern community for their tenacity, creativity and commitment to their fellow students. In her free time, Jessie's favorite activity is spending time with her young sons Charlie and Oliver. Jessie is also an avid movie buff, reader, and while she loves the Food Network, she has yet to master the art of cooking (but she continues to try!)
Mary-Grace Tomecki
Associate Director, Academic Enrichment Programs
Tisch Hall, Room 611
After managing grants and helping develop international programs for Touro College, Mary-Grace enjoyed working in the Dean's Office of the Undergraduate College. Most recently, she served as a special education mathematics teacher in the South Bronx. Mary-Grace earned her BA in Economics from Adelphi University, and then, went on to earn an MA in Elementary Education from Mercy College and an MA in Politics from NYU's Graduate School of Arts and Sciences. In her free time, Mary-Grace serves on a variety of volunteer committees that address quality of life issues in her hometown on Long Island.
Kevin Valliere
Assistant Director
Tisch Hall, Room 613
Kevin is a proud son of Dallas, TX, and has lived in New York since 2014. He earned his B.S. in Secondary Education at the University of Missouri and his M.S. in Educational Administration at Texas A&M University. He spent several years working in Residence Life at Texas A&M and St. John's University before joining the Stern Advising team in 2016. Kevin is an avid reader, writer, and coffee drinker.
Thinking About Law, Med, or Graduate School?
Below is some information to assist you if you are considering Law, Medical, or Graduate School.
Pre-Law Advising
Please schedule an appointment with
Professor Jeanne Calderon
if you have any questions regarding law school. The
Stern Business & Law Association
,
Undergraduate Law Society of NYU
, and
CAS Pre-Law Info/ListServ
are also great resources for those interested in law.
If you are planning on applying to law school and you require a Dean's Certification, please submit a
Dean's Certification Request Form
at least 2 weeks before the deadline.
Khan Academy
, which is provided by the LSAC, offers 100% free LSAT test prep.
Pre-Law Information Packets:
this interest form
. The next pre-law information session will be held on October 15th at 12:30 PM in Tisch Hall LC-25. You are welcome to review
the Fall 2018 session
. (Stern log in is required.)
Pre-Law Articles:
A Free Summer Class Based on 'Seinfeld' and the Law
law.com
May 14, 2020
----------------------------------------------------------------------------------
Future in Law? A Profile of Graduating College Seniors Interested in Legal Education and Careers
AccessLex Institute
February 29, 2020
----------------------------------------------------------------------------------
New Lawyers are Swimming in Debt
Wall Street Journal
November 27, 2019
----------------------------------------------------------------------------------
LSAC Successfully Launches New Digital LSAT
lsac.org
July 16, 2019
----------------------------------------------------------------------------------
What Pushes Undergrads to Law School? It Ain't the Money
law.com
September 19, 2018
----------------------------------------------------------------------------------
Number of Law School Applicants Surges, Especially Among High Scorers
law.com
July 30, 2018
----------------------------------------------------------------------------------
Cornell, NYU Law to Accept the GRE
law.com
July 18, 2018
----------------------------------------------------------------------------------
Law School Comparison Site
----------------------------------------------------------------------------------
Achieving Success in the Application Process (ASAP)
Preparing talented, motivated, yet under-represented students to successfully gain
admission to and succeed in law school
----------------------------------------------------------------------------------
MAX Pre-Law
A nonprofit dedicated to providing free online resources for aspiring law students.
----------------------------------------------------------------------------------
Apply for CATALYST by SEO Law (2020)
The purpose of this 15-week program is to assist underrepresented, minority students in applying and gaining admission to law school. Selected students will have the opportunity to participate in a free, two-month LSAT preparation program, participate in workshops to strengthen their application materials, access to complementary coaching from professional admissions consultants and individualized review of application materials, and more.
----------------------------------------------------------------------------------
Pre-Health Advising
Stern students interested in fulfilling requirements for postgraduate health careers—from medicine and dentistry to the allied-health professions—are encouraged to meet with a Stern adviser as early in their academic career as possible. Students can also join the
Stern Healthcare Group (StHealth)
. Prehealth students should also take advantage of the resources offered through the
College of Arts and Science's Preprofessional Advising Center
(Silver Center, Room 901. Tel: 212-998-8160).
Please consult with an adviser on how to incorporate your pre-health goals into the Stern curriculum.
Applying to Graduate School
NYU has many resources available for students who are considering applying to graduate school. Most strong MBA programs prefer to see students with work experience, but you can begin some preparations now if you are interested in other types of graduate programs or even certain MBAs. Students interested in a business subject Ph.D. should contact the appropriate
Faculty Adviser
to review course work. Students should also visit the
Wasserman Center for Career Development
for more information on applying to graduate school, as well as the useful sites below.
Useful Planning Resources
Curriculum Worksheets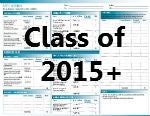 Educational Resource

s:
Medical Resources:
Financial Resources:
Student University Resources:
Academic Resource Center (ARC) & University Learning Center
(Stern & CAS Classes)
Wellness Exchange
Office of the Bursar
(Tuition, Payment Plans, Refunds, etc.)
Housing at NYU
Beta Alpha Psi (BAP) Tutoring
(Stern Classes)
Medical Services @ Student Health Center

Office of Financial Aid
(Financial Aid, Scholarships, FAFSA)
Office of Global Services
(for International Students)
English Language Support
(Conversation Circles, Writing Review, etc.)

Counseling Services @ Student Health Center
NYU Opportunity Programs
(HEOP, CSTEP)
Office of Public Safety
(Emergencies, Campus Transportation, Crime Prevention)
Expository Writing Program
Office of the Registrar
(Academic Calendars, Academic Records, Graduation, etc.)

Henry and Lucy Moses Center for Students with Disabilities