11th Annual Volatility Institute Conference
"Financial Volatility in an Age of Geopolitical Risks"
Friday, April 26, 2019
NYU Stern School of Business
44 West 4th Street
New York, NY 10012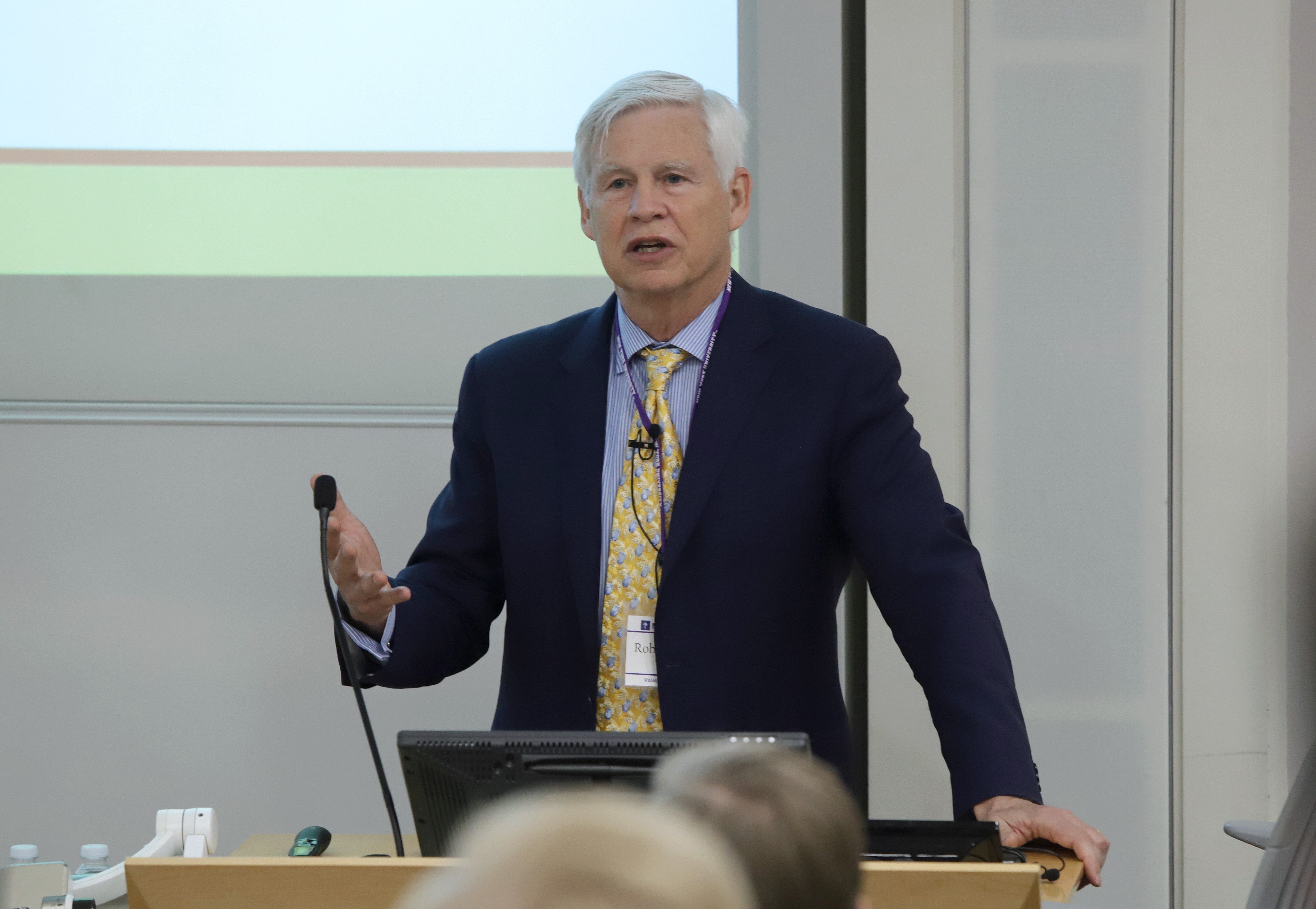 SCHEDULE
8:00am
Registration
8:50-9:00am
Welcome Remarks
Robert F. Engle, NYU Stern School of Business
9:00-10:20am
Session I
Chair: Peter Carr, NYU Tandon
Bryan Kelly, Yale University and AQR
"The Structure of Economic News"
(co-authored with Leland Bybee, Asaf Manela, Dacheng Xiu)
Xin Zhou, NYU Shanghai
"Risk Neutral Moments, Risk Aversion, and Return Predictability-Evidence from SSE 50ETF Option"
10:20-10:50am
Refreshment Break
10:50-12:10pm
Session II
Chair: Vasant Dhar, NYU Stern School of Business
Tim Bollerslev, Duke University
"Realized Semicovariances" (paper)
(co-authored with Jia Li, Andrew J. Patton, Rogier Quaedvlieg)
Olivier Ledoit, University of Zurich
"Factor Models for Portfolio Selection in Large Dimensions: The Good, the Better and the Ugly" (paper)
(co-authored with Gianluca De Nard and Michael Wolf)
12:10-1:40pm
Lunch & Luncheon Address
Bennett W. Golub, Chief Risk Officer, BlackRock
"Geopolitical Risk Management: A Structured Approach"
Opening Remarks: Robert F. Engle, NYU Stern School of Business
1:40-3:00pm
Session III
Chair: Matthew Richardson, NYU Stern School of Business
Yingying Li, Hong Kong University of Science and Technology
"Factor Modeling for Volatility"
(co-authored with Yi Ding, Robert Engle and Xinghua Zheng)
Torben Andersen, Northwestern University
"Tail Risk and Return Predictability for the Japanese Equity Market" (paper 1) (paper 2)
(co-authored with Viktor Todorov and Masato Ubukata)
3:00-3:30pm
Refreshment Break
3:30-4:50pm
Session IV
Chair: Joel Hasbrouck, NYU Stern School of Business
Allan Timmermann, University of California – San Diego
"Investor Information Acquisition and Money Market Fund Risk Rebalancing during the 2011-12 Eurozone Crisis." (paper)
(co-authored with Emily Gallagher, Lawrence Schmidt, Russ Wermers)
Robert F. Engle, NYU Stern School of Business
"Hedging Geopolitical Risk based on a Multiplicative Volatility Factor Model"
(co-authored with Susana Martins)
4:50-5:50pm
Panel Discussion: "Can you or should you hedge geopolitical risks?"
Moderator: Richard Berner, NYU Stern School of Business
Paul Britton, Chief Executive Officer, Capstone Investment Advisors
Kenneth F. Kroner, Chief Executive Officer, Pluribus Labs
David Kupersmith, Principal, AQR
Stuart Jones Jr, Chief Executive Officer, Sigma Ratings, Inc.
5:50pm
Wine and Cheese Reception
REGISTRATION
The conference will take place at the NYU Stern School of Business. Registration is free and open to the public. However, please note that you must register in advance. To register, send an email Matthew Hemphill,
mhemphil@stern.nyu.edu
, with your full name and affiliation (company, university, or institution name).
SPONSORED BY
The Global Risk Institute
,
The Norwegian Finance Initiative
, the Michael Armellino Foundation,
BlackRock
,
The Alfred P. Sloan Foundation
,
the Macro Financial Modeling Project
,
Asobancaria
,
Inter-American Development Bank
, and
General Quantitative, LLC
.
PAST EVENTS
For more information from our Tenth Annual Volatility Institute Conference, please visit our
past conference page
.