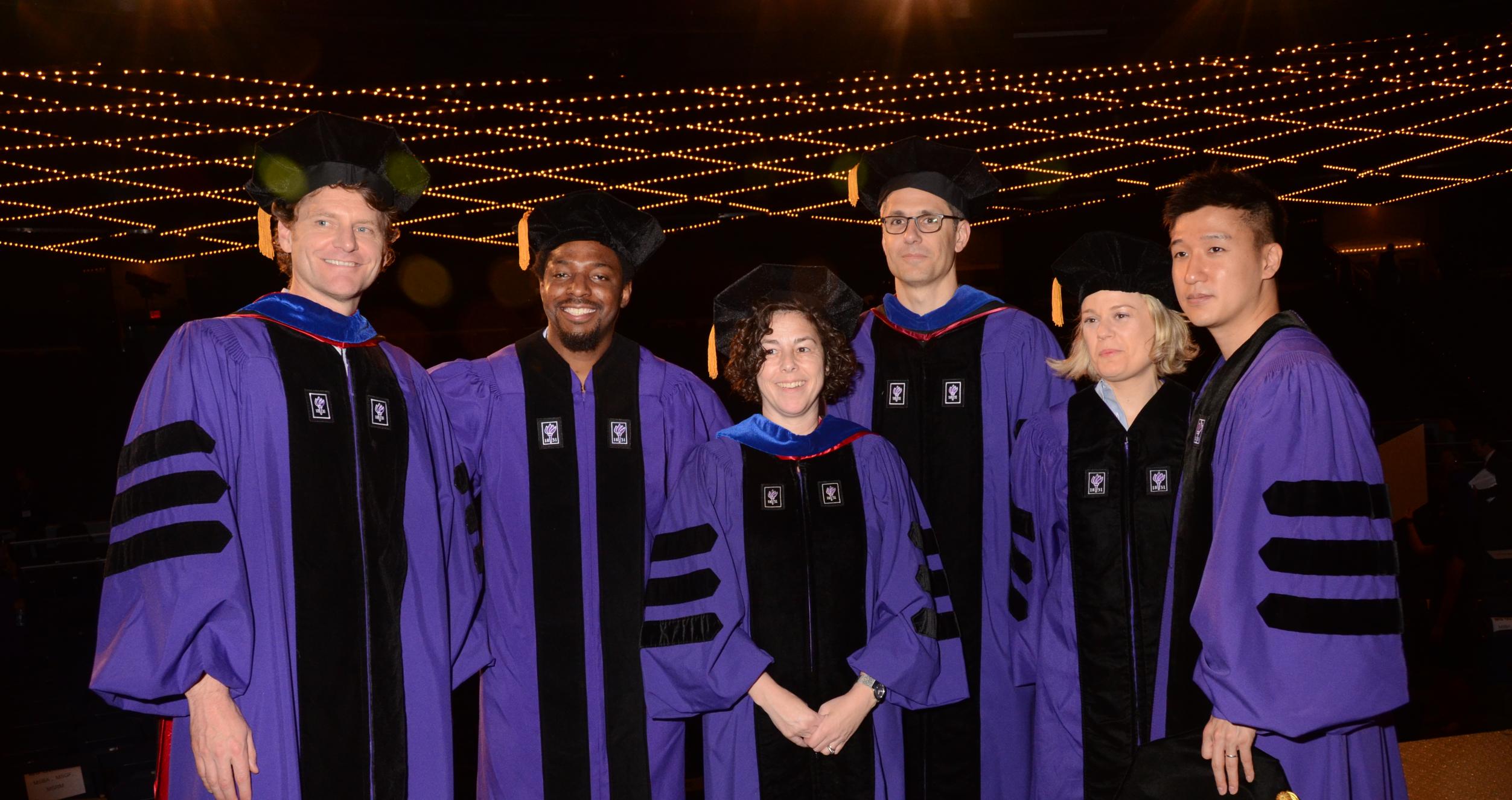 Be Part Of A Community
Student Life
The community at NYU Stern is vibrant. Opportunities to participate in activities beyond academics abound.
---
Student Life
As a Ph.D. student at NYU Stern, you have access to a wide range of resources and services, ranging from social and cultural events, counseling and wellness, health services, fitness and athletic facilities, international student services, on-campus housing and more.
Social and Cultural Events
At NYU, we foster a community of
cultural experiences
— from dance performances, interactive visual installations, to classical music. The Center for Student Life also regularly hosts
graduate student events
, offering a great way to connect with students across the NYU community.
Health Services
NYU's Student Health Center (SHC) is there to help you 
feel your best
 so you can do your best. NYU's SHC is a campus resource and service center for all matriculated students. They offer universal, hassle-free appointment-based and walk-in 
medical and counseling services
 at either no cost or very reduced cost to all NYU students, regardless of insurance coverage. Their goal is to add great value to the NYU experience for students and great comfort in knowing that a safety net for basic healthcare exists at NYU. Your health and wellbeing is their top priority and they are there for students at any time.
Fitness and Athletics
NYU's Department of Athletics, Intramurals and Recreation fosters an important and integral part of the NYU experience. They work with student groups, faculty, administrators, and community partners to create a campus environment in which students can flourish intellectually, athletically, and personally. As a student at NYU Stern, you'll have access to 
NYU's athletic facilities in Manhattan and Brooklyn.
International Student Services
The
Office of Global Services
(OGS) is the resource at NYU for immigration and visa questions. OGS advises on immigration regulations in the US and visas needed outside of the US for NYU purposes. They also advise on international taxes, moving internationally, and other challenges for NYU students. In addition, the 
NYU International Student Center
 (ISC) is a hub for events and programs that foster meaningful connections among all global thinkers and help students from around the world make the most of their NYU experience.
Diversity Services
NYU is committed to building a culture that respects and embraces diversity, inclusion, and equity, believing that these values – in all their facets. The 
Center for Multicultural Education and Programs
 is host to diversity education and training, as well as cultural and social justice events throughout the year. The 
NYU LGBTQ Student Center
 offers support, hosts programs, and nurtures a tightly-knit community for students to thrive in an inclusive and supportive campus.
Global Spirtual Life
Global Spiritual Life
at NYU is an open, authentic, and vibrant community at the forefront of international conversations on religion and spirituality. Their mission is to offer environments and tools for transformative multifaith and spiritual encounters at NYU and beyond.
On-Campus Housing
NYU Stern Ph.D. students have access to on-campus housing at
NYU Palladium Residence Hall
, a dynamic community consisting of approximately 960 residents. Including a state-of-the-art athletic facility, students will have access to a host of programs sponsored by Palladium to give you opportunities to get to know one another and explore NYU, the city, and the surrounding area.
Ph.D. Student Policies
New York University is committed to providing a supportive and structured environment for the development of scholars, researchers, and teachers. It is expected that the responsibilities of students, faculty, and staff will be discharged with impartiality, reason, and consistency. To this end, it is the responsibility of all members of the NYU community to respect and comply with all NYU Policies and Procedures as well as all University rules and policies.
Learn more about the policies governing Ph.D. students
.