Atsushi "Nick" Nishimura, MSBA '14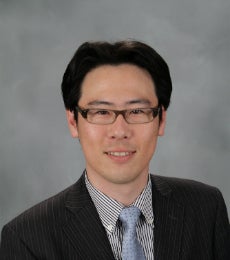 Nick Nishimura hails from Kyushu, in western Japan, but since 2010 has been posted in New Jersey in the North American division of Panasonic Corp. Currently he is a Senior Coordinator and Data Analyst in the company's Business Analytics Group. NYU Stern's MSBA program is right up his alley.
"Panasonic has a variety of products ranging from the B2C area to the B2B area globally," Nick points out. "Consequently, we have lots of datasets, and that will only increase dramatically in the Internet era. If we can leverage our leading-edge business analytics techniques and knowledge base, our opportunity to contribute to society will be greatly expanded."
In college and graduate school, Nick majored in earth science and earth resource engineering, which involved heavy data analysis. His strong interest in the electronics industry combined with a desire to make a palpable contribution to society brought him to Panasonic, he says.
Stern's MSBA program appealed to Nick both because of its dual focus on technical and business aspects and the structure of the program itself. Courses on data mining, dealing with big data, and social media and digital marketing analysis have proved immediately useful, he says, adding: "Because much of the learning happens remotely, I can apply the knowledge I acquire each night to my day job. I also like the fact that it's a concentrated, one-year program."
Middle-management personnel and executives who interface with business analytics functions are ideal candidates for the Stern program, Nick states. "It might not be enough for technical data scientists who develop many program codes, but for those wanting a high level of knowledge of business/data analytics and those wanting to develop a global human network, it's ideal."
Update:
Please note that Nick is now the Team Manager on Panasonic's Cloud Platform Technical Development Team.