Craig Vaughan, MSBA '14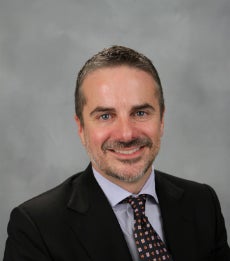 "In early January, I was speaking to a data scientist as a prospective customer," Craig recalls.  "His company wants to develop a machine learning approach to analyze ongoing data streams from a wide array of environmental sensors (e.g., collecting CO2 levels), a relatively difficult analytical challenge.  Based on much of what I learned in Stern's MSBA program, I was able to articulate why the algorithms that my company, Numenta, offers fits their business problem and has numerous advantages over other classical statistical approaches."  
Craig, who has a Wharton MBA and an undergraduate business degree from Cornell, was already a senior executive with more than 20 years of experience and a strong record of success in enterprise software marketing and product management when he entered Stern's program. For the previous eight years he'd worked for software behemoth SAP in various executive positions, most recently as global vice president for demand management and analytics.  
He had been anxious to move on to the next stage of his career, he explains, and was drawn to the field of big data and predictive analytics in particular. After surveying available options, he decided to undertake the Stern program as a way to build on his deep functional experience by adding analytical domain skills that would facilitate his transition.  
After receiving his MSBA in May 2014, a connection through Stern's alumni network led to his being hired as vice president and head of marketing and product management for Numenta in Redwood City, Calif. Numenta is a leader in the emerging field of predictive software, providing a cloud-based service that takes in big data in real time to help it calculate predictions that optimize performance in a range of industries, from energy to computer networks.
The MSBA program began paying dividends immediately, Craig says. "It deepened my contextual understanding of the different universes of analytic approaches and how each can enable different ways of tackling problems.  Plus, the program increased my fluency in the detailed mechanics of these approaches, which enables me to weigh the value of one approach over another and articulate the outcomes to stakeholders.
"The potential value that analytics can bring to organizations is endless," Craig continues. "Forward-thinking professionals will be well served to make an investment in learning and embracing the various approaches. And for me personally, the degree from NYU Stern affords me another level of credibility in my work life.  People have commented that not only is it practical but it's impressive, particularly in mid-career.  The MSBA has already opened doors for me, something which I'm quite sure will continue."
Update:
Please note that Craig is now the Chief Marketing Officer at Machinify.