Kathryn Anne Kerner, MSBA '14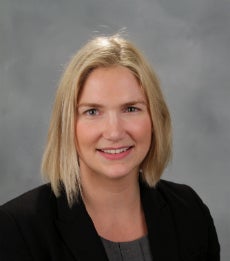 A person of many interests and accomplishments, Kathryn Kerner attributes her passion for economics to a lifelong affinity for math, combined with an interest in community service and societal structures that was encouraged by her parents.
As an undergraduate at Princeton, Kathryn deepened her involvement with her passions. An honors economics graduate, as a rising sophomore she founded an academic and culturally oriented service program for Guatemala City-based Fundaniñas, an orphanage for abused girls ages 4-19. As a Princeton post-graduate fellow in Asia, she developed and implemented an English language curriculum for more than 300 Japanese kindergartners.
Since 2007, Kathryn, raised in Toledo, Ohio, has worked for the Federal Reserve System. She currently works in the Wholesale Credit Risk Center of the Federal Reserve Bank of Chicago. She is a hybrid analyst with specialties in financial analysis, statistical modeling, and database development. The Wholesale Credit Center is responsible for collecting and analyzing portfolio risk data, providing a horizontal perspective of wholesale credit risk management practices, and supporting supervision of capital adequacy and stress testing for wholesale credit exposures. In addition, Kathryn is a member of the Federal Reserve System's Private Equity Financial Monitoring Team, which provides ongoing surveillance and analysis of the private equity and venture capital sectors directly to the Board of Governors.
An article in the Financial Times about Stern's Master of Science program in Business Analytics drew Kathryn's attention. "I had been researching potential graduate programs for some time, and after examining the NYU Stern MSBA Program I concluded that it is the only program in this space that is comprehensive in its approach. It is unique in that it teaches quantitative methodologies, technologically based tools and techniques, and the management skills needed to excel."
The program has lived up to her expectations, she says. It offers the opportunity to "be a part of an international, tight-knit community of faculty and students who are strategic thinkers, data-driven problem solvers, and creative knowledge-leaders."
What especially intrigues Kathryn is that while everyone in her cohort has a strong quantitative background and computer programming skills, she observes, "We approach problems differently because of the diversity of our professional backgrounds, within different industry sectors, and cultural backgrounds—which is obviously useful because there are often many ways to come to same answer."
She plans to develop her career at the Fed; however, long-term, Kathryn envisions returning to the Asia-Pacific region to work either in the public sector or an international consultancy where she will lead efforts to improve public sector efficiency and innovation. "Public sector data has significant value and when used effectively it has the potential to improve efficiency, shape policy, and save taxpayer money," she says.
In the meantime, Kathryn is nose to the grindstone working at her job and completing the MSBA program. Married to a New Zealander, and in her spare time a dedicated traveler, swimmer, sailor, and volunteer, she concedes that the work/life/study balance is challenging—but rewarding: "Being a member of this tight-knit community while working on engaging coursework makes the elevated intensity worthwhile."