Lisa Prosser, MSBA '15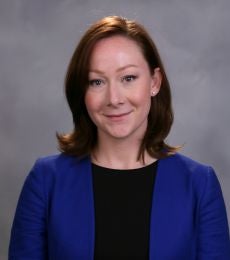 Lisa arrived at Stern with a BA in philosophy and sales operations experience with Bloomberg LP, among other firms. Thanks to her anticipated Master of Science degree in Business Analytics, she secured a new position as Director of Strategy and Business Intelligence for Fitch Ratings, where she leveraged a data-driven approach to solving complex business problems. And  then, a couple of months later, she accepted another new position, as Vice President in charge of data and analytics at Athena Art Finance, a New York-based startup that services the financial needs of the global art market.
As Lisa says with some understatement, "The MSBA program proved to be an excellent investment. The job opportunities that have opened up as a result are vast!" A Calgary, Alberta, native, triathlete, and former college basketball player, Lisa realized while working with data at Bloomberg that the aspects of logic and philosophy she had enjoyed as an undergraduate had parallels in data analytics. She sought a graduate program that would teach not just the technical skills but also how to apply them in a business context. "The blend of these two concepts in Stern's MSBA program is what makes it so strong," she says. 
Lisa's broad responsibility at Athena Art includes finding innovative ways to leverage data and analytics in all aspects of the business, including in how the firm calculates risk, underwrites loans, and views and evaluates the art market as a whole. Before the MSBA program, Lisa had never written code. Now, it's a skill she uses frequently—for instance, creating a script that automatically compiles a weekly list of upcoming auctions, scrubs the data for relevant items, runs some high-level analytics, and finally creates a spreadsheet that is automatically delivered to colleagues. "Prior to Stern that would have been a purely manual effort," she says. "Today, I'm able to write the code once and spend my time on other tasks."
As at any startup, "We all wear many hats, and I have been involved in a whole host of other activities, such as CRM evaluation, website creation, and branding initiatives. I use what I learned at Stern every single day. It's a pretty powerful feeling to know that I'm able to fully apply what I've learned day in and day out in so many different areas."