Shingai Manjengwa, MSBA '14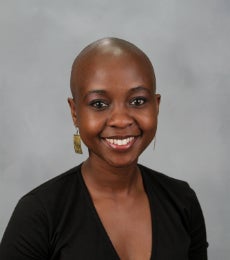 Shingai describes her experience in NYU Stern's Master's in Business Analytics program as "the exciting and intellectually stimulating pursuit of knowledge punctuated with hair-raising deadlines and high-speed epiphanies." That is high praise from a self-described avid adventurer who has dived with sharks and bungee-jumped off the highest jump in the world.
A recent transplant to Canada, Shingai was born and raised in Harare, Zimbabwe. She spent her university years in Cape Town, South Africa, where she graduated from the University of Cape Town with a commerce degree, along with concentrations in economics, politics, and philosophy.
Before moving to Toronto with her husband to be closer to family, Shingai, 30, worked in Johannesburg and Cape Town with Synovate Aztec for five years. She was most recently an account director managing a portfolio of blue-chip multinational and domestic consumer goods manufacturers that totals 22 percent of Aztec's client service revenue nationally. Aztec, recently acquired by Information Resources Inc., is the leading supplier of data information services in the Consumer Goods industry in Africa. The company source, processes, analyzes, and interprets transactional data to deliver market intelligence to drive informed decision making. Shingai had overall responsibility for client deliverables, strategic insights, client relationship management, contract negotiations, and managed a team of 11, including business analysts, account executives, and managers.
At Aztec, Shingai lived and breathed data analysis. But she was eager to expand her knowledge base, and after moving to Canada, she seized the opportunity to pursue further learning. "I was researching graduate programs in analytics including MBA programs with an analytics focus when I came across the NYU Stern MSBA program. It was perfect! Stern provides comprehensive exposure to different facets of analytics. My analytics experience had been within the retail sector, and I was excited about other industry applications, as well as wanting exposure to the cutting- edge innovations in the field both in theory and practice."
The curriculum's balance between advanced technical tools and business analytics is "exceptional," according to Shingai. "We are covering a full range of topics from probabilistic models for finance, to prediction, to data visualization, to coding, yet it is still accessible to a variety of academic backgrounds."
In addition to attending the Stern program, Shingai worked with World Literacy Canada, developing their digital media strategy on a voluntary basis. Having initiated the tracking and analysis of key web metrics using Google Analytics, she used insights from these data to oversee the development of the organization's new website while implementing Adwords and social media marketing plans.
Balancing the demands of the MSBA program with her volunteer work requires highly developed time-management skills, Shingai says, but the experience was tremendously valuable. "I am thrilled by the opportunity to learn as well as to meet an exciting and inspiring cohort of faculty and peers with experiences from different industries and geographies," she says. "While a lot of the Stern material is new, I have found the different software tools to be intuitive and the approaches to analytics to be familiar; the real education has been when to use what particular application as well as how to draw the key insights from big data to inform business decisions."
Another plus for Shingai is the MSBA program's Shanghai module. "As Africa's biggest investor, China is of particular interest to me," Shingai says, "and I am especially excited about the exposure to analytics in that context. I aim to build onto my existing business analytics experience in emerging markets by gaining experience in more advanced geographies and to learn global best practices that will empower me to more effectively serve both African and international markets."
Update:
Please note that Shingai is now the Director of Insights & Analytics at Fireside Analytics Inc.