Opinion
How IT Will Disrupt Universities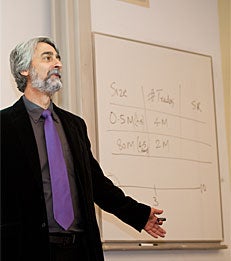 By Vasant Dhar, Professor and Head, Information Systems Group and Co-Director, Center for Business Analytics
While top-branded universities will face tough competition, they will still offer a competitive advantage because their brand carries weight among consumers.
By Vasant Dhar, Professor and Head, Information Systems Group and Co-Director, Center for Business Analytics
Tuition-based universities are doing something counterintuitive: competing with each other to deliver their content online and for free. Last year Stanford University offered free courses on machine learning, database systems and artificial intelligence to more than 100,000 students. Many other professors are also making their material available online.
Indeed, some universities offer courses where the class preparation requires watching the lecture online and the synchronous part of the class – whether face-to-face or online – is devoted to problem-solving and discussion. Technology is disrupting the traditional lecture-based model and many believe this new paradigm of instruction is superior in important ways. Consumers can view the online lecture multiple times at their own pace until the concepts are clear and the instructor's time can be used more creatively than in the traditional lecture format. And of course, the real kicker for the consumer is that it is all virtually free.
Why are brand-name universities giving away intellectual property online for free? These institutions are in the early stages of executing a global strategy to capture new markets, and plan in the future to apply the "freemium" model to make money from their IP. In a freemium model – which companies commonly use after creating a sizeable user base on the internet by offering a free product – the free part ultimately becomes bare-bones relative to the premium parts, for which people are eventually required to pay. However, this new "knowledge market" model is not without risk.
Read the full article as published in the
Financial Times
.