Opinion
Bright lights, big data: What the market may tell us about a correction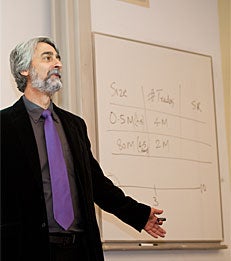 Regardless of how the future pans out, professional investors cannot ignore the emergence of a new and critical class of "factor" in their investment models.
Digging into some big data—everything from Google searches to the tone of news stories—might be able to tell us whether this market is headed for a correction.
Proponents of "wisdom of the crowds" contend that such data may contain within it some key insights about specific variables of interest. So can we find any evidence of this wisdom in big data?
The short answer is yes, and investment professionals should seriously consider a new factor: namely, big data based sentiment, as an input into investment decision making.
Unlike most traditional indicators that are derived from government data and surveys, the growing volumes of unstructured data contain a new type of intellectual and emotional content factor that could be a powerful addition to commonly used factors such as value and momentum. Let's consider why this might be the case.
Read the full article as published in
CNBC
.
___
Vasant Dhar is Professor and Head, Information Systems Group and Co-Director, Center for Business Analytics.