Blended Learning and Capstone
The MS in Business Analytics is based on a blended learning approach combining in-person classroom time and independent study.
Modules are divided into three phases: pre-module, module, and post-module.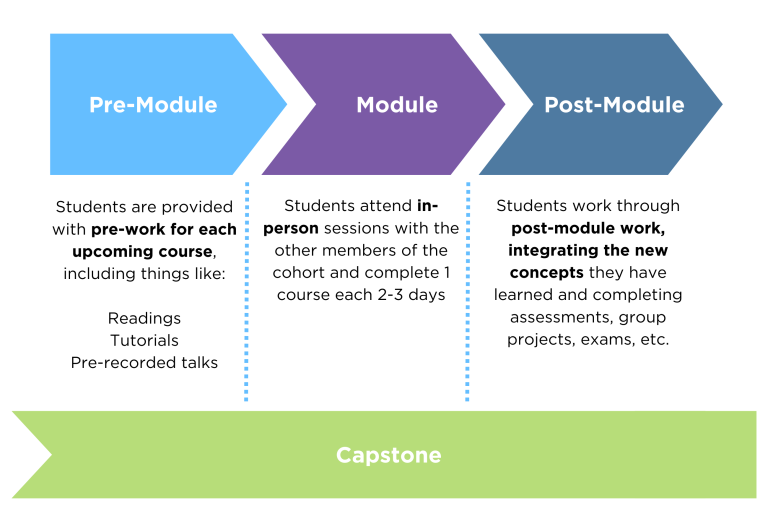 Pre-module: Research Phase
This begins 4-6 weeks prior to the in-class teaching session. Students prepare for the module by completing qualitative and quantitative assignments that include readings and cases, tutorials and diagnostics, and exercises and written assessments. Completion of the pre-module material ensures a more rigorous and productive classroom experience. All learning materials will be posted to our online Learning Management System.

Module: In-Person Class Sessions
This will be an intensive, full-time period of rigorous in-class learning to absorb the advanced material and actively collaborate with your peers and faculty. Each module contains special events, guest speakers, and other opportunities to engage with your MSBA cohort and alumni community. Students are required to attend class during normal business hours each day with some additional evening engagements.

Post-module: Application
The post-module is designed as the implementation phase of the module. Students are challenged to apply the material and concepts covered during the pre-module phase and residential period to solidify their learning. Deliverables are in the form of case studies, written assignments, projects, and group work.

Throughout the pre- and post-module phase, students will be part of study groups that encourage collaboration and peer-to-peer learning.

Capstone
The MSBA Capstone is an integrative year-long team project that gives students the opportunity to demonstrate an understanding of the core competencies taught throughout the program and apply them to real business concerns. The result is a unified and practical case presentation on a topic of the group's choosing.

Project Framework
Each group will consist of 4–5 participants from diverse backgrounds, encouraging a broader understanding of business analytics.
The project will span the course of the program, enabling participants to enrich their projects with learning from each module.
The final deliverables for the project consist of a paper and final presentation. 

Capstone work runs throughout the duration of the program, starting in Pre-Module 1. Capstone includes deliverables assigned from specific courses, as well as a charter, executive summary, first draft, and final draft. Students will practice presenting Capstone materials at various stages throughout the year leading up to the final presentation in Module 6. 

Examples of Past Projects

360 Investor Profiling
#Investments #PredictiveModeling #Brazil
Customers have their financial life distributed across many different institutions and platforms, making it hard for financial firms to target them effectively. This leads to a waste of marketing spend and resources, a high customer acquisition cost, and low revenue growth. This capstone project aimed to address this issue by aggregating demographic and investment data from Brazilian customers to provide a full perspective of their investments across different institutions and to identify those with the highest investment potential.


Data in the Music Industry
#MusicandEntertainment #RevenueForecasting
One of the major challenges in the music industry is the inconsistent approach to data management across digital streaming platforms, royalty systems, distributors, and publishers. Given that the rights and payment landscape is fragmented, this project focused on developing a data visualization dashboard that combines data across platforms to help artists evaluate current opportunities and forecast future publishing revenue.


Wholesale Retail to E-Commerce
#Ecommerce #PredictiveModeling #DigitalMarketing
This project was focused on helping a Colombia beachwear wholesale retailer expand their direct to consumer e-commerce business. The project focused on using predictive modeling to improve the link between the company's digital marketing and consumer purchase behaviors. The team also looked at improving email campaigns through an iterative A/B testing methodology. 
 

Spend Optimization in Healthcare
#Healthcare #InvestmentManagement #DataUtilization
Healthcare organizations are growing quickly and struggling with managing investment in their growth. This project aimed to develop a methodology for healthcare organizations to optimize the value of every dollar they invest. The team focused on developing processes to enable stakeholders to prioritize investments that maximized performance. They also developed analytical tools to monitor progress and make data-driven decisions.


Sports Analytics
#DataMining #SportsStatistics
The NBA is one of the most popular sports leagues in the world. The goal of this project was to provide a team with a roster of players to give them the highest probability of winning the NBA championship over the next 5 years. The team used data from the previous 10 NBA seasons and applied data mining techniques to determine correlations between team results and roster statistics.