Cade Cherry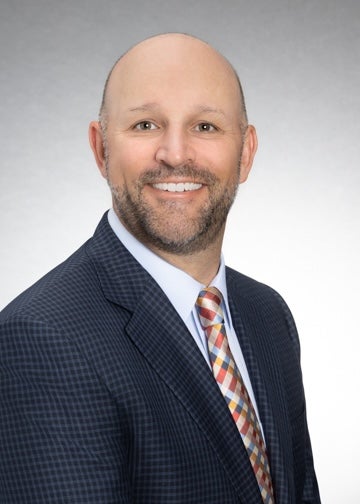 In the summer of 2019, Cade Cherry noticed digital transformation, advanced analytics, and machine learning becoming buzzwords at Pacific Life, where he led a large arm of the company's service organization. 
"When I was 25, I worked for a guy who didn't know how to use Excel, and I didn't want to become that guy," he says. "I thought,
I'm 45 years old, I have another 20 years of my career. How do I stay relevant? How do I stay relevant to the people that I hire?
That motivated me to pursue a program like this." 
Around the same time, Cade found himself in conversation with visiting consultants about the burgeoning field of data analytics, who advised him that the only way he could truly learn was to get his hands dirty with the tools and language. "I agreed with them," Cade recalls. "That was another spark of motivation.'" 
The fact that Stern offered a master's degree rather than only a certificate appealed to Cade, who "wanted something with some teeth in it," even if he was intimidated by the time commitment and travel component, as he led a team of 150 people at the time. But, he figured, "this is an investment in my career which put the short-term time management into perspective." 
Get his hands dirty with the tools he did, and it wasn't long before Cade had an opportunity to apply what he was learning in the classroom in real time to his work at Pacific Life. "I loved the part of the program called 'prescriptive analytics' which helps you make decisions. I was able to use the techniques we learned to help us manage our call center better during the pandemic," he says.  "We were having a hard time figuring out what staffing levels needed to be because call volumes had become more volatile. Through simulations and analysis, I was able to convince management that we needed more people. I was able to prove it and build a business case around it. It was incredibly valuable and ultimately improved the service we were able to provide." 
A highlight of the "fun, challenging, and eye-opening" experience was the people—from the world-class faculty to members of the cohort, some of whom Cade now considers personal friends and professional allies. 
"The faculty want to teach in that program because they have a passion about what they teach. I feel like I will continue to have their support and still have access to their expertise if and when I need it," he says.  "And I loved my cohort. The energy and the curiosity and ability to talk about different businesses was so useful. I found it all fascinating. I just loved it." 
When reflecting on if he achieved his original goal: of not becoming
that
guy at the office, out of touch with new technologies, Cade is confident his time with Stern paid off.  
"The program gives you a good foundation. When you bump into an unfamiliar concept, you're not starting at zero. It gives you a more confident starting point for some of these things," he says. "Even when we are good at what we do, we know we have to change and grow with the times. This program provides the experience, confidence, and familiarity to ask new questions and seriously explore ways to answer them." 
As for the future, Cade is optimistic about staying relevant, leading with confidence, and utilizing his new skillset for the benefit of his company. "The next goal for me is to help our company bring the benefits of life insurance to new customers in new ways," he says. "I think I can play a big role in that given the education and foundation I have from Stern."