Cindy Dishmey, MSBA '15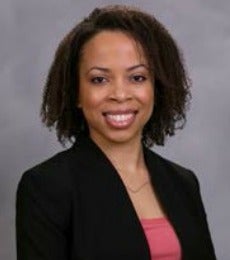 As Vice President of Business Intelligence and Analytics and Strategy for Goldman Sachs's Operations Division, Cindy, a first-generation Dominican-American, is proud to be a role model for Latina women in tech. Now she can add a Master of Science in Business Analytics degree from NYU Stern to her accomplishments as well.  
After four and half years at Goldman as a business analyst/program manager, Cindy was offered her current post just after announcing at work that she was entering Stern's program. "One could say I benefited from the program before I completed it," she jests.
In fact, though, she was able to apply the material she was learning at Stern to her new job as she was learning it—for instance, by helping colleagues create more effective data visualizations using techniques she pulled directly from the course material. And the benefits flowed both ways: "Those synergies enabled me to process my lessons more effectively because I had the opportunity to directly apply them, which was in itself reinforcing."
An NYU graduate in computer science, Cindy observed as her career progressed that, as she puts it, "Industries are being disrupted at unprecedented rates, and data are typically significant drivers of these disruptions." She realized she had spent a large portion of her career focusing on designing and developing the systems that generated those data. As her thinking developed, she became motivated to expand her skill set in data analytics. "I believe it is absolutely necessary for software engineers or anyone who takes part in application development to learn how to analyze these data to strategically inform future enhancements," she says.  
Stern's MSBA program was the only one she found that "perfectly married data science with direct business application for professionals who maintain their positions full-time." The program lived up to her expectations, she adds: "The administration very thoughtfully designed a program that provides a broad understanding of key concepts in data science and an opportunity in our capstone projects to deeply apply them to real business problems." 
Every day in her job, Cindy deals with an accelerating proliferation of data. The MSBA program, she believes, was critical in equipping her for the future. "For technologists," she says, "it is imperative to have at your disposal all the techniques that help you design the innovative solutions that will inevitably capitalize on these data.  Stern's program has significantly enhanced my ability to design and engineer. That, to me, is priceless."