Cristie Elizabeth Gordon, MSBA '14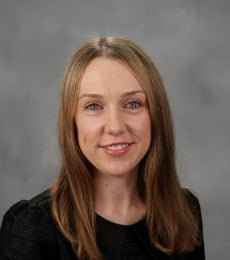 Cristie is a manager in charge of strategy at David Jones, a leading Australian department store retailer. As such, she spearheads the company's efforts across a number of strategic initiatives. An accountant by training, with a commerce degree from the University of New South Wales, she says her belief that numbers tell the story—and that Big Data complements the numbers—is what led her to pursue the NYU Stern Master in Business Analytics degree.
Cristie found the Stern program after a year and half of rejecting others that were either too general in nature or did not cater to the working professional. Specifically, she adds: "The program appealed to me because it addressed a specific skill set that I knew required development, and would take me out of my comfort zone. I could see that the skills I develop during the program will make me stand out from the crowd as I progress further through my career—especially since the MSBA course content is so different from my traditional accounting background. In addition, I could appreciate the hands-on application this course will allow in my current role. The Australian retail industry is only beginning to embark on the Big Data journey, so I felt this course would have a direct benefit to my work."
Cristie Gordon compliments the faculty's strengths by saying, "Not only are they passionate about the theory, but they're able to provide real-life application so that I can take my class learning home and apply it directly to my work situation. The course content and delivery is wonderfully enriching and challenging, and is genuinely interesting."
That benefit is already apparent. In retail, the customer is at the forefront of every decision, Cristie points out. To assist these decisions, detailed analysis of the data is required to improve understanding of customer behavior. As Big Data analysis remains in its infancy in parts of the Australian retail sector, she observes, it is not unusual for retail companies to engage external consultants to conduct analysis, such as customer segmentation modeling. Says Cristie: "Prior to this course, I would have had no knowledge of how to assess the validity of the consultant's approach—nor an appreciation as to how important it is to be able to critique their work." But, she continues, "The Data Mining course in Module 1 set out the framework to understand, test, and challenge data mining approaches. Considering the customer segmentation analysis defines our customers and therefore shapes our marketing, merchandising, and customer service approach, it's crucial that internal management are in a position to understand and challenge the external consultant's methodology and results. As a result of this course, I was able to have in-depth conversations with the consultants regarding their model assumptions and approach."
Despite the demands of work and school, Cristie manages to continue the community service activities she's been involved with for several years, including Lifeline Australia, a Sydney phone-based counseling service, and Starlight Children's Foundation, a wish-granting organization for sick children. Says Cristie: "Giving back to the community in my spare time is thoroughly rewarding, and a welcome break from my professional life."
As for the future, Stern's MSBA program may well play an integral role in Cristie's career beyond adding significantly to her skill set. "Retail is an industry that I find fascinating," she says. "It's such a fast-paced industry, and provides so much insight into society's preferences and trends and the impact of general economic conditions on households—especially as a discretionary retailer (which department stores are)." Still, she allows, "The international reach of the MSBA will definitely assist in expanding my work experience beyond Australia. My fellow classmates are from a variety of countries, so I'm already extending my professional network to an international scale."
Update:
Please note that Christie is now the General Manager of Real Estate, Leasing & Space Planning at David Jones.