Jack Hanlon, MSBA '14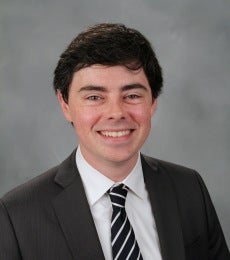 A Q&A with Jack Hanlon
Master of Science in Business Analytics,
Class of 2014
January 7, 2014
Recently named one of Forbes 2014 30 under 30: Marketing and Advertising, Jack Hanlon, Co-Founder of Kinetic Social and NYU Stern MS in Business Analytics student, shares how the program has already advanced his career as a pioneer in Big Data.
What has been your general experience with the MSBA program thus far?
I've had a fantastic experience in this program thus far. Stern's MSBA has enabled me to connect with unbelievable talents both in the form of professors and my fellow students, all of whom have different expertise. The professors are professionals who still practice in their field and the students are in the trenches every day, experiencing the victories of fantastic technological advances and the challenges inherent in implementing groundbreaking technology in a variety of sectors. The program is rigorous enough to push me to learn but flexible enough that I have been able to keep leading my company, which is extremely unique and valuable.
The best part has been how applicable all of the content has been. I can say with confidence that my business has achieved more due to my increased education in this arena.
What has your experience been with your fellow students?
My capstone* project team includes an analyst at the Fed, a former NASA employee who is implementing cloud technology for large businesses, a consultant who has worked with the Treasury in DC for the last decade, and a senior director within executive education at NYU Stern. The class has multiple students with MBAs and master's degrees, and all students have tremendous experience and pedigree in the professional world. I have been very impressed by the caliber of people in the program.
*The capstone project is the final group project that works as a practical application of the curriculum.
What has your experience been with the faculty?
I have been able to build relationships with faculty outside of the classroom, discussing work problems and offering my perspective on the current state of affairs in digital advertising. My capstone advisor, Professor Anindya Ghose, is an expert in eCommerce and econometric models. I have been incredibly fortunate to learn from him. Additionally, I was able to come in as a guest lecturer in one of his classes at NYU Stern to let the students know how effective these techniques can be.
What, if any, of the program offerings has been most helpful (thus far) to your career goals and why?
I was looking into MBA programs at first but found that I wanted a great deal of technical knowledge and less of the traditional business offerings. I wanted a program that would give me greater facility in understanding and implementing the kinds of technology I knew was available, including Big Data, machine learning and real-time analytics. This program has been remarkably effective in that regard, and at times feels like it was built for my objectives. My company is a startup, and we don't have the luxury of time to "ease into" anything as we don't have the resources to hire a number of vendors to handle the tricky parts. As a result, we need to bring understanding and execution in-house immediately and, between help from professors and advice from fellow students, I have been able to achieve that. Additionally, I wanted to meet people in other industries to understand where their challenges are and how we can build solutions for companies with varying media objectives. This has definitely been a great opportunity for that as well.
How does it feel to be named one of Forbes 2014 30 under 30: Marketing & Advertising?
It is an unbelievable honor to be named to this group, but what it really represents for me is more proof that my team at Kinetic is doing great things. I am the beneficiary of being surrounded by incredibly smart, hard-working people, both at work and at school, and that always results in positive outcomes. None of this would be possible without the sacrifices my parents made in the past to offer me the best opportunities and the guidance I've had from mentors along the way--my strongest feeling about this award is absolutely gratitude.
Anything else you would like to share about your experience in the program with the larger public especially those interested in participating?
Never, in the history of the world, has there been more opportunity to disrupt industries with technical solutions and effective use of information. At NYU Stern you can develop the technical chops to speak the language and become a member of the disruptors, or you can watch the world, and your role in it, change beyond your control. The choice is easy!
Please visit Jack's bio for more information on his background and interests.
Update:
Please note that Jack is now the Vice President of Analytics at Jet.com.