Lara De Guzman, MSBA '15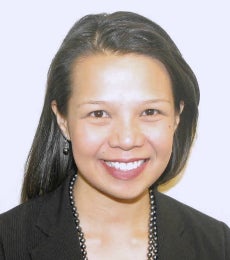 "Understanding the discipline behind the application of analytics and how different it is from traditional analysis." That's how Lara sums up the value she took from her Master of Science in Business Analytics degree at Stern.  More practically, she adds, the skill set she acquired during the program is "absolutely central" to what she does as Executive Director, Hospitality Analytics, for Las Vegas-based MGM Resorts International. And to put an even finer point on it, Lara calculates the ROI to date, accounting for tuition, travel, and incidentals, at 40 percent so far, with further gains anticipated.
An American born in the Philippines, Lara initially prepared to become an airline pilot like her father, but went into finance to help pay for flying hours. Her career at MGM Resorts spans two different periods—with financial and operational stints at clean energy companies in between—and several job titles as she moved up the ladder.  Her main responsibilities include day-to-day leadership of the centralized analytical capability within MGM Resorts International focused on guiding business decisions related to sourcing, retail, entertainment, hotel, and other non-gaming operational business areas.  In addition, she is tasked with identifying strategic opportunities to ensure the effective functioning of the company, and she works closely with departmental leaders and property leadership (CFOs and Presidents) at the company's multiple casino resorts across the US to facilitate change and drive financial and operational impact.
"The pursuit of excellence in her craft" led Lara to Stern's MSBA program. "These days you can get by on being accurate with calculations, but to be a leader who moves your company's strategic goals forward, you need to be savvy in drawing data-driven insights to yield the optimal outcome," she explains. Stern's interest in candidates who have made "holistic" contributions spoke to her, and, reflecting that philosophy, the individuals in her cohort were both inspiring in their perspective and generous with their knowledge, she says. "Stern wanted people who operated on a global level, people who wanted to do good and saw themselves as citizens of the world. I couldn't be more grateful that I had the opportunity to learn from both the faculty and my cohort."
As a result of the MSBA program, Lara says she can focus in a more methodical manner to make better and faster decisions by drawing actionable insights from the data-rich hospitality industry. "It's an incredible win for enriching guest experience, which is central to our business, and it helps us better address the ever-increasing demand for personalized service," she says, adding, "I came out of the Stern program fearless and mentally resilient.  It will remain one of the best investments I ever made."