Nidhi Kathuria, MSBA '14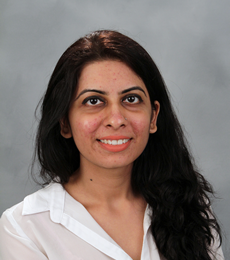 When Nidhi Kathuria, then a vice-president at the Royal Bank of Scotland in New Delhi, planned out her future, enhancing her technical and business skill set was at the top of her to-do list. But she didn't want to take what she describes as the "clichéd MBA route." Rather, "I was innovative in my approach to transforming myself to gear up for the next phase of my career," she explained. Her choice: NYU Stern's Master's in Business Analytics program.  
In late 2013, Nidhi moved on to the Product Analytics group at Integral Development Corp., a foreign exchange trading platform based in the San Francisco Bay Area. Though she had worked in data analytics for a few years prior, she finds the material she learned at Stern has thoroughly enhanced her skills, to the extent that she was asked to give a company-wide talk on analytics. "One of my key roles at Integral Development is to enhance the success of trading on the platform, and that involves the advanced use of data analytics and the data visualization techniques we learned at Stern," she says. "The data science subject taught by Professor Provost continues to inspire and influence my work in the day-to-day application of analytics to data-driven decision making."  
A long-time data and business analytics enthusiast and the top student in her undergraduate class at University of Delhi, Nidhi calls the MSBA program "one of the best-designed programs in the industry, providing a flavor of so many interesting fields in analytics. It opens various doors for you. It takes you to the unknown boundaries of analytics and shows you the tip of the iceberg of endless possibilities" in the field.  
Pursuing any executive degree requires an investment of time and effort as well as money, but Nidhi has found the return to be manifold. Beyond career advancement, she values the continuing connection with Stern's alumni network and faculty that comes with enrollment in the program. She and her cohort remain in touch with faculty advisors and professors through various social media platforms. "Stern provides you with a continuous learning opportunity for life," she says. "The blogs about analytics published on Stern's website are very informative and up-to-date with the faculty's latest research. And the program team remains engaged, passing on useful reading resources to the group whenever required. These benefits cannot be discounted when information is the key to success in today's fast-paced world."