Nilanjan Mitra Thakur, MSBA '14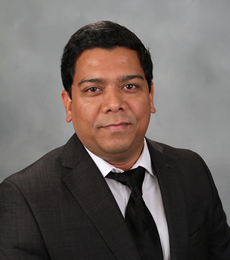 You could say that the ability to drill even deeper into analytics has been the driving ambition of Nilanjan's professional life. At university in India, he recalls, and later as a consultant for a chemical company, he first became aware of the "strength of applied statistics" and their potential for improving industrial and business processes. But his passion for analytics really emerged when he consulted for major retailers and was awestruck by the billions of data generated daily. "It was clear that analytics was moving onto an advanced stage," he said, "and I knew I wanted to be there."  
Nilanjan was born in Durgapur, a small town in the eastern part of India. He attended missionary boarding schools and earned a bachelor's degree in mechanical engineering from Government Engineering College and a master's in technology in quality, reliability, and operations research from the Indian Statistical Institute, a prestigious scientific research center. It was during his studies at ISI that he discovered the power of analytics, applying operational analytics techniques to successfully solve the persistent issues of cation breakage during the manufacturing of resins.  
When Nilanjan arrived at Walmart as senior project manager in 2010, he had already managed a number of data-intensive projects for companies such as GE Healthcare, Staples, and Family Dollar. Over that period, he helped create a global scheduling report to track and manage retail employees, a merchandising dashboard for daily reads on key performance indicators, and a system to expand store numbers that was crucial to the company's internal information systems.  
At this point, says Nilanjan, he reviewed his experience and sought to chart a new path. "I had been involved in multiple activities that included process improvement and data analysis. Although I utilized certain statistical tools and Six Sigma methodologies, I wanted to get my career aligned with advanced analytics."  
The way forward for Nilanjan was through NYU Stern's Master's in Business Analytics program—which is, as he put it, "a unique program with a strong faculty whose wealth of experience is supported by well-structured curriculum."  
For the MSBA's capstone project, Nilanjan developed a promotional strategy for Vermont Country Stores. "Like most retailers," he explains, "they want to divide their customer base into discrete segments, based on purchasing behavior and demographic traits. This will enable them to develop more targeted marketing messages and promotional campaigns for each segment, in an effort to drive spending and engagement." He analyzed and developed customers' personas based on demographics and sales information using the tools he acquired through the MSBA program.
Midway through the program—and partly because of it—Nilanjan was hired by The Children's Place as a customer analytics manager, where he has designed and implemented statistical and predictive models in customer interaction strategies, among other things—employing most of the techniques he was learning at Stern. In fact, he points out, "The methodologies used in 80 percent of my current responsibility as customer analytics manager is covered in the MSBA curriculum."  
Nilanjan, married and the father of a young daughter, continues to develop models to deepen The Children's Place's understanding of customer behavior and happily sees himself remaining in this area for the foreseeable future. "I have extensively worked in the retail domain and understand their pain area," he says. "My plan is to come up with an analytics product that can address how a retailer should know more about the customer and connect to customers based on their needs." 
Update:
Please note that Nilanjan is now the Founder of ConnectCust.