Sachin Kerur, MSBA '21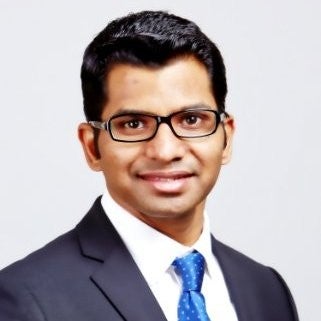 "Analytics is a natural extension of human cognition," Sachin Kerur says when discussing his passion for the dynamic and growing field of data analytics. "However, its ability to scale enormously without compromising on objectivity and consistency makes the field of analytics exciting."
As Senior Analytics Architect at Amazon Web Services, he works with customers in the media and entertainment industry to deliver experiences that define how households consume and engage with media of all kinds. Data analytics is a crucial component of this work, especially in ensuring the platform can deliver the right content to the right audience at the right time. 
Prior to his role at Amazon, Sachin held positions at PwC, Deloitte Consulting, Slalom, and Publicis Sapient where he gained experience with data management. 
However, he knew that data management was only one component in the expanding field of data strategy and wanted to level up his skill in analytics. "Complimentary to each other, management and analytics call for distinct skills and mindsets and are often referred to as the defensive and offensive side of a data strategy. The combined mindset would allow me to deliver end-to-end data strategies to my customers as the market evolves, and the two domains draw closer," he explains. 
As he searched for data analytics programs, NYU Stern's curriculum stood out, "as it focused on the business application of various analytics tools and techniques, including data mining, marketing analytics, decision optimization, causality, network analytics, data visualization, and privacy and ethics," Sachin says. 
He notes that a key selling point for Stern was the opportunity to learn from the stable of world-class professors.  He valued that many professors were also leading industry practitioners, which ensured that their case studies were relevant to market trends.  
Another draw was the format of the program, which would allow him to pursue the degree while continuing to work; he felt that the ability to apply his classroom learning real time to his every day work would compound the overall impact of his investment. 
The program delivered, and from day one, Sachin was able to apply the cutting-edge insights from the classroom and experiment with them in real-time. 
"The program taught a practical approach to data storytelling, and the role of visualization in making it impactful, a skill that is bound to take a center seat as organizations become data driven," he says. He adds that his thinking was enriched further by the program's case-study based approach to topics such as Privacy and Ethics and Causality, and its manifestation into organization's decision-making processes, which brought the idea to life, both at a technical and strategic level.
"As organizations embark on their analytics journey, predictive analytics stands out as the most widely used business analytics tool in use. As they bring more sophisticated use cases to the table, I expect scenario planning and decision optimization to follow suit," he adds. "Stern's program's comprehensive coverage of all aspects of business analytics equipped me with a unique perspective on market capabilities and organizational journeys."
The diversity of the cohort played an equal role in shaping Sachin's learning experience as the curriculum itself. "The cross-disciplinary and cross-industry perspectives that folks brought to the classroom discussions, capstone projects, and group assignments provided a broad view of the topic on hand," he says. "The sense of discipline and integrity with which the people carried themselves through the program was inspiring."
Sachin is determined to stay engaged with the Stern community, which he says has opened avenues for lifelong learning—since graduating, he's already audited a class in Corporate Finance, and says he looks forward to more continued learning in the future. "The rigor of the program revived the student-for-life mindset, which is key to realizing long-term success." Sachin says. 
When reflected on his return on investment, Sachin is confident in the value-add of his time at Stern. "The program was rigorous, insightful, and rewarding. It delivered on the value I hoped to gain when I needed it the most," he says. "I'm confident that as the adoption of analytics continues to grow, the combined power of learnings from the program, and my prior experience, will continue to position me uniquely in the marketplace."