Samantha Feldman, MSBA '17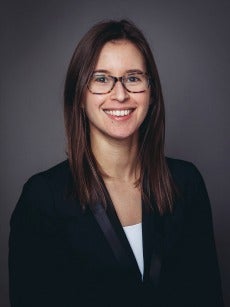 Samantha Feldman has wasted no time putting the skills she's gained in Stern's MSBA program into practice in her position as People Analytics Manager for Gray Scalable, a company that helps clients use HR data to better understand their employees and operations. "I can already see a return on my investment in the program in my ability to help clients solve problems and speak confidently to stakeholders about how to handle data projects," she says, a few months shy of graduation.     
This immediately-applicable enhanced skill set is precisely the reason Samantha originally sought out MSBA programs and ultimately enrolled at Stern. At the time, she was on the people analytics team at AOL, where she focused on reporting, data visualization and analysis. After a few years, Samantha recognized that her expertise had plateaued and she knew she needed an academic setting to learn more. John Callery—one of her supervisors at AOL and an alumnus of Stern's MSBA program—encouraged her to apply. After scouting multiple programs, Samantha decided on Stern, because, she says, "the program not only allowed me learn the enhanced skills I needed, but to look at how analytics problems are being solved across different department and industries around the world."  
The rigors of the courses and curriculum changed the way Samantha approaches her work both in and out of the classroom. In her position at Gray Scalable, she specializes in data visualization, which requires her to transform complex data into user-friendly, accessible tools for her clients. "I allow myself the breathing room to not 'get it' the first time and keep trying until I do," she says. "I didn't have the patience for that before; usually I would get frustrated if it didn't come easily. But now I will slow down, be patient, and keep trying until I get it. I've never felt such a sense of academic achievement."  
If you had told Samantha ten years ago that she would solve complex data formulas and spend hours on a single math problem, she wouldn't have believed you. She received her BA in Psychology from Colgate University and expected to pursue a career in the social sciences. "I've always been interested in human behavior and psychology. I did not think that for my career I would ever touch anything quantitative with a ten-foot pole," she says with a laugh. A decade—and a roster of impressive positions and clients— later, Samantha has earned high praise and respect in the industry. Her most gratifying feedback came recently after she presented a new data visualization tool to a client. After the presentation, the client called her a 'Wizard. Hogwarts Status.'  "As a huge Harry Potter fan, I don't think the they realized what great a compliment it was!"  
The trick in data analytics and visualization, Samantha says, is taking complicated data and making it easy for the clients to understand. "I speak in as little jargon as possible and make it as clear as possible. My goal isn't to impress the client with fancy terminology or fancy lingo. I want to leave and have them think I get this now. I like making people feel comfortable."    
Collaboration with her clients, coworkers, and fellow students is a priority for Samantha, evidenced by the relationships she fostered with the Stern community. "The cohort of people is incredible. I don't think you could ask for a better way to learn and engage with the materials. Your good friends range in age and experience, and you connect with people all over the world.  The community is so incredibly supportive, and we maintain a sense of academic integrity that everyone takes very seriously. We are here to support one another."  
What's next for the Hogwarts-status data wizard? After she graduates, Samantha dreams of starting a side project that gathers data and serves the larger public. "It would be rewarding if I can utilize all of my experience and my strengths to create a data visualization that serves ultimately serves a public and social good," she says. "The program's intensity makes you realize how much you are capable of!"
Words to live (or work) by?
Breathe. Slow down. Try it again.  
Favorite course at Stern? Why?
Data Science for Business Analytics. The class provides both an overview and a benchmark for everything else you do you in the program, and the way it teaches you to think is applicable immediately at work.   
Proudest professional moment:
Designing a presentation about data in recruiting that was used for a talk at the White House a few years ago.  
If I had a month off work to do anything I wanted, I would....
Do two weeks of traveling and two weeks on a data visualization project that does some sort of public/social good.  
If I wasn't in this profession, I would be…
Working at a college, most likely in career services.  I used to be a campus recruiter and I loved helping students achieve their professional goals.    
Best career advice I've received:
Try to treat everything at work like a case study; it allows you learn from things that didn't go as well as you wanted and to continually improve.