Vince DiMascio, MSBA '16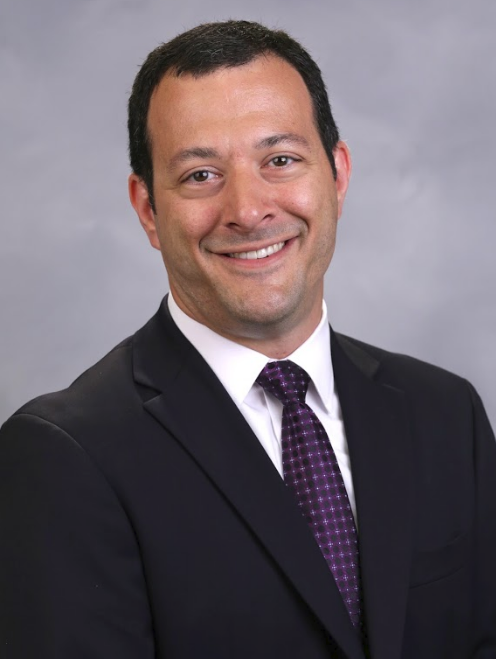 "I've always been a lifelong learner," says Vince DiMascio, CIO of BAL Global. "I think as soon as you feel comfortable—that's when it's time to start over."   
It was this principle that led Vince to seek a Master of Science in Business Analytics. He had just closed out a decade at PwC, most recently as a managing director, and noticed that advanced analytics capabilities were becoming a requirement for effective business leaders. 
"AI, Machine Learning, and data analysis methods and tools were advancing rapidly, and their application was rising to the top of the corporate agenda," he says. "The work called for practitioners to be able to leverage analytics for business value. Yet few people could actually apply these in a manner that creates value for businesses." 
Vince was drawn to Stern because of its reputation as a top business school, its "global classroom," and the structure, which he felt was well suited to executives with demanding schedules.   
What's more, he says, was the accomplished and diverse peer group that would become lifelong colleagues and friends: "The NYU program draws the top people in their fields, with diverse perspectives from across many industries, to create a highly collaborative group of smart and experienced people. Your peers are motivated and there is the right balance of a competitive environment and a supportive culture."
The curriculum offered the mix of critical skills and analytics Vince was looking for to expand his skill set, he says: "The program covers the technical skills and methods of doing the analytics work, but also focuses heavily on other important topics, such as change management, ethical and legal considerations, and advanced operations management topics. It offered the perfect blend of hard hands-on technical skills plus executive-level considerations and frameworks."
Vince saw an immediate return on investment after graduating: an opportunity as Chief Information Officer with BAL Global, one of the world's largest global corporate immigration law firms. 
"The leaders at BAL have an enlightened view of technology and analytics, so they wanted someone with both a formal education and real-world experience applying analytics to business," he says. "Just to say that you're at Stern in such a program imparts credibility. In my interview, there was a lot of interest in my expertise in modeling, data, and analysis." In the interview, Vince was asked to elaborate on how he would apply analytics into the company's business operations, client service delivery, and digital products. "The hiring team knows that I am formally educated in material that everyone else is just talking about in the hype machine. And when they asked me those tough questions, I could speak intelligently on the issues, instead of just skimming the surface."  
Once hired, Vince says he immediately brought the practices and tools imparted from Stern to his new role. He notes that the use of analytics has been a critical practice for the firm, as the current state of immigration policy has impacted his work significantly. "We've had to become much nimbler to respond quickly to big changes and to help our clients plan for a broader range of possible scenarios that affect their talent pipeline and global mobility programs. In immigration, the stakes are high and the clock is ticking. The MSBA program arms its students with the skills to select the right model, test it, and apply it with confidence."  
Another challenge he feels well prepared for is a change leadership mindset. "MSBA includes a focused study of leadership and change management, which prepares executives well to set a clear strategy for how to use data and analytics to compete, and to lead the deployment of the right technology architecture and capabilities."  
The delivery of analytics in the firm has transformed the organization, and BAL leads the industry in the effective use of data. "While many businesses still operate from a world of guesswork, anecdote, and intuition, we've prioritized and developed our data capabilities to deliver our clients and our people a more certain world based in evidence and smart models. NYU showed us that organizations that do this operate better."   
Vince and the BAL team were recently awarded the 2017 "Bay Area CIO of the Year" honor by the San Francisco Business Times and Silicon Valley Business Journal.   
"We're very proud of that honor, coming from the technology center of the world," Vince says. "It's a reflection of having adopted and applied the tools and methods from the MSBA program to both the front office and to our internal operations."   
Reflecting on what he might say to someone considering Stern's MSBA program, Vince says with confidence: "Do it. I'm glad I did. Dive deep into the material. You have access to some of the world's leading experts in their fields—take advantage. Get to know your cohort members well. They are like you: motivated, dedicated, innovative, and with a passion for growth. They invested in themselves for a reason. You're a part of that reason. These are the current and future leaders. That cohort network will be longtime personal friends, and invaluable professional contacts."  
"It's only a year; it flies right by."   
Favorite course:
Dealing with Data. You are thrown in the deep end, and you leave with incredibly valuable hands-on practical skills using modern tools and methods for working through the entire analytics data pipeline.    
Words to live (or work) by:
"Act boldly and unseen forces will come to your aid."  
Proudest professional moment:
It's happening now and since I finished the program, as I've become a CIO and lead a successful digital transformation. The move was a very exciting step for me and this fast growing firm has continued to grow since I got here. We've come a long way, always staying ahead of technology trends, and it's been incredibly fun and rewarding.   
If I had a month off work to do anything I wanted, I would: 
Fly a single engine plane across the United States.  
If I wasn't in this profession, I would be: 
This is my dream job. I would find my way back to it.