Yiannis Giokas, MSBA '16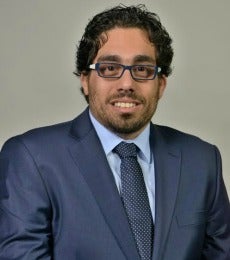 When Yiannis graduated from engineering school in his native Athens in 2007, the world was still largely naive regarding cybersecurity. The first massive hacks—to individual retailers' payment card networks—were just appearing. Yiannis, a telecommunications engineer, earned an MBA and entered the workforce as a product manager for telecom operators' solutions in a large systems integrator in Central and Eastern Europe.  
"Cybersecurity didn't even exist as a term then," he says, "but all networks were negatively exposed to potential adversaries that wanted to gain information or had financial motives. No one seemed to share my views, so I decided that I had to do something about it." So in 2011 he founded his own company, Crypteia Networks.  
"We developed a platform, named MOREAL, that would be able to MOnitor, Report, and ALert security threats. At that point, the market for threat intelligence and security analytics was a complete greenfield, so we thought that we had something good in our hands."  
Despite the poor economic environment for startups in Greece at the time, Yiannis didn't have to wait long for the market to notice him. In 2014, PCCW Global, a Hong Kong-based subsidiary of HKT with regional offices around the world, snapped up Crypteia. "I'm a big believer in security market consolidation and I was looking forward to this direction," Yiannis admits, "but to be honest, back then I didn't expect us to be acquired that fast."  
Yiannis traded his startup challenges to lead PCCW Global's global cybersecurity operation. Soon after he began, he again saw where the industry—and his own operation—was headed: Big Data. "When the team started to grow and more data scientists started joining our company, it became evident to me that I couldn't keep pace with them—although the platform was my only child. I felt that I had to beef up my knowledge in the domains of analytics and data science."  
That's where Stern's MSBA program came in. Stern had it all, he says: an international orientation, concentrated modules, and a wide variety of data and analytics courses. "Plus, the senior management of our company was really supportive in my doing this MSBA program as the company wanted to expand the way data is being used in our business."  
Yiannis was more than pleased with the Stern program. "The faculty were all experienced in real-world situations, which made their teaching all the more valuable for me. The global nature of the program was totally in line with my perspective and the challenges and opportunities in my business. And I can't say enough about my cohort, professionals from many disciplines whose perspectives enriched the overall experience."  
Halfway through Stern's MSBA program, PCCW Global promoted Yiannis to Vice President of Research and Development. "Data science and analytics knowledge is highly valued within this organization," he emphasizes. "My team is now investigating new ways to utilize the vast data the organization has to create new products and services in the areas of business intelligence, DDoS mitigation, fraud management, reporting visualizations, threat intelligence, user behavioral analysis, and more."