School News
Two Decades of Experiential Learning at Stern: A Look Back at the School's Strong Legacy and a Look Ahead to Tomorrow's Innovations
With a legacy now two decades strong, experiential learning is synonymous with NYU Stern. In today's fast-paced business landscape, the foundational skills students gain through Stern's hands-on courses and projects focused on solving real business challenges in real time with the guidance of its world-renowned faculty are more essential than ever.
Employers seek students who can embrace change and lead despite ambiguity. Stern's experiential learning MBA portfolio, what the School calls
Stern Solutions
, has evolved over 20 years to prepare today's students to integrate theory and practice into actionable solutions.
"Our goal within any Stern Solutions course is to deliver the experiences, the skillsets and the relationships for students to have successful professional careers and to be successful leaders," said Bryan Ramos, Executive Director, Office of Student Engagement, in a recent
MBA Schooled
podcast interview (listen
here
).
Stern's 20-Year Foundation in Experiential Learning
Recognizing the value of hands-on learning early, Stern began introducing experiential learning to students 20 years ago with classes such as the
Michael Price Student Investment Fund
(MPSIF) in 2000 and extracurriculars such as the
Stern Consulting Corps
(SCC) Program in 2002, both of which are still offered today, with SCC now a credit-bearing course.
Over the next two decades, with the support of the School's expert faculty, its vast network of industry partners, and deep ties to the NYC and global ecosystem, Stern continued to experiment boldly. The School introduced new projects, courses, it's innovative LAUNCH orientation for two-year Full-time MBAs, and even new degree programs with experiential learning as the central heartbeat -- Stern's one-year focused
Andre Koo Technology and Entrepreneurship MBA
and
Fashion & Luxury MBA
integrate experiential learning as a key, compulsory component of each program's curriculum.
"Faculty have been essential to experiential learning at NYU Stern from the very beginning," said Ramos. "None of this would be possible without their valuable partnership in supporting students, bringing both their expertise and their willingness to experiment. To name just a few over the years, Professor
Arun Sundararajan
led the
Unique ID Initiative
, one of our first Stern Signature Projects, and now teaches the
Tech and the City
course; Professor
Richard Levich
teaches the
Impact Investing in Family Offices
course; Professor
Sonia Marciano
has led
Stern Consulting Corps
; Professor
Tensie Whelan
teaches the
Sustainability for Competitive Advantage
course; and Professor and Vice Dean of MBA Programs
JP Eggers
and Professor
Melissa Schilling
led the Andre Koo Tech MBA Students in their
West Coast immersion
, a compulsory part of the program, in January 2019."
Two-year Full-time MBA students took part in LAUNCH virtually in Fall 2020
Milestone moments in experiential learning at Stern:
2000 - 2010
2011 - 2016

LAUNCH MBA orientation for two-year full-time MBAs introduced
Stern Signature Projects, hands-on independent projects with faculty and research centers, such as the Center for Sustainable Business (example here), the Center for Business and Human Rights (example here), and the Volatility and Risk Institute (example here), and even with other University global sites such as NYU Abu Dhabi, addressing some of the most pressing global issues of the 21st century, introduced
Experiential extracurriculars become credit-bearing courses, such as Stern Consulting Corps and Council of Fashion Designers of America, and new experiential courses introduced, such as Tech and the City, Consulting Lab: Branding + Innovation, Strategy with a Social Purpose, and Impact Investing in Family Offices

2017 - 2020
The Stern Solutions Method
Today, Stern's long legacy has evolved into a broad portfolio of real-world experiences known as
Stern Solutions
. The Stern Solutions Method, which is based on an iterative process of immersing, acting, and reflecting, is the core foundation of all Stern Solutions experiences. What started 20 years ago as mostly extracurricular offerings has evolved to more than 30 academic courses and projects with 100+ corporate partners in diverse areas such as global sustainability, technology, entrepreneurship, asset management, and more.
Stern's model is highly flexible with new courses and projects offered each academic year. Students work in a variety of formats and approaches including advising real-world organizations on pressing issues of strategic importance, managing real focused investment funds in all aspects of their operations and deal process, and building original ideas and business concepts into funded and operating realities. Stern's deep NYC connections yield a continuous cycle of opportunity for students to learn and create impact on the cutting edge of business whether projects are in-person, online or abroad.
"The impact of our courses delivers what will be needed to thrive not only right after the MBA program but also in the future -- and ultimately the future of work," said Ramos. "It embeds this idea of curiosity and of being a lifelong learner -- not only of the problems at hand, but also a learner of yourself. Experiential learning fuels all of that."
Adaptation in the time of the Global Pandemic
When the coronavirus pandemic began in spring 2020, Stern transitioned all experiential activity online, but the hands-on learning did not stop.
"Our faculty, students and partners readily made the transition online," said Ramos. "With the quick shift what our students found was that they were learning a variety of skills with partners first-hand including agility, resilience, commitment. It's not just about 'the what' they were solving but it's also about the process, and obviously there was a unique element this past spring."
Stern innovated quickly turning a challenge into an opportunity for action learning, and created a brand new program called SternWorks, which was planned and launched within two months of securing funds and placements. The School connected MBAs with vital small businesses in need of help to share their skills and give back to the NYC community.
"We wanted to give back to the companies and the businesses that needed it most -- startups, small businesses, nonprofits that were the fabric and the foundation for our experiential learning partnerships when we started," said Ramos. "Through this program we connected students in a variety of ways to provide business assistance to companies that were in need."
A total of 50 companies took part in the program that led to over 100 projects, including volunteer opportunities.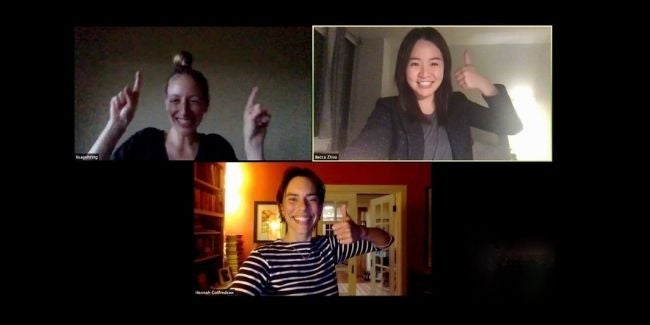 Fashion & Luxury MBA students Lisa Gehring (MBA '20), Becca Yu Zhou (MBA '20) and Hannah Gotfredson (MBA '20) won second place in The Small Business School Challenge, a 48-hour nationwide virtual hackathon launched to help support small businesses during the coronavirus pandemic.
"SternWorks speaks to the value of an MBA specifically from a network standpoint and the cycle of students being engaged with alums and alums helping students," said Ramos.
Looking Ahead to the Future
As NYU continues to deliver instruction in a hybrid environment in Spring 2021, Stern is continuing to innovate it's experiential learning offerings. In place of courses that typically take place abroad in January but are on pause due to travel restrictions, the School is offering a special Stern Solutions course entitled "Tech Solutions" that will give students the opportunity to work hands-on with top industry partners Rocket Mortgage and Dow Jones. This intensive style course will introduce students to the "problem solving sprint" by working on a real world strategic problem for technology enabled companies. Based on the "Google Design Sprint" approach, the class will break the problem down and iterate to come up with possible approaches and look toward how they might be tested before being taken.
The School is also expanding experiential learning opportunities to additional degree programs. Stern recently announced the launch of a new focused undergraduate business degree program in technology and entrepreneurship designed to instill college graduates with an entrepreneurial mindset, and business and technology tools, to play transformative roles in today's dynamic and tech-driven business world. The four-year, STEM-certified
BS in Business, Technology and Entrepreneurship (BTE) program
is the first U.S. undergraduate business program of its kind to seamlessly integrate business, technology and entrepreneurship. The program will include a new experiential course, "Tech & Entrepreneurship Immersion," that integrates the entrepreneurship and technology ecosystem of NYC into the classroom.
"NYU Stern is the place where you learn to make change your ally," said Ramos. "It's a core element of how we think about student learning and experiential learning. When I think about embracing change, it's about driving it and that's what experiential learning gives students the opportunity to do."
Learn more about experiential learning at Stern through these recent highlights: