Wharton Professor Mauro Guillén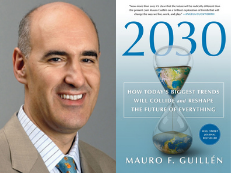 Prof. Mauro F. Guillén joined NYU Stern Prof. Sinziana Dorobantu to share insights and answer questions from his new book 2030: How Today's Biggest Trends Will Collide and Reshape the Future of Everything. He realted this new work to his foundational research on globalization. 

Prof. Guillén's research agenda addresses both how companies internationalize and how globalization affects patterns of organization and the diffusion of innovations and crises. Guillén is the Dr. Felix Zandman Professor of International Management at the Wharton School of Business at the University of Pennsylvania. He received a PhD in sociology from Yale University and a Doctorate in political economy from the University of Oviedo in his native Spain.


Event Recording: