Caroline R. Bastian
Research Scholar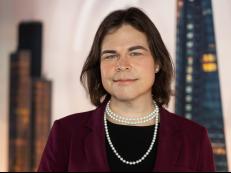 Caroline Bastian joined NYU Stern in February 2015, and she currently serves as a Research Scholar at NYU Stern's DHL Initiative on Globalization. She coordinates the initiative's work on data science, statistics, quantitative methods, and data visualization.
Prior to her appointment at Stern, she was a freelance economic and statistical consultant. Her clients included the United Nations Secretariat and several of its agencies, the World Bank and the Economist Intelligence Unit. Caroline began her career as an economist at the United States Bureau of Labor Statistics, where she researched trends in occupations and industries within the U.S. economy and their influence on future employment. 
Caroline holds an M.S. in Applied Statistics for Social Science Research from NYU Steinhardt, a Master of International Affairs from Columbia University, and a B.A. from Pacific University. She studied as a Fulbright scholar at the University of Cologne in Germany.