February 15 - UC San Diego Dean Caroline Freund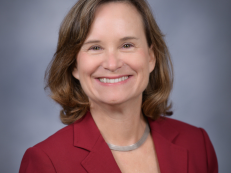 Caroline Freund, Dean of the UC San Diego School of Global Policy and Strategy, joins Steven Altman, Director of NYU Stern's DHL Initiative on Globalization, for a virtual "fireside chat" on Covid-19 and the Future of Global Trade. Dr. Freund will shed light on the growth of global value chains and how Covid-19 is affecting international trade. She will also discuss surprising research findings on how natural disasters and 3D printing have impacted trade flows. Dr. Freund's research challenges common presumptions about the future of global trade, with powerful implications for decision-makers in the business and public policy spheres.
Prior to joining UC San Diego, Dr. Freund served as Global Director of Trade, Investment and Competitiveness at the World Bank. Freund was co-director of the World Bank's flagship World Development Report 2020 on Global Value Chains. Freund also served as a senior fellow at the Peterson Institute for International Economics. Freund began her career in the international finance division of the Federal Reserve Board. She holds a Ph.D. in Economics from Columbia University.
Watch the recording